Corrupting the Filipino Youth?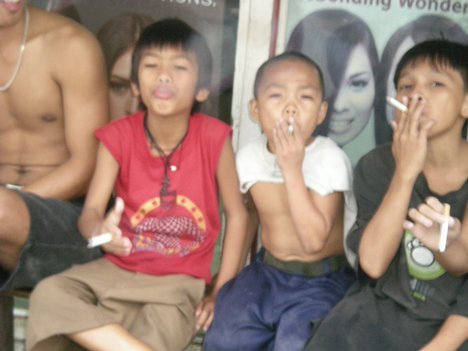 [smartads] I know that living in the Philippines is different than living in Texas.  There are certain things that I have chosen to give up or limit in exchange for exiting the rat race.  However; there is something that goes on here that I am having a hard time coming to terms with.  In the US it is illegal for children to buy cigarettes (or alcohol), but that doesn't seem to be the case here in the Philippines.
To the best of my knowledge and the knowledge of the people I have asked, there is no law here that restricts children from buying these items.  Of the many times I have gone to a sari-sari store, I'll bet I have seen a kid buying cigarettes (or liquor), supposedly for their parents, about 20% of the time.  We now have a sari-sari store and the same thing happens at our store.  I know that it is an accepted thing here and I have tried to conform to it, but today I experienced something that made me stop to re-think the whole thing.
A young fellow that, to me, looked like he was about 12 years old, stopped by to get a cigarette and before he left, he lit it up right there in front of me.  He didn't start coughing either so that probably means that it's not his first time.  Of course I could be wrong and he only 'looked' like he was 12.  He could have been 16, 17 or even 18.  It's hard to tell on a lot of Filipinos, especially the young ladies.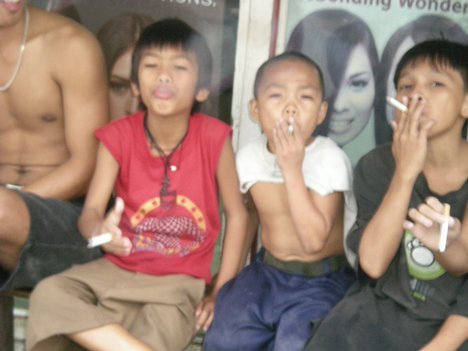 The thing is though, most Filipinos that I know, do not carry any form of a picture identification.  Now I guess I could always just refuse to sell to them unless they have an ID.  That however would create ill will within the neighborhood and will most likely hurt our sari-sari store business, especially, like I said, most of them don't have a picture ID anyway.  I'm sure that if I refuse them, my wife will be upset because the other sari-sari stores in the area will be getting the business that use to be ours.  I can hear her now saying that that's just the way it is here, no one really cares and it's only a few of them that do it.  Well I am concerned about it, but I don't know if my not selling to them would make a difference or not in what they do.  My conscience would be cleared, but so would my bank account.
Whenever I see even one child smoking a cigarette, I usually get a vision in my head like the feature picture above.  Maybe they think they are being cool or maybe they just don't know any better.  Either way, they have probably not gotten the proper education about the dangers of cigarette smoking.  I guess that with the track record of education in the Philippines, that shouldn't really surprise me.
You would think that the parents would appreciate refusing to sell to the children, but I don't see that happening.  The children are usually the ones that are sent out to buy things by/for the parents.  If I won't sell to the kids then the parents would have to go out and get their own and I'll bet they wouldn't come to our store to get them either.  Worse though, the kids would take ALL their business to another store.  I doubt they would come to our store to buy anything anymore.
It would be a lot easier on me if the Philippine government would just pass a law against selling to minors.  I don't think that the Philippines should copy everything that the US has done, but in this case, I think it is a good thing to adopt.  That way I can just tell them, "I can't, it's against the law".  That would take time to do though (especially here in the Philippines).  In the mean time I would have pissed off a lot of customers and driven them away from our store, my wife would be on my case and my bank account would be emptying faster every month.
This is a dilemma that I'm going to have to work out with myself and try to make a decision and I will have to do it soon.
What do you 'think' or what do you 'know' you would do?
http://stuckinthephilippines.blogspot.com/2011/08/almost-5000-caught-smoking-in-public.html
(Where I found the feature picture)