[smartads] That tired I was talking about in last post did hit me, so I decided to do the Mang Inasal post this morning.  It's done already and I've already gotten several comments on it.  Before I went to bed last night, or rather early this morning, I went to the CR first and I noticed that it was raining.  It was past midnight so I wrote down the 9 rain days.  I was hoping that it would rain later, when it was daylight, so there would be no doubt of the rain day.
Don't forget to click on the pictures for more information.
And through the miracle of nature, it is now daytime.  That was quick, wasn't it.  I've been up for a little over 2 hours now and it's 0904.  I was doing that Mang Inasal post I talked about early.  Lita gave me plenty of computer time this morning without any complaint.  I even started looking at flights to Korea.  I'm subscribed to Cebu Pacific, but they have not sent me a sale for Korea yet traveling during April/May.  I hope it comes soon.  If not, then I will have to either pay the full price or find another way.
Now it's about time for me to make my way downtown and take care of the rest of the bills.  The electric bill was only a little over P3500 ($88), after all the excessive taxes and fees.  We haven't gotten the bill yet, but it is already paid.  I like to get things paid as soon as possible before the money grows legs and walks off.  I do have the receipt, just in case though.
Again, due to the miracle of nature, I am back from downtown.  I was gone about 1 1/2 hours and I arrived back home about 11:10.  I would like to inform everyone that I DID REMEMBER THE CAMERA!  I didn't take too many pictures, but I will put on here what I did take.  I paid the remainder of all the bills that need to be paid.  There is no need to worry about those this month anymore, which is my plan for every month from here on out.  I stopped by Mercury Drug on Magsaysay Blvd and noticed that there is another drug store right next door.  It's the first time I've seen that store, but I did get a picture of it, and Mercury again.  I haven't been inside the new drug store yet, but it looks smaller than Mercury.  I will stop in there on my next lone trip downtown.
I also found the Isla Coffee House.  That's the place that I will be going with Rick and his friend Cliff on the 8th.  I got a picture of the outside, but for some reason they would not allow pictures on the inside.  I asked and the lady told me that the manager does not allow pictures inside.  That seems dumb to me.  Why?  I'm just going to help promote their cafe.  I'll see if the manager is actually there when I return next time.  I did notice that their ham & mushroom omelets (the only kind on the menu) were P110 and the hot cakes were P80.  Those better be 3 egg omelets and it better be at least a short stack of those hot cakes because that is a little high.  The lady told me that they also have cheese on those omelets and I don't have to take the mushrooms (I don't like them).  I figure for that price it maybe had sides with it that I didn't notice.  I'll find out on the 8th, if things don't change.
At Mercury Drug, my third to last stop, I bought 40 aspirins (P2.5 per aspirin) and 5 bags of those Mexican style peanuts.  The only peanuts that I've had here that I have been able to eat.  I also got some disposable razors because I forgot the name brand of the razor I bought and didn't want to get the wrong blades.  They don't last much longer than the disposables anyway.  I wanted some of that Gardenia wheat bread, but they were out.  I passed on the after shave.  I will continue to use the IPA instead.
My second to last stop was at the Calbayog Tourism office.  I got a brochure from them that, for it's size, has a lot of information.  I will be sharing that with y'all somehow on this site and the Calbayog Corner site.  I haven't quite figured out the best way to present it yet.  I did find out that they do not have an official web address at the tourism office though.  The lady I talked to there was very nice, and I'm not just saying that because I gave her this e-mail address and she might be reading this.  She really was very nice.  Pretty nice looking too.
My last stop before heading home was to get a haircut.  I'm going to have to remember the day and time because when I got there, there was no other customers.  The barbers were waiting on me.  I didn't even tell the barber how I wanted my hair cut, but he did a good job on it.  It's much cooler now and my First Sergeant wouldn't be yelling at me if I was still in either.  Scott it's not as short as your hair probably is, but it ain't too far from it.  It's still comb-able, but barely.
Right before I went into the barber shop it was starting to rain <ding, ding, ding>.  Rain Day #9 officially.  Lucky for me though that by the time I got finished, it had stopped.  I decided to take a chance and hoof it home.  I was only carry 1 bag and it wasn't big or heavy.  There were only 3 or 4 "Hey Joe" 's on the way, so that's about average.  I did get several proper greetings today.  You know the simple "Hello" or "How are you doing"?  A couple of those coming from older adult males, which is not usual.  Normally it the ladies only that say hello.  I, of course, responded to all of the proper greetings and ignored the "Hey Joe" 's.  I like it when they say hello and I like it even more when they smile after I respond.
It wasn't more than 10 minutes after I got home that it started to pour down rain.  In fact it is pouring now while I'm writing these notes.  I did not eat anything while I was downtown, even though I was tempted, so I will go do that now.  I forgot that we bought some spicy ham lunch meat, so 3 of those sandwiches should curve the hungry enough for awhile.  I grilled the bread and 'meat' and added some of the newly purchased mayonnaise.  I say mayonnaise, but it's really Miracle Whip salad dressing.  Who can tell the difference anyway?   It was less expensive than the Lady's Choice mayonnaise and I KNOW I like the Miracle Whip, so that was an easy choice.  I figure that once I get out in LolyKat, I'll be there for 2 or 3 hours because I haven't been there all day to this point and I headed out there about 12:50pm with 1 1/2 of my 3 sandwiches.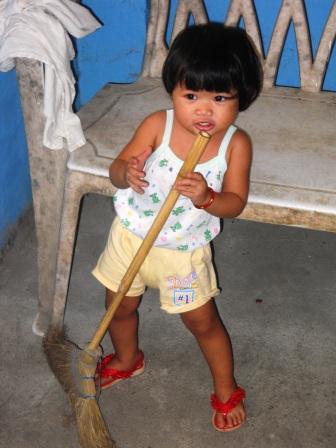 After eating the rest of the sandwiches, I decided to eat 1 of the 5 bags of Mexican peanuts I bought at Mercury.  At the time of writing the notes for this, I was eating those and drinking my new coffee combo.
After about an hour of raining, it know shows signs of stopping.  It has slow way down now, but it is still constant.  Today really earned it's rank of Rain Day.
Did you know that if you hit your head on concrete, even by accident, it hurts and leaves a small bump?  Well it does … ouch!
I guess Mother Nature wasn't finished.  It has starting pouring rain again.  It started only about 10 minutes after Lita left to go do some shopping.  Right before she left she said that she wanted to go now, so she could get back before it started raining again.  She didn't make it.  It's a good thing she brought her rain gear, but she forgot the umbrella.  When she got back I had to make a decision and I will share that decision I had to make during the next post.  In fact, I have several items that I skipped today because this post is long enough.  I might be short tomorrow and need that information.  I also have information on our trip to Cebu that really needs to be shared.  That will be in tomorrow's post also.  As for now ….
Salamat, Paalam
From the brochure:
Calbayog City
a city that envisions to develop by more effectively meeting the needs of its people and more efficiently interconnecting with major economic hubs via involvement and commitment of every Calbayognon through partnership governance in building a god-loving, self-reliant, peaceful, orderly, environmentally sustainable community and a center of excellence and economic enterprise.
* Calbayog City is now known for its newly constructed Calbayog City Convention Center and Calbayog City Sports Center