[smartads] Good Morning  Y'all.
This post does get more interesting but for now I will say that I am using a new pen to take these notes.  It is a pen that Lita got from one of the employees at the Ciriaco Hotel.  It has the Ciriaco Hotel name on it, so I guess they are advertising with pens now.
As normal, remember to click in the pictures to get more information about that picture.
As y'all may already know if you read the last post, I went to bed early last night after or trip to Tacloban.  I went to bed around 9:45pm and didn't get up until about 0730, so that is a long time to sleep for me.  I normally only sleep 6-8 hours per night.
It's 10:35 right now and Lita just went to church after which she will do some shopping.  That means that I am recruited for being in LolyKat for now.  It's Sunday so we don't really have to be open, but I'll stay open for a little while.  I was suppose to finish the post I started last night, but at this time it is not finished.  It is already typed up, I just need to insert the pictures  (It has since been completed and posted).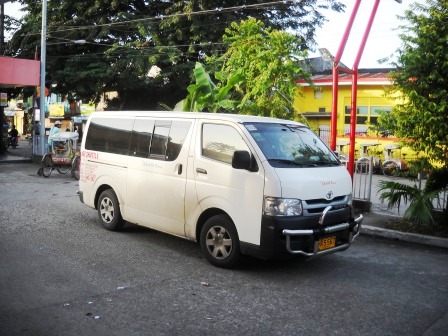 I only had 3 slices of bread this morning so I made a double-decker PB&J.  Since I have the J now.  I used the orange marmalade because I like the strawberry preserve one better and I'm saving it for last.  I only got the orange marmalade because Lita likes it better.  She told me I should have just gotten 2 of the strawberry.  I'll remember that next time.  They are both sugar free, but as I said yesterday, jelly is jelly.  Sugar is optional.
I also had my coffee mixture this morning.  Speaking of coffee though, Lita bought a couple of interesting ones in Tacloban.  One is a 7 in 1 with weird things in it, including some kind of mushroom.  I don't know if I'd want to try that or not.  The other one however is more to my taste.  It is San Mig 3-1, extra strong, no sugar.  Titing said it was actually too strong for him, so naturally I had to try it.  So I had another cup of coffee.  I don't know what he was talking about being too strong, this is good stuff.  I'll probably have to be the one to drink the rest of it because no one else will drink it.  Lita didn't realize she was picking the extra strong one.  I'm glad she got it, now I know it exists and we can get it next time we are there or if I see it some place else.  She just wanted to try something different and San Mig does have regular and mild flavors also.
Lita returned right at noon.  She didn't buy the Nescafe 3-1 coffee or the Max candy she said she would get for the store.  She bought some bubble gum and some kind of fruit chews.  At least she remembered to get our #1 seller, the cigarettes.  They did not have any Marlboro regular though, so she got Marlboro Lights.  Problem is she got Marlboro Lights menthol.  She said she did it on purpose, but that means of the 5 kinds of cigarettes we have for sale here, 4 of them are menthol.  Whatever.  She only bought 3 packs of those anyway.  Maybe someone will want to try them.
Titing is having our little Pepsi truck spruced up.  He only has one guy working on it, so it may be a while before it is finished.  I don't know all that he is doing to it, but the Pepsi symbols have been painted over and some other areas have been sanded and repainted also.  One thing for sure, it sure looks a lot better than it did a couple of weeks ago, especially since it's had a bath.
It's a pretty so day today, so I guess this post won't be too long.  I will put the remainder of the pictures from our Tacloban trip on here.  I did not take that many because I didn't really see much of interest and even some things I did see, I couldn't get to my camera fast enough.  That's why I want a better camera, one I don't have to wait on.  Just point and click, and click and click if I want to.
I wasn't here all day yesterday, as you know, but I was told that there was no rain, so I guess that streak is over.  It did rain a little bit today, so if I find out it did rain, even a little bit Saturday, then I'll put the streak back on here.
At 1:15pm, I closed LolyKat.  There was almost no activity out there and I was tired of just sitting there.  At least now I can go in and finish that post.
I was in here checking my mail and I'll be danged if it turns out that I got a donation for my website.  My first one.  It seems that the person making the donation decided not to be put on the Recognition Wall, so I won't mention the name here either, or the amount.  I will say that it was more than I expected for a single donation and I was very happy.  I have already sent that person a thank you e-mail, but I would like to say it again here, in case that person is reading.  Thank You Very Much For Your Generous Donation!   It really is appreciated.
For dinner tonight, you'd think that I'd be in a hurry to use some of the things that I bought in Tacloban, but that just wasn't so.  I had some of the cucumber & tomato sandwiches.  I even remembered to buy a larger jar of the Miracle Whip while in Tacloban, just so I can make those sandwiches.
I guess that's all I've got for the post today.  It's only 8:46pm, so I'm going to wait before I close out, but I doubt anything else of significance will happen.  You never know though.
It's 10:22pm now and still nothing.  I'm going to publish this now and if anything happens to happen, then I'll put it in tomorrows post.
Salamat, Paalam
From the Brochure
Basic Facts on Calbayog City
City Classification:  A
Land Area: 90,300 hectares
Soil Types: 7 types
# of Barangays:  157
# of Districts:  3 (Calbayog, Tinambacan, Oquendo)
Population:  163,657
Growth Rate:  2.9%
Religion:  Predominantly Catholic
Dialects Spoken: Waray-Waray, Cebuano, Tagalog, Boholano, Chinese, English