[smartads] Whew!  It is now 5:41pm and we have been back from Tacloban for just about an hour now.  We did pretty good, but it would have been nicer if we would have had about P2000 more.  I got a lot of things I wanted and the only real thing I missed out on was the sausage and the deviled ham/chicken spread.  I couldn't afford to the the sausage (P345.5 per package) and I couldn't find the deviled ham or chicken spread.  I guess they don't have that anymore.  I could have gotten some sausage, but we would have been still stuck in Catbalogan without enough money to get home.  The sausage was not that important.  I suppose if I would have gotten 3 bottles of BBQ sauce, instead of 5, 1 bag of Taco Doritos, instead of 2 and 1 jar of salsa instead of 3, I could have afforded the sausage also.
I'll get the sausage next time and I'll bring a cooler with me.  Of course next time will probably not be until July.  I hope to be in Texas for May and June, eating Elgin sausage, Robin Hood sandwiches and beef I can eat.  I hope not all in the same day though.  Did I put my weight from yesterday on the post?  Just in case, it was 119.45K (264 lbs).  That's .45K (1 lb) less than last time.  I don't think I remembered that.  I'm worried now about finishing this post tonight.  I'm too tired to drink Red Horse.  So I'm tired.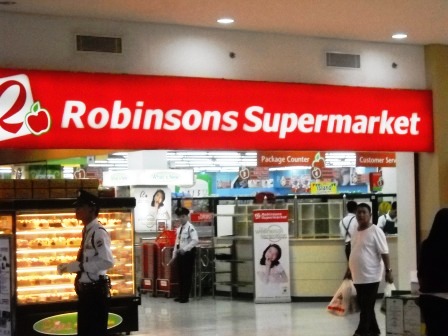 Okay, here's the day.  We were picked up in front of the Ciriaco at 0535, right on schedule.  The trip to Catbalogan took 1 hour and 15 minutes.  My seat #5 was on the end and the seat was pretty good except it didn't have a high back and my neck was hurting.  The the second leg of the trip, I requested and received seats #1 and #2 up front.  There are high backs there.  That leg was better for me, but Lita said the center seat hurts her butt.  I like seat #2, so from now on when we use Grand Tour, Lita will have to bring a pillow to sit on.  The trip from Catbalogan to Tacloban took right at 2 hours.  So a total of 3 hours and 15 minutes for travel time.  In Catbalogan, waiting on the next van, we were suppose to leave at 0720 and we left at 0655 instead.  Yes, they were ahead of schedule and they were letting the vans go because they were filling up that fast.
In Tacloban we got out before we got to the terminal and took a tricycle to from one of the service stations.  The driver said that the mall was to the right and the terminal was left, so we would have been going further away.  As it turned out, it would have cost us the same price for our fare to the mall no matter which one of those 2 places we started at.  The price was P150 with the tricycle.
The main mall was not open, but if you go around to the back entrance, you can get in to go to the supermarket because it opens an hour before the rest of the mall.  Neither of us knew that and I don't think any of the relatives here know that either.  Security will check you when you go in the door, so be ready for that.  It's normally not a full body check, but they do have the metal detectors and you get a quick pat down.
After we finished shopping, about P1000 more than we figured, we put our groceries at the claim center inside the supermarket.  They hold your groceries there and give you a claim ticket to pick it up after you finish shopping in the mall.  They said they would keep them there until their store closed.  If you don't pick it up by then, they probably put it away, but I don't know for sure.  It was about 10:25 after we checked out through the cashier.  Time to head for Shakey's because Lita wanted pizza instead of KFC today.  She said next time she wants to try the new Japanese restaurant in the new extension.  I'll go, but they better have tempura or I ain't staying.  I'll go to KFC and wait on her.
When we got to Shakey's the waitress asked if we wanted bottomless drinks.  I told her that I don't like getting the bottomless drinks because when I do, after a few glasses, I have to hunt down someone to bring me some more.  She said that she would be sure that my glass was always filled.  So I got bottomless iced tea, even though I wasn't super thirsty.  As it turns out I only had 5 1/2 glasses, so that wasn't so tough on them.  Usually I have 8-10 glasses.  It was filled whenever I started running low.  She wasn't the one doing it, but it was done.  I should mention that each time I go in there.
We bought a small Hawaiian pizza for Titing/Neneng/Jay and some donut holes for the kids at Dunkin' Donuts before we left.  We decided that since we spent more money than anticipated at the supermarket, we should head on home.  I didn't want to hang around in the mall all day anyway, unless we were going to the movies, and we wasn't.  Let's bring our stuff home.
The taxi ride from the mall to the Grand Tour terminal?  Yep, that's right, P150.  I got seats #1 and 2, but Lita wanted me to change it to #4 and 5 because seat #1 makes her butt hurt, remember?  So I switched it.  After we got going and it was too late to change back, she wished we would have keep those seats.  Her neck was hurting now.  So 2 hours after we left Tacloban terminal and got to Catbalogan, I got seat #1 and 2 for the final leg home.  No complaints this time.
You know I think they have a van leaving from these terminals like every 10 minutes to 15 minutes going north and south.  I also found out today that you can get a van from Tacloban to Ormoc for P120 also.  Just in case someone needs that.  I also took a picture of the phone numbers for the various terminals around.
When we got home, 1 hour, 15 minutes later, we both headed for the bed and laid down for awhile.  My butt was hurting from too much sitting.  It would be much better to have your own POV to make these trips.  That way you can stop whenever/where ever you want.
After resting a little bit, I made some cucumber and tomato sandwiches.  Tomorrow I will sort through what we bought and have something new, but probably not until lunch time.  Breakfast most likely will be peanut butter and JELLY sandwiches and coffee.  Yes I did remember to get a couple of jars of jelly.  Orange marmalade and Strawberry Preserves (my favorite).  Both of them are sugar free, but I don't care, jelly is jelly as far as I'm concerned.
I'm going to have to put the pictures in, in the morning.  I need to get to bed now.  It's Sunday tomorrow, so I should have this out to y'all early.
Have a wonderful day y'all.
Salamat, Paalam
From the Brochure
Calbayog is roughly 256 nautical miles from Manila, 114 nautical miles from Cebu and 56 nautical miles from the regions capital, Tacloban City.  The distance from Calbayog City to capital towns and other cities in the region are as follows:
Ormoc                                   292kms
Tacloban City                     183kms
Catarman (N. Samar)       72kms
Catbalogan City                  70kms
Borongan City                   224kms
Maasin City                         386kms