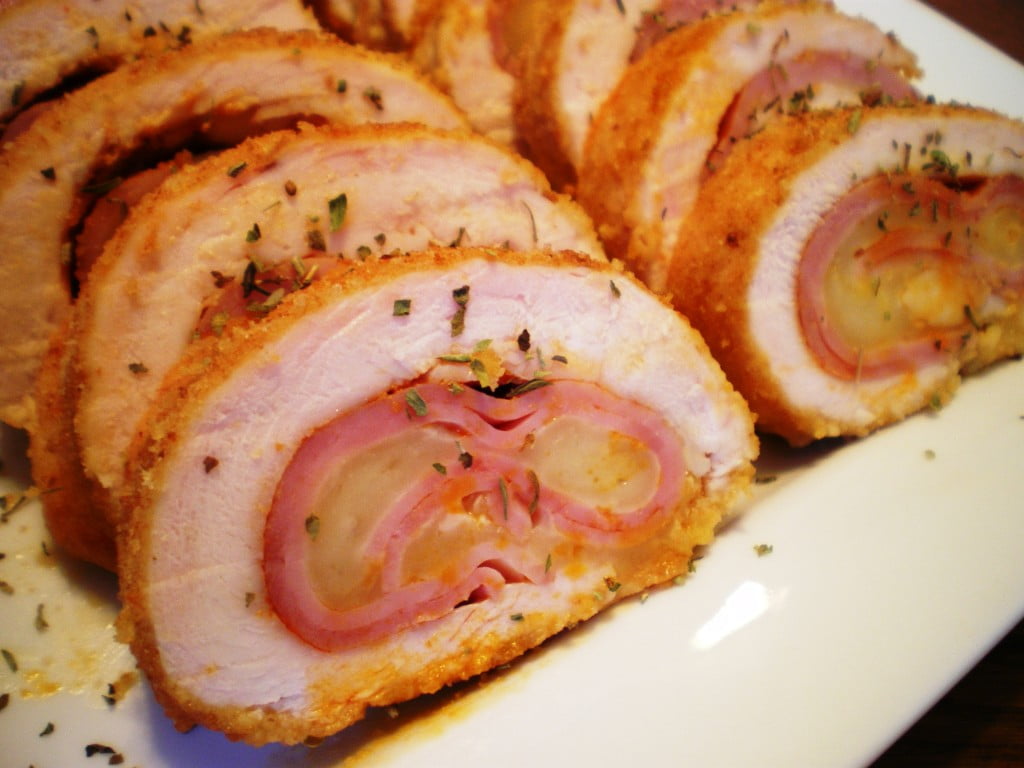 [smartads] I'm happy to say that we now have a new reader, but sad to say that a member of our Filipino family is no longer here with us.  I have the details below so please continue reading.
At 0041 this morning I had just finished talking to my new host, Rich, about the new website, when  sudden urge to sleep hit me.  I didn't really feel that tired up until that point.  I had just sent him my 3rd attempt at the new Categories and I really think I've got it now or at least I'm very close.  He told me again that I will have a lot of fun (sarcasm) with putting all the existing posts into the new Categories.  Maybe after a nice, long night's sleep, everything will be more clear and I'll know exactly what need to be done.  In fact I think it's about time to start that sleep process now.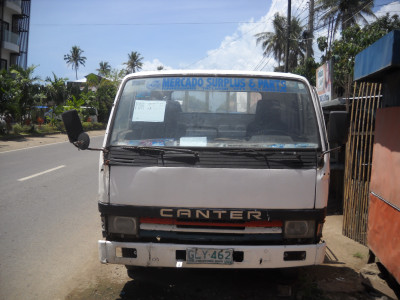 So after a nice night's sleep (not so long), Lita woke me up around 0700 because she had LolyKat opened already and wanted me to watch it while she went to a nearby beach for a little while with Titing & Neneng.  It was either watch the store or close the store.  I opted to watch the store because I'm optimistic and I keep thinking that maybe someone will come by and make a big sale.  It hasn't happened yet, but I keep waiting.  Maybe it will be today.
So now it is 0810 and they are already returning from the beach.  They sure wasn't there very long, less than an hour and that's including the walking back and forth time.  Lita went in to take a shower and put on some different clothes, so I hope she will be out here after that.
While they were gone, I went to get a cup of coffee, but I couldn't find my Dallas Cowboy mug, and I looked in a lot of different places.  Places it shouldn't have been even.
Dallas Cowboy mug
Lita told me after she returned that Titing used it this morning.  I'm going to have to start keeping it in the computer room so that no one will use it except me.  I hope to have a couple of chest of drawers and a refrigerator in the computer room soon too.  I don't like putting my mineral water in the refrigerator in the kitchen, because it has a tendency to disappear.  The problem is that Lita reuses the empty bottles to put boiled water in (after it cools) and that is what she drinks most of the time.  She can't drink the local water anymore than I can because it gives her diarrhea also.  When someone goes in the refrigerator to get water, they just grab the first one they see and drink it.   Well if I have my water in my refrigerator, then no one will go in there to get some.  I'm going to have to keep my Red Horse glass in the computer room also, for the same reason, I don't like it when other people use it.  I'll just put them both on top of one of the chest of drawers, when I get one.  Maybe just on my side of the bed for now.  Any place but in the kitchen, where everyone has access to them.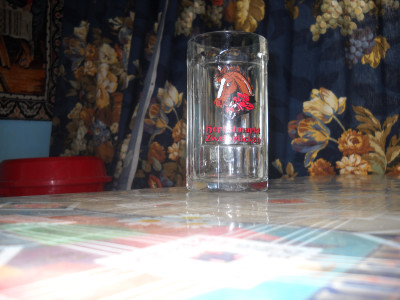 Red Horse glass
After almost 2 years of being here and I still don't have that computer room straight.  The main problem is because there is not really enough space to put everything, except in the boxes.  When I get the chest of drawers (they are made of plastic) then I will be able to put some things in there and clear things up a little.  What's bad though is we will be sending some more balikbayan boxes here from Texas.  A lot of that will be food though.
The Blue Team are back.  They had a big meal yesterday and I hope they come everyday, but that probably won't happen.  I guess they finally got around to needing some more work in the pool area at the Ciriaco.  I hope things are progressing well over there.  Maybe I'll sneak over there and take some updated pictures, if it looks different than it did before.  If it doesn't look different, than I'll let y'all know that.
I got to be in the house for just about an hour, but Lita came in here to get me and told me that she needs to take a nap.  So back out to LolyKat I go.  She stays up until after midnight watching TV and then she gets up at 0400 to get ready to go downtown, so no wonder she is tired all the time.  Soon, very soon, I hope to get her away from all that early morning rising.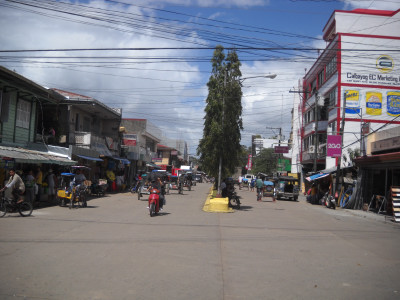 corner of Rosales Blvd-Pajarito St
Reader in:  While I was in the house though, I got a comment from a new reader.  Her name is Emerenciana Hurd and her and her husband live in Mineral Springs TX.  She was asking about Cagayan Valley in Luzon.  I have never been there, but I found a lot of information from different sites on the Internet and wrote a special post on it.  I hope it will be useful to her in some way.  If any of y'all reading this have been to the area and/or know something about it, please leave a comment so she can read it.  They are thinking about retiring to the area, so any information along those lines would be best, but whatever you have would most likely be helpful.
It's 12:10pm now and it's time to make the donuts or cut the vegetables.
http://youtu.be/petqFm94osQ (Time to Make the Donuts)
Let's see … Lita is sleeping, Vicky just left to go get some oil, flour and sugar and Cathy is washing clothes out back, so, of course, someone shows up at the food area to buy food.  I'm not sure of the prices of all the things or even how much to give out exactly.  We do have a little bowl that we put a plastic bag over and then fill up the bowl, but I don't whether to fill it up just to the top or maybe a little over.  Whatever, it's a kid, he won't know any better.  He's too busy staring at me, serving him.  Besides, I'm not going to cheat him on purpose.  I didn't hear any complaints and when Vicky got back, I asked her about the price and I was right.  Good for me.
Nephew out:  Well we got a bit of a good news/bad news thing today.  Around 3:00pm Jay came back early and it seems that his girlfriend is pregnant.  I'm not putting a name here in case someone that may know her reads this.  He's 20 and she's 18, but she fears that her father will not be happy, since they are not married.  They have decided to go.  They are not even sure where they are going yet, but he seems to understand the situation at hand.  I've been telling Lita that it's their life, they are old enough to know what's what and we ain't their parents.  Well Jay is a nephew, but he also is 20 years old, so he should be taking responsibility for his own actions by now.  We talked a little bit before he left and I told him, "Look how things have changed for you, just for a few minutes of fun.  Your whole world is now different".  He thought for a few seconds and said, "Yeah, that's true".  There were a few tears falling, including a couple from me.  The last thing he said to just me was, "I'm sorry Uncle John that I didn't learn how to make Chicken Cordon Bleu".  Remember I was always asking him about that?  The last thing he said to both of us was just, "Goodbye".  We did tell him that when we get the restaurant open and he & she wanted to come work here, it's okay.  They need to get their lives situated first and that's going to include dealing with her parents, sooner or later.  Another victim of someone letting the little head think for the big head.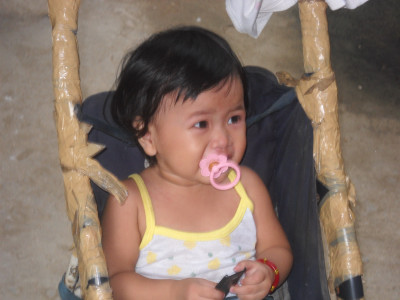 Casandra Pearl
I was told that putting these posts in italics may make it hard for some people to read it on their monitors, so I'm going to stop doing that, as of this post.  I'm still going to center it though.  I like the way that looks better.  Also I think I'm going to make it darker, like this.  I hope I remember to do it on all posts.
Salamat, Paalam
http://panlasangpinoy.com/2009/12/07/chicken-cordon-bleu-recipe/ (feature picture)