[smartads] In the last post I had just mentioned that Lita made a classic Filipino mistake (IMO) of giving a toy to just one of eight children here, even though he is our godson.  I also remarked on this being our 2nd Christmas without having money for presents and that we have helped plenty in the past.  Don't forget to click on pictures for my information.  Sorry there are less pictures, I'm in a hurry to get caught up, but you will eventually get to see most of the pictures I have, so don't worry about that.
Well we made it through another Christmas Day.  I'm feeling well enough now to be out here in LolyKat.  I actually started feeling better last night around 8:00pm, even though I didn't eat until 10:30pm last night.  I wanted to eat, but Lita went to a party at Judith's and she was suppose to sent back my peanut butter.  She didn't send it back, but brought it back with her.  I kept waiting so I could have the peanut butter.  It's okay, I survived through it and I did feel better after I ate 3 peanut butter sandwiches.
We didn't get much for Christmas, but it was a lot more than we gave out this year.  We received 2 boxes of Corn Flakes, 2 boxes of milk and we each got a new pair of flip flops.  I think my left foot is bigger than my right foot.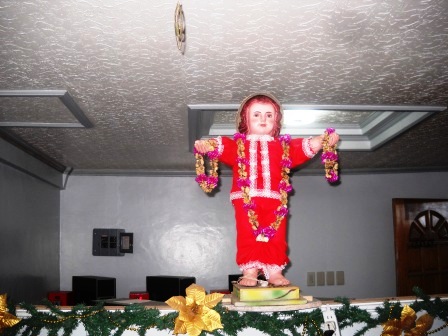 A friend from the past showed up on Christmas Eve Day that I forgot to mention.  I was still sick at the time or I would have given her a big hug.  Her name is Ginalyn, but everyone calls her DiDi (Die-Die).  She's a person that wasn't in our lives very long, but someone we will never forget.
There always seems to be a lot of people hanging out in front of the gift shop next door.  There were not that many people hanging out there before it was a gift shop, at least not out by the road.  I guess they could have been gathering inside the fence and I just didn't see them.  I figured that after Christmas, the crowd would dwindle down, but so far it seems to be the same.  It doesn't bother me, I was just noting it.
It's raining again today for about the ump-teenth time.  I'm pretty sure it has not gotten to the record of 19 days in a row of rain, but I haven't been keeping count this time.  Lita went to the market and I figured she'd be really upset about all the rain today, but she just returned and she was hardly wet at all.  She wasn't mad either, so that's always a plus.  She said that a lot of people at the market are preparing to move to the new market.  The store that she normally goes to is running out of stock.  She doesn't purchase the items at JustMar because at the market she does go to, they will get the groceries for her so she doesn't have to roam through the store looking for things and pushing the small crippled shopping cart also.  All the carts around here are crippled.  All this will change when the HyperMarket arrives.  I will not mind going shopping in a place that you can actually move around with plenty of room for others to pass without having to bump butts (although at times I don't mind that).  A supermarket should make you feel good while shopping.  If you enjoy it, you stay just a little longer.  The longer you stay the more apt you are to buying something.  It's just good business sense.  I can see me volunteering to go with Lita shopping even at 0400.
There is another short, round, white guy outside waiting on a tricycle with his wife/girlfriend.  When he did finally get one and got on he sat in the back and the whole back end went way down.  I thought it was going to drag back there.  I wonder if it does that when I sit back there?  It probably does, but I always try to sit up front by the driver, and always try to get the shotgun position if someone else gets on.
Well I had my 2 hours in the house.  It's about 4:55pm now and I went into the house at 2:45pm.  Lita will probably come back out again in a couple of hours, but maybe not.  We close at 8:00pm tonight, so it won't be so bad if she doesn't.
With the New Year coming up, I plan to "try" to expand on a couple of my other blogs I recently started.  The problem is that I'm going to need help, specially from the City of Calbayog to get at least one of them going.  At this time, I'm not sure that is going to be possible, but I'm at least going to check it out.  I personally don't think the City of Calbayog is represented well enough on the Internet, not with current issues anyway.  I'm going to give it a shot, even if I have to make the attempt without their assistance.  The 2 blogs that I am talking about are:
http://calbayog-corner.blogspot.com/ & http://samarheadlines.blogspot.com/. (Both these blogs no longer exist)
While Lita was in the store, and I was napping, that short, round, white guy came by and bought 10 packs of the Sky Flake crackers.  He must really like those.  They are used here a lot, along with a drink, as a snack.
Tonight was the first time I tried the new blog format.  You know, a different post for each day, no matter the length of the post.  I sure hope it hasn't driven anyone away and in fact I hope it actually brings more people in.  The ones that do not like to read all those long posts that I was doing.  Although I'm sure that some of things will still turn out to be long.  This one will be over 1000 words, I can tell you that much.  I know a few of y'all said you liked my rambling, so I will still ramble, but it will just be on a separate post.  All the information I would put on 1 post will still be there, just separated.
If you need for me to ramble, I can do that.  I can do it for hours at times.  My Mom's side of the family is French Canadian.  With my experience with French Canadians, they were born to talk.  My Mom's Mom talked more than anyone I've ever met.  She could talk circles around Lita, and Lita's the second biggest talker I know.
Y'all don't forget my new blogs.  Give them a look-see if you are at all interested in the Samar and/or Calbayog areas.
Special Note:  I do have another blog.  It's the other one that I have had, but I hadn't put any information in it recently.  I have now changed the name of it and I have posted a story.  I think it's the best story on the site.  That blog is at:  http://idlethoughtsaltereddreams.blogspot.com/.  The newest stories are all to the top and left.  The story here to look for is called "Gummy Girls".  The first one about "Why a Fly Pesters You" is also not so bad.  The others I'm not sure of, but since I have changed the name and the format, I will be submitting different types of posts here.
Useless Knowledge:  Entomophagy is the scientific name for insect eating. There are more than 1,450 recorded species of edible insects. Many species of insects are lower in fat and higher in protein and have a better food-to-meat ratio than beef, lamb, pork, or chicken.
UJ says:  But they don't say anything about the taste.