[smartads] In the last post I just finished letting y'all know what I was not feeling well.  Things are not that much different now.
Well we made it to Christmas morning.  I hope that everyone had a better Christmas than I did.  I'm still sick, but feel a little better than yesterday.  In contrast to yesterday's long post, this may end up be the shortest post I've ever done, unless you want to hear about me laying in bed watching TV and what I watched.  I didn't think so.
I'll try to fill in with a little bit anyway, so it won't be super short.
Lita made, what I consider a Filipino mistake.  She gave a present to just 1 of the children.  There are 8 kids here.  She gave it to our godson, Khan.  Although we are godparents to some of the other children, they were all by proxy.  We were actually at Khan's baptism.  I think that in the Filipino way of thinking, that makes a difference.
There, that's what I had written down for Christmas Day.  I guess I can expand a little though.  Maybe we'll get lucky and I'll ramble.  I doubt it though because I still have a short story to write.  I need a pen name, any suggestions?
For Christmas we received 2 boxes of Corn Flakes, 2 boxes of milk, a pair of flip flops each and a total of P3000.  All that is more than I expected since all we gave out was that present to Khan.  Of course when we were in Texas and we were both working, we would send money over here and the several times we came to visit before we moved here, we always brought presents for everyone.  This is our 2nd and last Christmas that we will be unable to give out any presents.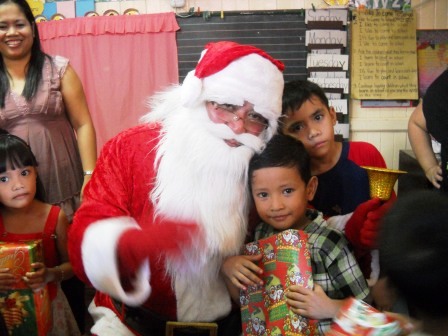 I've got ideas for new blogs, 2 of them I've already told y'all about.  One of the other ones will be my travel blog.  Of course I will only be able to put something in there when I/we travel.  Most likely I will start with our 2 day trip to Cebu on February 6th thru 8th.  After I get it typed up, I will put a link on this blog to get to it.  Whenever there is something new on that blog y'all will now about it because I will talk about the upcoming trip on this blog.  I will just mention it on this blog, but I will go into much more detail on the travel blog.  I better look up how a travel blog is done.  I've heard that it is different than a regular blog.
I've seen those picture video things (I forget the name of them) like on TripAdvisor, maybe it's something like that.  If it's not like those, then I will also, in addition to starting the travel blog, try to remember to do one of the things too.  If I can figure it out.
Well that's enough for this post.  We made it over 500 words.  The post for tomorrow will be back to a normal thing.
Useless Knowledge:  Medical experts have observed that people who stutter rarely do so when they are alone or talking to a pet.  (UJ says: Maybe it's just that they are more relaxed and thus so are their vocal cords).