[smartads] I left off on Monday telling you about how much I like to ramble on these blogs and some of y'all exactly like that.  I also reminded y'all not to forget about my other new blogs, requesting that you give them a try to see what you think.  While/If you are there, also please let me know what you think about the first, made from scratch, story that I have ever written.  It's at the Idle Thoughts & Altered Dreams  website and is called Gummy Girls.  I would give you the link straight to it, but you might want to check out a couple of the other stories there also, so I'll just direct you to the main page of the website and let you pick and choose to your taste of stories.  Click any picture and see more information on that picture.
I woke up early this morning, but I couldn't tell you what time it was.  For some reason I didn't bother to look today or if I did, I didn't write it down and I don't remember.  No big deal, but it was before 0800.
I came in here to the computer because I was hoping for an answer already to an e-mail I sent out to help promote one of my other blogs I'm starting.  I didn't really think I'd get an answer, much less one already.  I sure was surprised when there was an e-mail there.  Not only was it there, it was a very supportive e-mail.  The lady was happy that I want to promote Calbayog.  Her exact words: "you'll be an instrument for us to achieve our plans and projects for the city"s development in the near future".  I hope I can live up to that.  Her office should be able to supply me with enough information to make it an interesting site, but I will be trying to find information elsewhere also.  I hope to get local sponsors for the site so the services here will be more visible to the rest of the world.
I had french toast for breakfast this morning.  I was going to have some of the corn flakes that I received for Christmas, but after talking with Rick Smith on Facebook right before that, I decided on the french toast.  That's what he was having and it sounded good.  I haven't had french toast for awhile anyway.  The syrup has been setting around for months because I don't cook the pancakes anymore (that's to change soon), so I needed something to do with that anyway.  Besides, it was good.  I wish I would of had some cinnamon though.
So now it's 10:46 and I'm in LolyKat.  It's raining (again) so I don't expect to see much business, but maybe during the many breaks between rain showers, someone will show up.  Nothing much to do in the house anyway, except the blogs.  I can do those later.  When/If the new blogs get going, I will end up spending even more time in there.  I think I'm going to need that laptop very soon.  Anyone got a spare they want to give me?  I hope to get one while we are back in Texas in May/June next year.
I already told you that the kids around here like to buy types of candy in spurts.  Well today they are all buying Whip-its.  If they keep it up, we will be out of them before we close tonight.
Mar just showed up with Marianne and some guy I don't know.  I think it's Marianne's boyfriend because when she went to the back, he followed right behind her.  Maybe he is just uncomfortable in an unfamiliar place and wanted to be with someone he knew, but I don't think so.  I guess Mar didn't have anything important to say to me because he didn't say anything at all.  The just left and it has been confirmed, it was her boyfriend.
Lita reminded me of some watermelon we cut in half and put in the bottom of the freezer, because it was too big to fit in the refrigerator.  I forgot about it to tell you the truth.  I've never put a watermelon in the freezer before and it's been in there for about 4 days, so I don't think it's going to be any good, even though it is wrapped in aluminum foil.  I've got half of it out here with me waiting for it to thaw to taste it.  It's got freezer burn, so I don't think so.
There's a tricycle driver taking his break in front of the Ciriaco Hotel.  Good place to take a break if you don't mind getting interrupted by customers coming out of the hotel.  I'm sure that's his plan.
Here comes the rain again.  It's about 12:33pm.  Lita brought the water resistant clock from the bathroom out here, so we do have a clock here now.
Someone around here has firecrackers and they are close by.  I don't see them, but I can sure hear them.  It's seems to be only individual firecrackers being popped.  It's loud and annoying.  I don't like fireworks much anyway.  There is too much potential for injury in the hands of children and other amateurs, but the most dangerous people are the ones that think they are experts, but aren't.
I did get that better picture of the Fran Jessy logo I said I would get.  This one is off the front of the little blue truck I call the Pepsi Mobile.  It looks like the Pepsi sticker could do with some replacing or fixing though.  It had been raining when I took this photo also.
More on my new blog(s):  The Calbayog Corner one is going to be put in the foreground because I think I will be able to get the most information on it before the rest of them.  The Idle Thoughts & Altered Dreams one is just as I think or dream of stories to write anyway.  The next blog I'll try to get up to speed, after the Calbayog Corner, will be the Samar Headlines Blog.  I'm not sure how I'm going to pull off what I want to do with this one, but maybe the lady at the Office of Information will be able to point me in the right direction when I see her about Calbayog Corner.  Eventually I hope Calbayog Corner will have guest bloggers with Calbayog stories and local businesses advertising on there.  Actually I'd like to have guest bloggers on them all and people advertising on them all too.  Remember that although this blog, A Texan's Life in the Philippines, is the main blog and probably always will be, the other blogs are there, so please don't forget about them and at least check them out to see if they might be something you want to follow.
I'm down to 7, 6, 5, 4 Yahtzee sheets left, stupid game.  Rick offered to print stuff for me, so maybe I'll send him a home made version of a Yahtzee score card to have him print some.  Nah!  That's a waste of paper and ink.  I'll find some in Cebu while I'm roaming the mall.  If they don't have any, then maybe I'll send him the homemade version.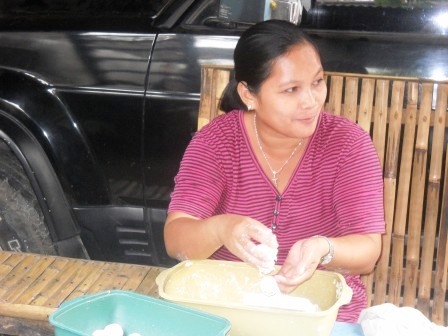 I found the phone number for Marcial's Grille.  I'm going to call them later about their hours on 1 Jan, if they have any.  I was looking at the website I have linked here and I already think I know what I want for the main course for Lita and I.  From hearing things from Blair and Gary, I believe I know what I want to get us for dessert too.  It's just the appetizers that I will have in question.  If they have cheese sticks, then there is no question.  The website also states the hours and it says they are open everyday, but I want to be sure on the first day of the New Year.
http://calbayogrestaurant.wordpress.com/marcials-grille-menu/
Marianne and the boyfriend just returned with Ramil's kids.  They go to see their Lolo and Lola quite often.  I heard the boyfriend ask Marianne who I was, but they don't know I heard him ask.  Shhh, don't say anything about it.  Maybe Mar is mad at me about something.  He's been here twice today and he didn't say Hi or Bye or rattlesnake poop or anything.  I'll find out later.  I'm unaware of any reason why he would or should be mad at me though.  Maybe I just need some Listerine and/or better deodorant.
Salamat, Paalam
Useless Knowledge:  Desi Arnaz's, from I Love Lucy, father was mayor of Santiago, Cuba, and his mother was the daughter of one of the founders of Bacardi Rum. His family went into exile in the United States after the coup that brought dictator Fulgencio Batista to power in 1934. The family made its new home in Miami, Florida. And Desi's best friend in high school? Al Capone, Jr.
Other Sites and Stories to Check Out:
http://www.philippinesplus.com/the-philippines-a-great-vacation-destination-but-you-are-no-longer-on-vacation/comment-page-1/#comment-19819
http://calbayog-corner.blogspot.com/
http://samarheadlines.blogspot.com/