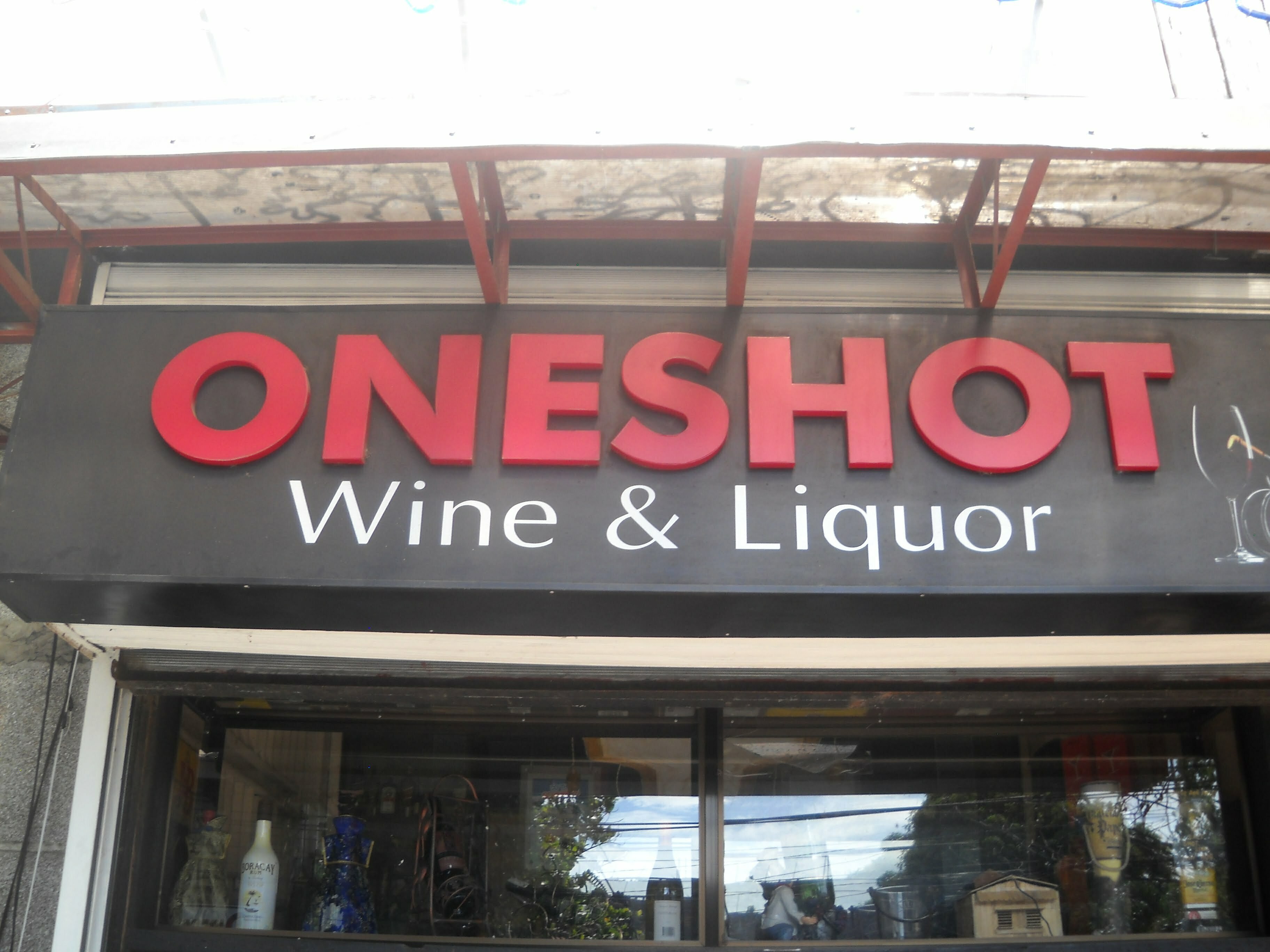 [smartads]
So on this trip downtown to find eating places I walked through barangay Rawis and then barangay West Awang.  Actually I believe that although I am now in the downtown area, I am still in barangay West Awang.  I'm not exactly sure were it ends, but probably at the river.  I had just taken a few pictures non-eating places pictures at the area across from City Hall and now it's time to move on.  Actually the next place I went to is not an eating place it, but a drinking place.  At least a drink purchase place.  Yes that's right it's the liquor store that I mentioned at the beginning of the first post of this series.  Let's begin there.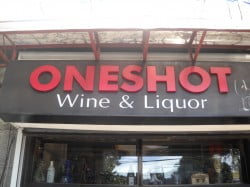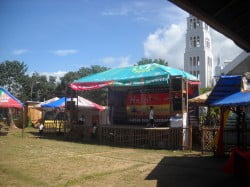 This place almost got skipped over, but I thought I caught a glimpse of a Jose Cuervo bottle.  Turns out I was right, so I went in.  The name of this place is Oneshot Wine and Liquor.  As you probably will be able to see in the picture below, they have more than just Jose Cuervo and Chivas Regal.  I can also see J&B, Jack Daniels and at least 3 Johnnie Walkers, all those guys are there.  That's just the few bottles that I know anything about, you might be able to recognize more.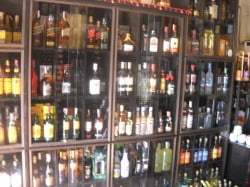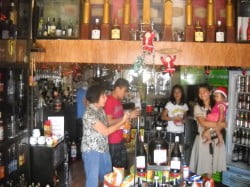 The next place I stop at was not until I got next to the road by the river, which is Gomez.  I did notice that either BreadMix is renovating or has closed down.  The windows were boarded up and there were some men out there working.  BreadMix was the first restaurant that I ate at in Calbayog City and that was back in 2000.  Mar brought me there and, if I remember correctly, he even paid for it.  The pickiness in me didn't like it much, of course, and I did not return there until 2011, when I went with Ramil.  I still didn't like it much, but it seems a lot of other people did.  At least both the times I was in there, it was crowded and most of the time I passed by there, it was crowded also.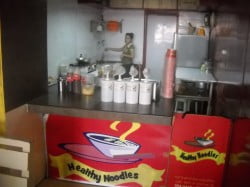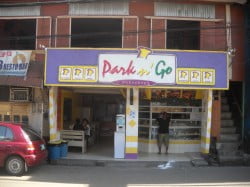 There were 7 more places to stop at before I decided that I was getting tired and needed to get to the bank before heading back home.  The first of those 7 was Park n' Go Bakeshop & Jian Kang Noodles.  They are both right next to each other in the same large space.  The bakeshop is up front and the noodle shop is in the back.  Jian Kang is open from 8am-Midnight and Park n' Go is another 24 hours place.
Next up is one of the more popular bakeshops in town, Julia's Bakeshop.  We have been to this one several times, but only to buy sliced bread.  They are another 24 hours shop.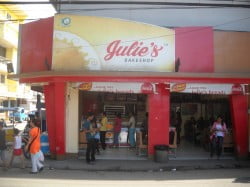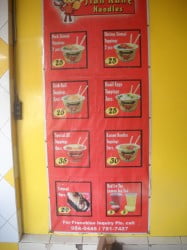 The big 2 (at least for now) are next in line.  First is Chow King, which is the place that I have eaten at the most since I've been here and they are open 7am-9pm.  Before heading over to the next place across the road, I stuck the camera over the fence where they are in the process of putting up Centro Mall, just to see what kind of progress they have had.  Not much.
So the most popular fast food restaurant in the Philippines is up next, Jollibee's.  I didn't bother taking anymore pictures of either Chow King or Jollibee's because I have some on the site already and until the renovation of Jollibee's is finished, it still looks basically the same.  The hours of Jollibee's are 6am-10pm.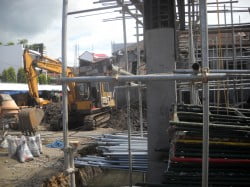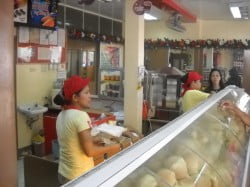 Joy's Bakeshop is directly across the street from Jollibee's.  The 2 young ladies working in there spoke good English and were very nice.  The hours at Joy's is 5am-10pm.
I took a short detour off Gomez to go into Inasal on Navarro St.  I also have pictures of this place on the site already, so I was just there to get their hours.  I had to wait because they were busy so, while I waited, I took a picture of the customers.  Inasal is one of the most popular roasted chicken places in the Philippines.  Their hours are 8am-9pm.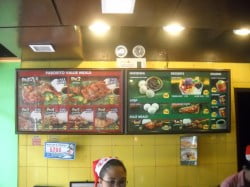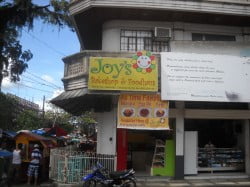 Next place I saw, and next to last place I went, is Tony's Fastfood.  This was not a large place, but it had a lot of people in there.  It was lunch time though, so maybe it is crowded in all the eating establishments downtown during lunch.  The hours here are 7am-8:30pm.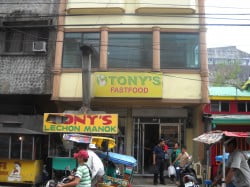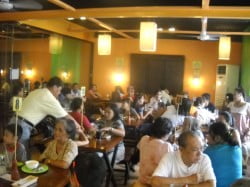 Finally I was just too tired to continue.  There was one more place close so I just went ahead to go in there.  It is called Mila's Kaon Kaonon.  It is directly across from Tony's Fastfoods.  I have no idea what that Kaon Kaonon is or means, but perhaps someone reading knows the answer.  I asked the hours and the lady told me 'sometimes' they open at 8am and 'sometimes' they close at 3pm.  I finally figured out what she was talking about.  They try to open at 8am and they stay open until all the food is gone, which is normally around 3pm.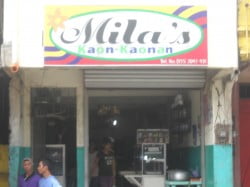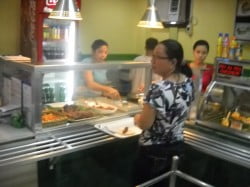 After Mila's I decided it's time to head for Metro Bank to get that little bit of money we have left in there.  I still walked over there because I still don't like to ride while downtown.  Things are not that far away for me.  I got in line behind a shapely looking Filipina at the back, so it wasn't so bad waiting for the 5 people in front of me.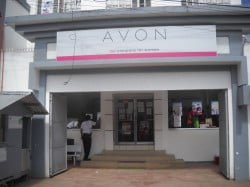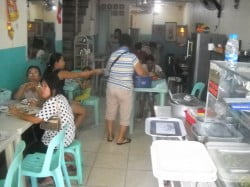 Finally I headed home, walking.  I got about 1/2 way home, to the seawall, and I decided I was just too tired to continue walking.  I hailed a tricycle and rode the rest of the way.  I still paid the normal rate that I always do, P10.  It was worth it to me because I was really tired.  When I got in the house I got my shirt off, put a towel on the bed and laid down for about 20 minutes.  After that I took a shower.  That was at the request of Lita, but I suppose after all that walking, I needed it.
Salamat, Y'all