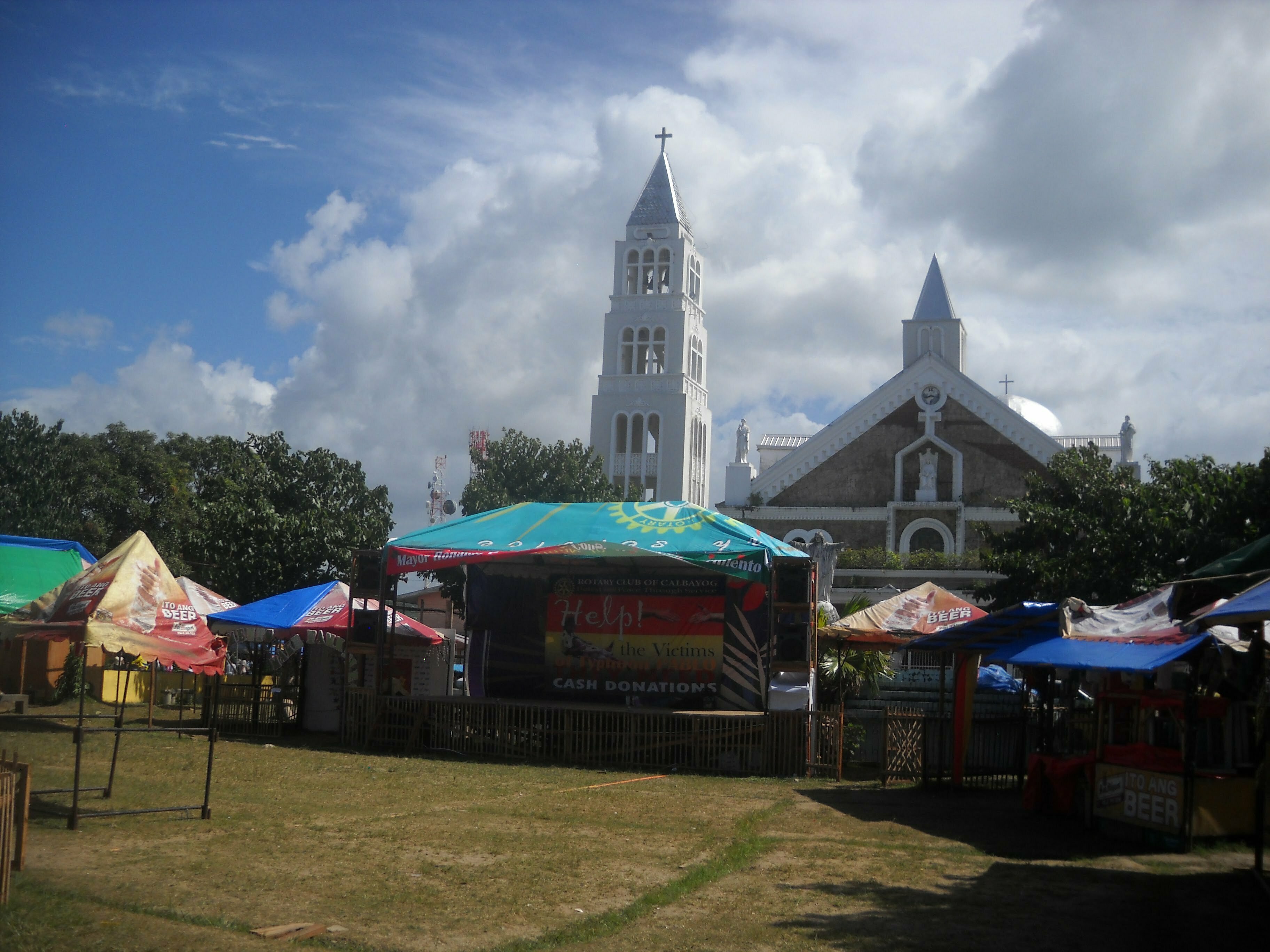 [smartads]
Since it's been a couple of days, here is a quick review.  I took a trip to downtown Calbayog and discovered a few things, 2 that really surprised me.  The first thing being that there are plenty of little restaurants and bakeshops that are open 24 hours and the second being a quality liquor store in town.  I started at home and already described the places I came across in barangay Rawis.  Now it time for the next barangay, which I just found out the name of or that it even existed.  The name of this barangay is West Awang.  So here is the next part of my morning walk to Calbayog City Proper.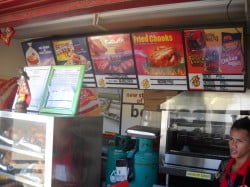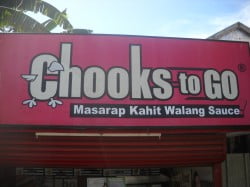 I'm walking down the street with a couple of little kids trailing me, but they left after I crossed the street to go to my first eating place in West Awang.  The name of his one is Chook's to Go.  They serve mostly chicken here, but the guy working there told me they also have pork skins, or as they call it here, chicharrone.  Chicken hot dogs are also on the menu and there are chicken wings, but only the ones with sweet sauce.  I have eaten chicken from this place many times and it is decent enough.  I have never had a problem with it that I can remember.  I know that they also have another branch on Magsaysay Blvd and probably more also.  This place is small, but it is a national chain.  Actually the guy working at Chook's is the one that wrote down the name of the barangay for me.  I asked him what it was, but I couldn't really understand what he said.  He wrote it down, but had to ask the only customer there, how to spell it.  This place is open from 8am-8pm, everyday.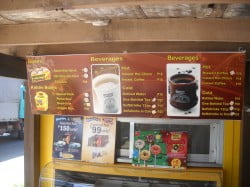 The next place I came across was one of the multi-eating places.  At the Monterrey Meat Shop, just like the one downtown, they have a Mister Donut and a Hungary Juan.  The difference here though is that this Hungary Juan is not open.  The sign is still there, but the guy working at Mister Donut said that only the one downtown is open for business.  I do not really eat too many doughnuts, but if I wanted to I could do it at any time because this place is open 24 hours a day.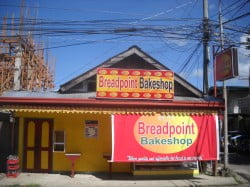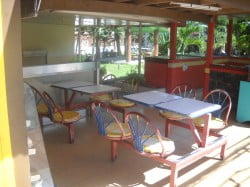 The next place is on the opposite side of the street and it is a restaurant called 4R.  It is directly across from the Monterrey Meat Shop.  The owner lady and the lady at the food counter were very friendly and both could speak pretty good English, especially the owner.  They serve pretty much all Filipino food here and the restaurant was clean.  The sign on the store says they are open 24 hours, but that is no longer the case.  The new hours are 4am until 11pm.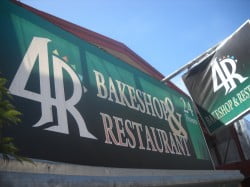 Going back across the street again you will find Breadpoint Bakeshop.  The have a big cover out from to block the sun's rays from any customers, so I was not able to get a decent picture, but it is a typical bakeshop and they do have at least one more branch in the downtown area.  I can tell you that the sliced bread at this place is good.  It is also open 24 hours a day.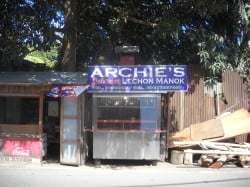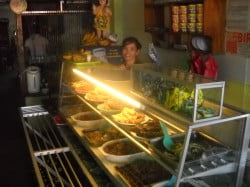 Once again going back across the street, a little further up the road, you will see the First Avenue Restaurant.  I have already posted pictures of this restaurant recently so I didn't take anymore for this post.  It's the restaurant that has all the red tables with Coca-Cola all over them.  This place is open from 6am until 3am, so that is almost 24 hours.
I better not forget about the small place that I saw.  I didn't get any information on it, but it is called Archie's Delicious Lechon Manok (roasted chicken).  I am not sure if it was before the First Avenue Restaurant or a little after, but I think it was right before.  You can see the phone number in the picture.  I have never tried any of the chicken from here, so I couldn't tell you if it is any good or not.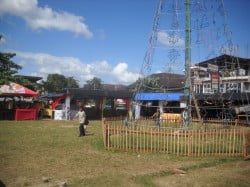 Next I was in the downtown area and I got more than just pictures of restaurants while there.  But I will be saving those pictures.  Well actually I do have a lot of pictures left and the next post will probably be the last one for this series, so maybe I'll put 2 or 3 of the non-restaurant pictures on this post.  I think I will put the ones of the area across from City Hall where they have been celebrating Christmas all month.  They are only daytime pictures so they will not look as good as they would at night time when all the festivities are going on, but I haven't gotten around to making it there at night yet.
Salamat, Y'all