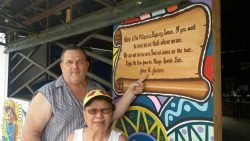 Maybe I don't deserve to maintain this blog anymore.  I go so long without giving y'all any information.  It's shear laziness, that's what it is.  It's not like I don't have the time or the information (although many days it would be boring).  If I could get to where I would do 2-4 per month (depending on the information available), that would be a lot better than what I'm doing now.  I'm sure that I will forget to post something that could end up being important to someone somehow.  That's what bothers me about not posting most of all.  Maybe something I didn't post would have helped someone through a problem they were having or may end up having in the future.  Like right now, I want to continue typing, but my wife is watching "Code of Honor" and I, with my wonderful memory, don't remember how that movies goes.  So now I'm going to be delayed again.  Not that it will be noticed by y'all.
See, it's been over 2 hours later and y'all didn't even know I was really gone.  Okay, let's get into this post and hopefully it will be helpful to someone.  I know I will forget some things but I'll do my best not to.  I'm not sure where to start or if I will get everything in the order it happened but at least the information will be here.
Mango Lounge is expanding.  He know has an overhang area built and he added several more tables there.  The whole place is basically outside anyway but at least the extension keeps part of the inner part more dry when it rains.  The area is dedicated to Christian's father who just recently died on 28 February.  He has already built a gazebo upstairs and is now working on another area next to the main restaurant.  I'm not allowed to say what that is going to be.  He told me but made me promise not to say.  I'm good at keeping secrets, so you'll have to wait until I get the go ahead.  More extensions are planned for the backside of the restaurant also.  Again, mostly secret, but I will say that the kitchen will be expanded.  He is still trying to expand the menu and will soon have to hire more people.  Business is looking up for him and that's good news for us all.
My cousin here, Victor, who had a bout with diabetes, is now up and pretty much walking around on his own.  It's good to see him moving around again.  He is our Mr. Fix-it around here and he loves to do those things.  Hopefully he'll get back to doing those things.  I hope so mostly because it is good for him to get back in his normal routine.
My cousin in Texas, Dan, is still waiting to be allowed to come visit me here in the Philippines.  He is just waiting for COVID to give him permission without having to spend too much time in quarantine.  He's only coming for 2 weeks and the required quarantine time right now is 2 weeks.  It would suck to spend you whole vacation time in quarantine and had to pay to in quarantine (airline tickets, food, hotel cost).  When he's ready I will help him get a flight that suits him best.  I fancy myself as an amateur ticket agent, without proper training.
Speaking of COVID, it's still here.  At least the protocols are still here.  I'm starting to wonder if it will ever go away.  Just when it seems there is a chance it will be gone a new version of it shows up.  They have eased up on some of the visitors to the Philippines, but not for tourists yet.  I already mentioned about the 2 week quarantine.
Well that's all for this post.  It ain't much, but hopefully it contains some information that will help someone, somehow.  You will not have to wait so long for the next post.  I promise.
Salamat Y'all