[smartads]
I have been in Calbayog Proper (downtown) looking around and taking pictures for y'all and to get to know the area a little better.  I discovered a few things I didn't know about so I am glad that I decided to do this.  It's about time for me to head home now because it's almost time for the electricity to come back on, at least I think it is.  I don't have a watch and I have not checked a clock since I left.  It's starting to get dark and I know I've been gone for over 2 hours so Lita is probably starting to worry.  Oh, by the way, the name of the mini-mall is Centro Mall and it's suppose to be 3 stories high, so not that "mini".  So things are starting to look up around here.  Now if we could just get a Subway.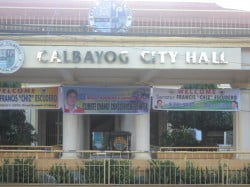 So I'm walking along the highway heading home.  There are a lot of people in a small area here, I guess they were watching or at least wondering what that parade thing was all about.  Of course I get a lot of extra stares while going through a crowd, especially from the children.  One little boy stopped crying when he saw me.  I guess I amazed him.  I finally make it through the crowd and took the pictures of the appliance store that I put in the last post and now I'm passing City Hall.  I remembered that usually when I am passing City Hall, I am in a tricycle and can not get a good picture.  So I backed up a little bit and took a picture of it from across the street.  The whole time I'm trying to take this picture I have a couple of little boys trying to get my attention because they want to some money.  Unlike the little girls from earlier, these boys did not look so poor.  They had nice clothes and looked like they at least had a bath recently.  I'm doing my best to ignore them and I am doing a good job of it.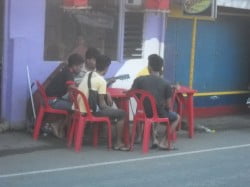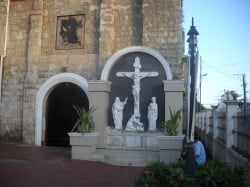 As I am passing the Saint Peter and Paul Cathedral, I notice that they seem to be getting ready for mass.  The side gate is open, which I don't ever remember seeing before.  I know for a fact that I have never been walking by with my camera when the gate was open.  So I stepped in and took a picture of the Crucifix before I continued.  Those 2 boys still back there yelling, "Hey", but they were about to give up and finally did after I crossed over the next street.
Everything for awhile along this route is things that I have already taken numerous pictures of, except for a group of young men that were singing across the street at a little table.  At first they acted like they wanted me to take a picture of them, but then they turned around.  I took the picture anyway.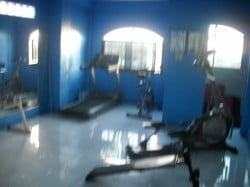 So as I'm arriving at the Grand Tour Van Depot, I remember the B & G Gym.  I have been wanting to check that place out, but never went into it.  I talked myself into going up, but I didn't know it would be so far up.  The ground floor is nothing.  The second floor is where they have a few cardiac-vascular machines and the top floor is where they have the weight machines.  They had plenty of weights though.  I talked to a guy there that spoke very good English, I think he was the owner or manager and he told me that "he" plans on getting some more cardiac machines soon.  I asked about the fee for using the facilities and he said it was P50 per day or P800 per month.  I'm hoping that is what the price will be at the Ciriaco Hotel when they finally get theirs complete, but I'm prepared to pay P1000 per month if I have to.  My pictures did not come out very well inside the gym, but I will put them here anyway.
After leaving the gym and continuing on home, my back starting hurting.  When I was losing weight, my back didn't hurt so often, so I guess this gut sticking out is part of the problem I have with my back.  Anyway, I'm thinking to take a tricycle the rest of the way.  But I don't, I continue walking.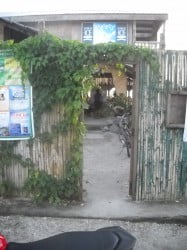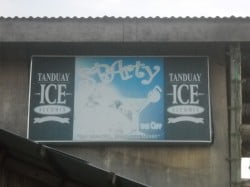 As I am passing by Sparty's, I notice that there are people there.  Sparty is a small restaurant close to the house.  I thought it had closed down, but I guess I have just not been around there at the right time.  I talked with a lady in there and she said that they were just opening for drinks now, but it would be another hour before they started serving food.  I just asked to take a few pictures for the blog.  They were using the tables so I just kind of took pictures around them.  The young lady that seemed to be the hostess was very nice and nice looking.  I don't think she spoke English very well, or maybe she was just shy.  She is a Filipina with dark red hair.  I don't see too many of them, but I suppose it was dyed.  Maybe not.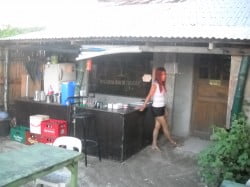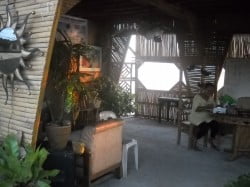 After a few more "Hello's" and "Hey Joe's", I finally make it to the house.  Sure enough the first thing that Lita says is, "What took you so long, I was worried".  Do I know my wife or what?  I had to go in to lay down right away because my back was really hurting.  After about 1/2 an hour I got up to take a shower.
All in all, I liked my little adventure and I plan to do another one in the not so far future.  I will try to do some exciting things next time so y'all will have more exciting things to read about.
Salamat, Y'all