A Ticket to Ride – Part 1
[smartads]
We're at that time of year now that the wife and I need to leave the Philippines for at least a day.  Being here in balikbayan status, it is necessary.  This year we have to something a little bit unique.  Unique enough that I hope we never have to repeat it.  Since my wife's dependent military ID card is expired, we would not be allowed to travel via Space A out of Clark, but will have to take a commercial flight to a place that she can get her card renewed and then take Space A from there.  We were thinking of 2 ways to get this accomplished.  Things don't always turn out as great as you'd like them to though.  Here is how all this played out.
In May 2012 when we left for Texas, we run into a problem with buying a one way ticket out.   The problem was that we were going to Korea to try to catch a Space A flight because we were unable to get one out of Clark and we were running out of time before we needed to be gone.  Anyway, they have a rule against going to a country on a one way ticket that you don't have a passport for.  I think they are afraid that if you end up getting stuck in Korea (or whatever country), you'd be a burden to their society and they (the airline) would be held accountable.  I tried to explain to them about Space A, but they just did not comprehend.  We finally got around it by giving them a copy of my military ID card and also a page out of my passport.  They never did ask my wife for any information.  She's also an American citizen, but maybe it had something to do with being a former Filipino.  I'm still not clear on that.
—-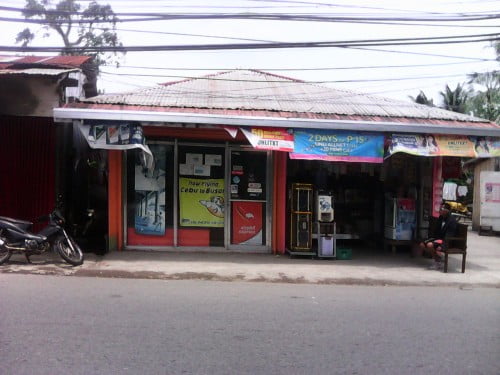 Sky Horizon ticket office in Brgy. Obrero
—-
So this year when leaving I was unsure if they would allow us to leave on our one way tickets, because we wanted to take the same route as in 2012.  We decided it might be better if we go via Guam instead because, being both US citizens, we would not have to worry about the one way ticket policy.  After checking for a few weeks the flights going to the US mainland from Guam, I noticed that there were not near as many as the ones that we had a chance to get on going through Korea.  So we decided to just do the Korea thing again and hope that they would let us go again.  Of course everything did not go as planned.
Of course the airline with the lowest prices out of the Philippines is Cebu Pacific Air, so that's the airline we always use when we are using commercial.  The only place in Calbayog that you can get the same prices that you see online is at Sky Horizon in Brgy. Obrero, just across the main bridge downtown.  I checked at many of the places that say they sell Cebu Pacific tickets and they even told me that, because I asked.  That's the same place we always use.
—-
2 young ladies on their computer inside Sky Horizon ticket office
—-
So we go there, tell the nice lady what we want and I asked about the one way ticket policy.  Maybe I should not have.  She volunteered to call the main office and asked for me.  They said that I would need the round trip or follow on ticket.  Now in 2012 when we were ignorant of this fact, we got away with it, eventually.  Now that we know, we decided not to take a chance.  We can't afford to get stuck here and miss the day we need to be out by (27 Aug).   So we decide to go back home and regroup.  It's looking like we will be heading to Guam after all.
After a little deliberation, we did decide on Guam and take a chance with the flights, even if we have to take a flight back to Kadena and then back again to stateside.  Now we need to figure out the best day and route for us all over again.
I'll continue with the rest in the next post.
Salamat Y'all