Hanging with Dude & Mate at Demetrius
[smartads]
Yesterday afternoon around 4:15 I went to Calbayog Proper (downtown) with Lita to get some money.  Unbeknownst to her at the time, I had a hidden agenda.  She had already told me that after we get the money that we would separate so she could get a cover for our tablet and then get a few groceries.  I don't particularly like shopping in the stores here because the aisles are so narrow and there are usually so many shoppers.  I think she gets tired of me complaining and rarely asks me to go with her, but I also think she likes it when I do, if I don't complain.
Anyway, Randy (Dude) had contacted me earlier and wanted to know if I wanted to meet him downtown at Demetrius, a small restaurant that also serves beer.  I figured that if I don't mention anything to my wife until we are already downtown, the chances of her complaining were lower.  I was right of course, but maybe she would not have even complained while we were at the house.  I didn't tell her until after we had the money in hand.  Turned out it was easy, no complaining at all.  She got a trike to where she wanted to go and I walked to Demetrius.  I was going to be early.  I figured that also going to arrive would be Dean (Mate).  He's an Aussie, as you might have guessed from the 'Mate'.  We 3 sat out there last week also.
—-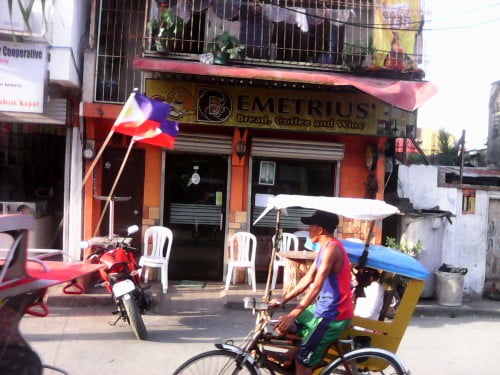 Demetrius on Magsaysay, Calbayog City Samar
—-
So I get there and order a SMB (San Miguel beer) from the guy that was behind the bar.  Although that is what most expats call the San Miguel and it is listed like that on a lot of menus, I think I'm going to stop ordering it that way because of what happen when I did this time.  When he brought the beer to me, it was a SML (San Miguel light).  I don't like SML, it's too weak and doesn't really taste like beer to me.  Plenty of others guys like it and that's cool, but it's not for me.  Anyway instead of returning it I told them just get me the regular San Miguel also, figuring that I'll keep this one because when Randy and/or Dean show up, I'll just give it to them.  So when he bring the next beer in, it's a Red Horse stallion.  Now I like Red Horse better, but that's not what I ordered.  I just went ahead and kept the Red Horse though and paid him the P40.  I was tired of the game.
—-
Trikes going by Demetrius
—-
After I had finished 2 of these Red Horse stallions and was ready for my third, and the SML 'just' had time to get a little warm, both Randy and Dean show up at the same time.  Randy is the first one in the door, because Dean stopped to talked to someone, so I offer Randy the beer, but it's not cold enough.  He asks the, now a lady, behind the bar to put it in the freezer for him.  She did this with no problem.  He then proceeds to order another beer for him, and one for me.  Okay great, that makes up for the one I paid for for him, but the lady only charged him P35 for the Red Horse, but still P40 for the SML.  The menu says P40 for Red Horse, but I'm not one to argue about such things.  I also order some potato mojo's at this time.  These are just basically fries, but cut circular, like chips, only thicker.  They are P60 ($1.40) for about 8 or 9 of them.
—-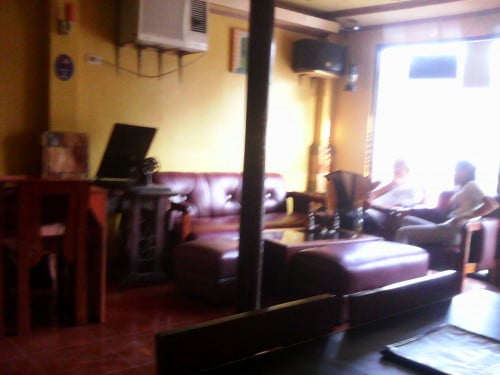 Inside Demetrius
—-
So we got outside to sit by the street because we like to try to talk over the traffic or watch the ladies walk by, one of those 2 things.  Right about then Dean is finished talking and he heads in to get his beer.  So we're all sitting out there BS-ing, telling weird jokes, talking about Facebook, watching people walk by and time sure does go fast when you do that.  Before I knew it, it was just past 7pm.  Randy's wife was coming by to go home with him, so he was waiting on her, but it was about time for Dean to head out.  He got on his cool looking motorcycle and headed home.
—-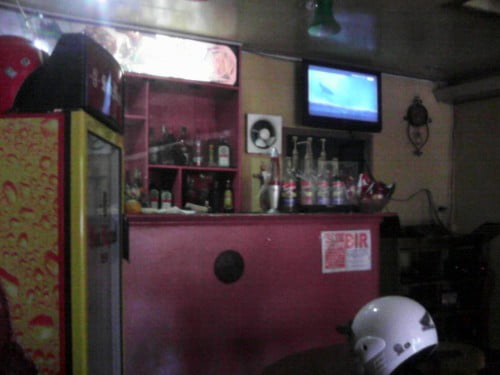 The bar/counter inside Demetrius
—-
Just after Dean left, Randy and I noticed a couple of other 'white' fellows across the way drinking beer.  By now I just started Red Horse #6, so I carried it across the street with me to talk with them.  I will note here that when I got beer #6, I also bought one for Randy, but he decided that he wanted a Red Horse also, instead of the SML.  It's the first time I've seen him drink a Red Horse.  So I introduced myself to the guys across the street.  I found out that their names are Victor and James.  James has actually read my blog and he also had an interesting story to tell, but I won't relay that.  I found out that the beer where they are cost quite a bit less than where we are at.  The Red Horse and SML are P27 each here versus the P35 or P40 there.  They also have a few chairs there to sit down, no tables though that I saw.  After talking a few minutes, Victor buys me another Red Horse (#7).  Well I was already over what I set my limit at (5), so I went ahead and took it.  After all I'm not one to look a gift "Red" Horse in the mouth.
—-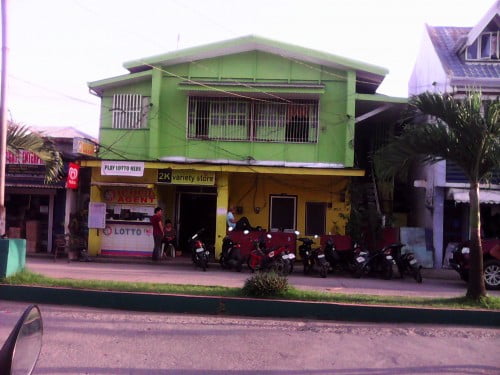 2K Variety Store is across from Demetrius and that's where James and Victor were
—-
They decided that they would go across and meet Randy.  By this time Randy's wife is there, but he stayed long enough to talk with these to guys for awhile and invite them to his party.  After some more talking and less watching (because of Randy's wife maybe) we decided it was time to head out.  Well they all left, but I was not finished with my last beer yet.  I stayed long enough to finish it.  As I was heading out, I decided to strike up a conversation with another 'white' guy that was inside Demetrius.  His name turned out to be Ken.  He was there with a couple of Filipinos.  We talked for a little bit and I invited him to Randy's party also.  He has not been to Malajog Beach yet, but the Filipino guys with him knew where it was.  After talking a little while longer, I headed out to find a motor trike to take me home.  I walked for, I don't know, about a 1/4 of a mile, to Grand Tours terminal and got in one of the trikes there waiting on customers from the terminal.  I made it home incident free and things were AOK at home.  I kind of halfway expected my wife to be a little mad because I was a little overdue and maybe not walking as straight as before, but nope, no problems.  I suppose she was in a good mood.
—-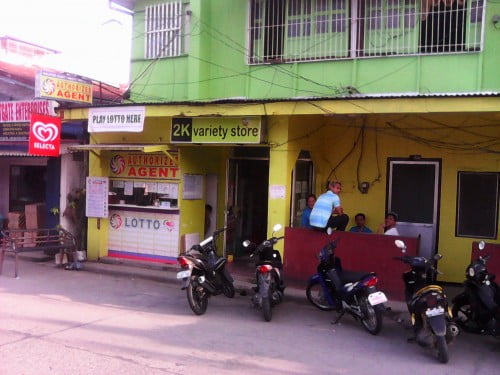 Another, closer 2K view.  Looks like some of the Filipinos there noticed me taking a picture
—-
By the way, these names of Dude and Mate I just made up for them.  I don't really call Randy or Dean that (although I have called Dean, mate once).  Those are just names that I pulled out of the air to try to make y'all interested in reading the post.
Salamat Y'all