[smartads] Another long post for y'all.  Take that CR break now before you start.  There are several things here that you will probably find to be interesting today.  I have gotten 3 responses from people saying that they actually read my long posts.  I hope there are more of y'all out there.  If you haven't already done so, please let me know if you do read these long things.  I have considered doing a lot of short posts, but that's what just about everyone else does and I like to be different.  Thing is though, those people make money on their sites, I am not for some reason.  I wonder if that is the reason?  I don't see how, but I'm obviously not an expert on the matter.  Please remember to click on the pictures for more information of each picture.
Okay it's Saturday morning now (17 Dec) and I'm out in LolyKat.  Lita wanted to be out here, but she kept falling asleep.  This is actually my second time out here today.  The first time was about an hour ago.  Lita and I drank cappuccinos today or at least as close as we could come with Nescafe and Milo.  I didn't write too much today because after my initial time in the store, I didn't stay out there much so that means less note taking.  It's okay though, I have plenty of  notes.  At 7:00pm Lita decided that she wanted to go to the church mass that started at 8:00pm, so she went in to get ready.  We still have 3 more hours before we are scheduled to close, but we may end up closing early tonight.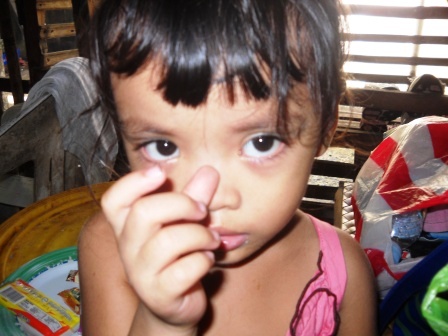 In fact, we did close early tonight.  The kids were coming over and over again trying to get money for their singing.  It's okay, except they come 2 at a time every couple of minutes and I can't seem to convince them to leave.  I guess they don't understand what I'm saying or don't want too.  Lita has no problem making them leave.  They have a limited number of places they can go in the area, so I suppose that is why we see them over and over again.
I plan to do a separate story on this event so I won't go into too much detail on it here.
We heard today that next month they are suppose to start on the HyperMarket that is going to be built where the wet market is downtown now.  One of the guys that says he will be working security for them told us.  I guess only time will tell, but I'm looking forward to a real supermarket here in Calbayog.  I just finished sending them an e-mail to see if they would give me the official information on what the status the construction will be.  Sometimes the information here gets diluted when passed from person to person.  Also I have been calling it HyperMart, but according to their website, it is HyperMarket.  What do I know, I have never been to one, I have only heard of them.
Useless Knowledge:  Elephant herds post their own sentries. Whenever danger threatens, the lookout raises its trunk, and though it may be as far as a half-mile away, the rest of the herd is instantly alerted. How this communication takes place is not completely understood.
http://www.pbs.org/wnet/nature/unforgettable/communication.html
http://www.wildlife-pictures-online.com/elephant-communication.html
Okay y'all it's Sunday morning now (18 Dec).  Only 1 more week until Christmas Day.  It's not going to be a very good gift giving Christmas here, but we will be celebrating in all the other normal ways.  In fact, Lita and I have no gifts to give this year.  She told the children that we will make it up to them next year in a big way.  We should be in a better position to do something by then.  That is if the world is not destroyed or thrown into total chaos at the time.  Remember the Mayan Doomsday is suppose to be 21 Dec 2012.  Of course some believe that it will not be the end of the world, but the beginning of a new world and way of life.  I myself fully expect to be celebrating Christmas next year on 25 Dec 2012, because I choose to believe that the people of the Earth will finally figure out they are killing themselves and start turning things around.  If we are able, we hope to take the children (and probably their parents too) to someplace that they have not been and maybe will never get to go.  Someplace like Enchanted Kingdom perhaps.  It's also a place that I'd like to go.
I got up and opened the store at 0910 today.  We have a colony of ants building out front of the store.  I have been trying to discourage them from staying, but ants are stubborn and persistent.  I may have finally convinced them though after drenching them in water all morning.  Lita wants to cement the whole area out front there anyway, probably next month, because it shouldn't cost that much to do.  I'd estimate only P400-P500 ($10-$12) to include the material and labor.
I loaded the cooler with the last of the soft drinks.  I'll have to order some more next Tuesday, possibly Wednesday.  If you order them correctly, you never have to order more than twice a week, unless there are an unusual amount of sales.  We haven't had to experience that yet, darn it.
Lita made a large skillet full of fried rice for breakfast and she is also making some more of the cappuccino.  I asked her to make mine a different way, but as it turns out, I liked the way she made it better, but both were good.
Neneng is opening up their little store next to us to sell their 1.5 and 2 liter bottles of soft drinks.  They have been closed for awhile but with the Christmas parties going into full swing this week, it's a good time to open back up, for awhile at least.  I would assume that they will be open until at least 2 Jan, but the Christmas season here lasts until the end of January, so we'll wait and see on that.
Interesting Sites to Check Out:
http://www.cnngo.com/explorations/life/10-most-hated-airports-324645 (there are actually some worse than NAIA, including one in the US, which has 2 in the bottom 10)
http://www.cnngo.com/explorations/life/10-most-loved-airports-981939 (I'm not surprised at #1. I should be seeing #'s 2 and 3 soon.  From the looks of the pictures, the first 3 airports could probably be interchangeable.  Only 1 in the US, which I haven't been to yet)
I have been having a hard time with inserting the pictures on the website recently, but I'm starting to get a handle on it now.  I'm still not perfect and it seems that one of the features doesn't work correctly with Windows 7.
Cathy is sitting at the picnic table eating, what I call "Chocolate Meat".  It's actual name is di-no-go-wang (I know the spelling is wrong).  Here is a picture of it.  She is eating it over rice.
The Ciriaco Hotel must have a nice venue for weddings because they are having another one there.  There are a lot of young people all dressed in red.  The young ladies have long red dresses and the young men have red barong tagalogs.  I took a couple of long range pictures, here is one of them.
Ha! Ha!  i just saw a young girl, about 3 years old, swinging her long dress back and forth.  She looked like she was having a lot of fun doing it too.  She finished before I could get the camera ready again.  I hope to have a better camera by this coming summer that will be able to point and click quicker and also be able to zoom in on these long range shots better.
I saw that guy on the bamboo bicycle again.  I already put the picture in the last post … oops!  I have another one, but it's not very good either.  I waited out front with the camera to take these pictures and I messed it up.  Jay offered to stop the guy so I could get better pictures, but I was stubborn.  Next time I will let him stop him.  Here is the other picture anyway.
I have some more pictures of the upgraded gift shop next door also.  I already posted one in the last post, but I'll put another one here.  I told the ladies at the shop what I wanted to do with the pictures, but I'm not sure they knew what I was talking about.  They didn't mind me taking the pictures though.
It just got a little more noisy out here.  Lita came outside.  She has been in the house for the last couple of hours, supposedly cleaning the room.  I wonder if she moved a lot of stuff around?  If she was cleaning, I can tell you that it will be clean and something got moved or at least adjusted.
Jay likes to tease Casandra with here pacifier.  He will take it out of her mouth then put it back close to her mouth because she likes to reach for it with her mouth.  I hope that made sense.  Anyway, as she tries to put it back in her mouth, he pulls it further away.  Finally she will use her had to hold his and then she gets it back.  I told Jay that if she could talk, she would take the pacifier out of her mouth and say, "If you touch it again, you die", then put it back in and go about her business.
I have decided that later today I will try a food that I normally do not eat – sweet potatoes.  Lita bought some today and I'm going to peel one of them and fry it up like fries.  Lita seems to think I will like them and she is right about 90% of the time in that area, so I'll give it a shot.  If I like the one, I'll peel, cut up and fry another one.  Sweet potatoes are suppose to be good for you and I suppose I could use all the help I can get.
I'll let you know in the next post how the experiment with the sweet potatoes went.  I think it's about time to end this post and get it ready to publish.  I've actually got this one done early, but I won't publish it until tomorrow, maybe early tomorrow.  I've already got one posted for today (20 Dec).  I've still got almost 7 pages of notes left to be caught up.  I hope to have an interesting and productive day very soon to expand those notes again.  I'd like to try to give y'all something interesting to read.  I guess tomorrow I will work on that special post about the children singing Christmas carols here every night.
Salamat, Paalam
Philippine Fun Facts
The Philippines is an archipelago of more than 7,107 islands and a population of over 90 million. These numbers definitely account for some interesting, if not fun facts, about our country as well as who we are. Here, we have gathered them under one file. Feel free to add your inputs and see your profile on it too.
I don't know if I've listed these before, but it doesn't hurt to refresh your memory or maybe you missed it the first time, if I did post it.
Luzon is the largest island in the archipelago.
The capital of Philippines is Manila and the national language is Filipino. Note this because if you replace the 'F' with the 'P' you would be pertaining to us – people of the Philippines.
On the islands of Philippines, there are more than 200 volcanoes, though only a few are active. This is because the country belongs to the Ring of Fire, but this doesn't mean that earthquakes visit us like the morning sun. It's still rare as finding a real nice guy.
In the Tabon Cave Complex of Philippines, fossil evidence of Homo sapiens has been found. According to the studies, the area was inhabited around 50,000 years ago. We really have a rich heritage and history to unearth.
Mount Apo, at an altitude of 2,954 m, in the island of Mindanao is the highest point in the Philippines.
The people of the Philippines are from different ethnic origins such as Malay, Chinese, Spanish, American, etc.
Its capital city Manila was named after a white-flowered mangrove plant, the nilad or Scyphiphora hydrophyllaces. It is a tree with white star-shaped flowers but yields dark blue dye that's why in other countries it is called 'indigo'.
The Philippines was one of Spain's colony from 1521 to 1898. Subsequently, it went into the hands of the USA.
It was the first Southeast Asian country to gain independence in 1946, following World War II.
The Philippines stretches onto the area of 115,830 square miles, which makes it equal to the size of Italy.
However, the land area of the Philippines is about 1/30th of the U.S.; it has a coastline of 36,289 kilometers while the U.S. coastline is just 19,924 kilometers.
With more than 11 million Filipinos overseas, the Philippines has the largest diaspora networks in the world.
The Philippines is regarded the "text capital of the world". About 350 to 400 million SMS (Short Message Service) or text messages are sent daily by 35 million cell phone subscribers in the country, which is more than the total daily text messages sent in the U.S. and Europe, together.
The karaoke was invented in the Philippines and not Japan. Karaoke means "singing without accompaniment" in Japanese was invented by Roberto del Rosario. The invention of "Sing-Along-System" was later called karaoke.
Founded in 1595 by Spaniards, the University of San Carlos in Cebu City is older than Harvard and is the oldest university in Asia.
University of Santo Tomas in Manila, established in 1611, is Asia's second oldest.
What is the world's 3rd largest English-speaking nation, next to the USA and the UK? The Philippines.
Los Angeles, California was co-founded in 1781 by a Filipino named Antonio Miranda Rodriguez, along with 43 Latinos from Mexico sent by the Spanish government.
What antibiotic did Filipino doctor Abelardo Aguilar co-discover? Hint: Brand is Ilosone, named after Iloilo. Erythromycin.
The first ever international Grandmaster from Asia was Eugenio Torre who won at the Chess Olympiad in Nice, France in 1974.
Who invented the fluorescent lamp? Thomas Edison discovered the electric light and the fluorescent lighting was thought up by Nikola Tesla. But the fluorescent lamp we use today was invented by Agapito Flores (a Cebu man named Benigno Flores of Bantayan Island, according to the Philippine Daily Inquirer), a Filipino scientist.
Who is the personal physician of United States Pres. William 'Bill" Clinton? Eleanor "Connie" Concepcion Mariano, a Filipina doctor who was the youngest captain in the US Navy.
The first Filipino-American in US Congress was Virginia Rep. Robert Cortez-Scott, a Harvard alumnus.
Distinguished British traveler-writer A. Henry Savage Landor, thrilled upon seeing a Bicol landmark in 1903, wrote: "Mayon is the most beautiful mountain I have ever seen, the world-renowned Fujiyama (Mt.Fuji) of Japan sinking into perfect insignificance by comparison." Mayon has the world's most perfect cone.
The first female president of the Philippines sworn into office in 1986 was Corazon Cojuangco Aquino.
Who was the first Asian and/or Filipino to snatch America's Pulitzer Prize? Philippines Herald war journalist Carlos P. Romulo in 1941. He was also the first Asian to become UN President.
Filipino writer Jose Rizal could read and write at age 2, and grew up to speak more than 20 languages, including Latin, Greek, German, French and Chinese. What were his last words? "Consummatum est!" ("It is done!")
What's still most impressive to me about the Philippines is the friendliness of the people, their sense of humor…," wrote Honolulu journalist John Griffin in a 1998 visit to Manila.
References and credits:
Photo of indigo plant from cutelynne of IgoUgo