[smartads]
Y'all probably noticed that recently I have made a few changes to the front page of the website.  Or did you?  I added the new photo gallery because I just could not figure out how to do the old one and it was bugging me.  I kind of like this new one better, but it's not really whether or not I like it better, it whether y'all do.  I guess since it was not working correctly before, then this way is better.  The same thing goes with the video gallery except it wasn't that hard to fix those.  I probably could have fixed the photos the same way, but it would not look as good as it does now and I like the way the photo albums are arranged with the new way.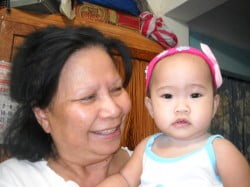 A few other things I did, that you may not have noticed, is I moved the blog ranking logos to the bottom and off the main screen.  I figured that y'all don't really care about those that much and if you do, well they are still there.  I also expanded the number of posts to 15 because I could not figure out how to put anything else in that area and I didn't like the big blank space that was there from having only 9 or 10 or whatever it was before.  The last things I did was to shorten the Recent Comments and the Popular Posts from 5 entries to 4.  It all comes out pretty even now and it looks good on my computer, so I hope it looks good on your computer too.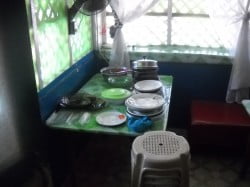 Lets see, this blog will be out on Tuesday morning, so yesterday I went back behind the Ciriaco Hotel and Resort to take some updated pictures of the construction going on back there.  I didn't figure there would be much, but I got a little more than I bargained for.  The guards, one in front and one in back, gave me permission to take the pictures.  They know me anyway, since we live right across the street and they come to eat at the cafe, get bread at the bakeshop and sometimes they just get some ice water.  Lita even gives them free coffee when the come get some.  She gives it to them because since they are working at night, they can help watch the outside of our house when we are sleeping.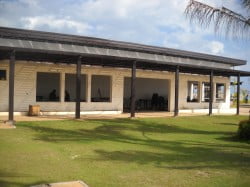 I headed straight for the fitness center area first because that is what I was most interested in because I plan on joining as soon as I am able.  I have no idea how much the monthly fee will be, but it will probably not be too much for me to keep myself healthy.  Unfortunately they were not very far along on that.  I took a couple of pictures anyway, but as I was doing that I noticed another structure off to the right.  It looked like a poolside bar being built and when I asked one of the workers, he confirmed that it was.  I also asked the same worker if this was suppose to be the fitness center, just to be sure.  He said no.  That surprised me for a couple of seconds until he continued talking, saying that it is going to be a gym.  Oh, ok, well, I just let it pass and told him thank you.
I noticed that over to my right that they where busy doing all kinds of things over there.  I have no idea at this time what is going on there, but it looks like it's going to be a lot of something.  I'll see if I can find out something on that.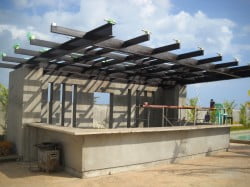 As I was leaving I noticed a foreigner sitting on the patio of the Ciriaco.  Well since I decided, as I pointed out in my last post, that I will try to be more sociable, instead of just waving and leaving, I decided to go over and talk to him for awhile, to see what his story is.  It turned out that he is an American trekking through the Philippines and he is a pretty nice guy.  His name is Del Fern.  He said that he has been to at least 10 different islands of the Philippines.  One of his next stops is going to be Masbate, I remember that because it's the Rodeo Capital of the Philippinesand someplace that I'd like to visit also.  We talked for quite awhile and he mentioned that part of his mission of traveling around the Philippines is to find a place to retire to.  His requirements for a place are low.  All he said he really wants the place to have is a cinema and land not too far from downtown.  Of course he also would like a place that can get him to Manila to a big hospital if necessary, but I think we all would like that.  So far the place that he says he likes the best is Surigao down in Mindanao.
Of course I tried to make a case for retiring in Calbayog and I think he might be thinking about it.  He did want to know the cost of beach front property here, but I didn't know the answer.  Do any of y'all out there know what that kind of property is going for these days?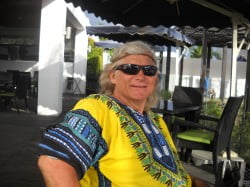 As for the expat get together on 12 April (6:00pm), Lita has asked me to rely the following on the menu.  She would like a pretty good head count of anyone that will be attending that wants to purchase the food so she can make sure she has enough.  The menu will be 2 pieces of fried chicken, fries and corn.  The chicken will be cooked so that there is very little grease in it, but it's very good anyway.  The price for this will be P200.  Sorry we have to charge that much for it, but if I had a lot of money I would not make y'all pay at all.  She does not cook the chicken Filipino style, but more American style.  For drinks you can bring your own or you can purchase the soft drinks or water we have here.  They also sell beer down the road a short distance (where we always buy it) and they have Coca-Cola next door.  Remember we can only sell Pepsi products here.  If you decide to buy the drinks here, I will be sure that you have at least a 15% discount if you want it.
Salamat, Y'all