[smartads]
Well you asked for it and I got it.  I walked down to all 4 of the shuttle van services here in Calbayog City and asked about their services.  It wasn't so easy either because of the language barrier, but I finally got enough information that I thought I could go ahead and write this post.  I figure that if you need more information you can ask me and I'll find out for you or, since I will include phone numbers, you can call the shuttle service directly.  I really do not have any rhyme or reason to the format.  I am just putting down the only information that I was able to make them understand that I wanted, plus a little more I figured out while I was looking around the office.
These services are in no particular order except I do have Grand Tours as the last entry for a reason.  When I went by there, they were really busy, which is normal for them.  They really did not have much time to talk but they did give me their website, which I was slightly surprised that they even had, so I let it go at that for the time being until I took a look at their site.  After I looked at it I noticed that it did not have near the amount of information that I wanted so I had to go back to them to get the answers.  I figured I would go ahead and get the other 3 written down so all I would have to do is add in the Grand Tours information, proofread, spell check and publish.
All listed rates are for one way only.
1.  DupTours
Address: Along Maharlika Hwy in Brgy. West Awang
Phone #'s:09173247705 (mobile) and 055-534-3020 (landline)
Hours: 0430 – 7:00pm
Their Motto:  The services you can trust with safety & comfort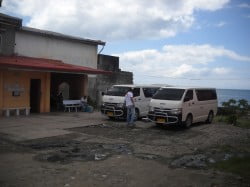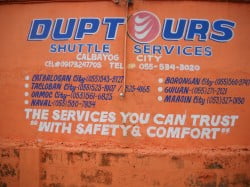 Locations with phones numbers:  The guy in the office assured me that these phone numbers were still valid.
Catbalogan (Samar): 055-543-9127
Tacloban City (Leyte): 053-523-8107 / 523-4165
Ormoc City(Leyte): 053-500-7834
Borongan City (East Samar): 055-560-9747
Guiuan (East Samar): 055-271-2121
Maasin City (Southern Leyte): 053-327-0130
This really is a nice spread out of the offices.  They are all south of Calbayog City.  Borongan City is on the coast of East Samar and Guiuan is way south on a small strip.  The furthest one south is Maasin City in Southern Leyte.  I tried to ask them if DupTours goes to Mindanao, but I don't think they understood me correctly.  I think that the station in Maasin City probable has vans heading further south, but you would have to get in touch with them or make the trip yourself to find out.  Ormoc City is a major port for the ferry boats traveling to various points of the Philippines.
They do let you charter their vans and the price depends on where you are going.  He told me that the charter price from Calbayog City to Tacloban City is P3040, which comes out to P190 per 16 person van.  You do not have to have 16 people, but you do have to pay for all 16 seats.  With the normal, non-charters I know they wait until the van is full.  I don't know the policy for charter vans, but most likely if you are chartering, then you just pay for all the seats.  This is the one way price.
Here is something that is interesting and worth making a point of.  A regular trip from Calbayog City to Tacloban City is P200 per passenger, but a return trip from Tacloban City to Calbayog City is only P180.  The guy said it was a promo, but then he said that it is always like that.  That's not really a promo then, but just so you will know all the facts.  Also, according to one of the drivers there, a trip from Calbayog City to Tacloban City takes approximately 3 1/2 hours.
Special Note:  I hear they have at least one very nice resort in Guiuan.
2.  D'Turbanada (Dee-Tur-ba-na-da)
Address: JD Avelino Ave (Marharlika Hwy)  Brgy West Awang – Calbayog City
Phone #'s: Land line: 055-533-9822 / Mobile: 0918-244-4799
Hours:0500 until around midnight.  She said that they close right after the final van leaves (about midnight), but it also depends on when that final van arrives from it's previous destination.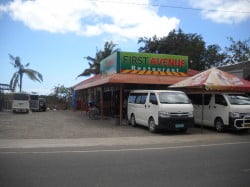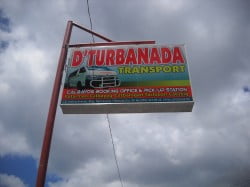 This place is connected to the First Avenue Restaurant.  The office is right off the highway actually in front of the restaurant.  The lady here seemed to understand what I was talking about, but I'm not so sure.  I was unable to get much information from her and if the price she gave me for the trip from Calbayog City to Tacloban City is correct, then they are the most expensive of the 4 shuttle van services.
She said that a trip from Calbayog City to Tacloban City is P300 per person.  If you plan to take this service, I would double check that price because it seems too high compared to the other available services.  I couldn't find out about a price to charter the van, she didn't seem to understand what I was asking, but she did tell me that they charter to all locations on Luzon.  She didn't say on Samar or Leyte, just Luzon.  I thought that strange, but I'm just gathering the information to pass on to y'all, not judging or questioning their business practices.
According to their sign outside they travel to: Catarman (Northern Samar) , Calbayog City  (Samar), Catbalogan City (Samar), Tacloban City (Leyte) and Catubig (Northern Samar).
3. Van's Van
Address: Corner of Asis and Bugallon Sts. (1 block off of Maharalika Hwy)
Phone #: 055-533-9118
Hours: 0230-9:00pm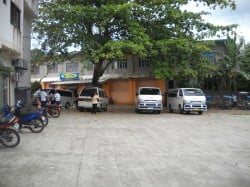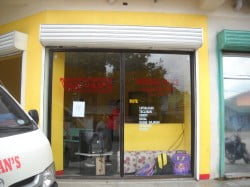 At this place I don't think the guy understood English very well, but he sure was trying.  I asked if this van service went all the way to Davao and he said, "Yes".  If they do, they are the only ones that admitted to it.  They are also the service that opens the earliest.  Notice I highlighted and colored the time they open, 0230.
Although, of course, the phone numbers are different, this shuttle service has offices in the same locations as DupTours except this one lists  Sulangan (East Samar) as a destination.  Those destinations again are: Catbalogan, Tacloban City, Ormoc City, Borongan City, Guiuan and Maasin City.
An example of a fare would be from Calbayog City to Tacloban City, per person is P190.  What is curious about that is if you want to charter the whole van, then the price is P3500.  That is P460 over what it would be to fill the 16 seats (P3040).
4.  Grand Tours
Address: JD Avelino Ave (Marharlika Hwy)  Brgy West Awang – Calbayog City
Phone #'s: PLDT :055-209-6177
Globe : 055-533-8174
Smart : 09-20-981-6582
Globe Mobile: 09-17-510-9238
Hours: 0400 – 6:00pm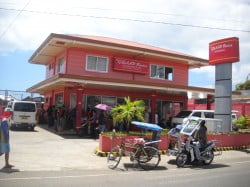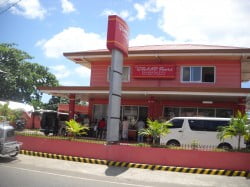 Definitely the largest of all the van shuttle services.  It is along Maharalika Hwy next to the Joy Palace Hotel.  It is also very close to D'Turbanada van shuttle service.  Check out their new Alas-Puno on their website.  That just means no more waiting for the van to fill up before departing.  Usually no van from any of the 4 services will depart until all the seats are filled or paid for.
A ticket to Catbalogan is P100.  You can then get a ticket from there to Tacloban City for P120.  So P220 all the way to Tacloban, but no direct vans.
To rent a Grand Tours van from Calbayog City to Tacloban City is P3600.
Grand Tour website:  http://vsgrandtours.com/Default.aspx
Although the website is still under construction it does have some additional information for you.  Please note that as of this date, the address they have on their website is the old location.  The location I have on this site is the current site.