Samantha's #2 Birthday Party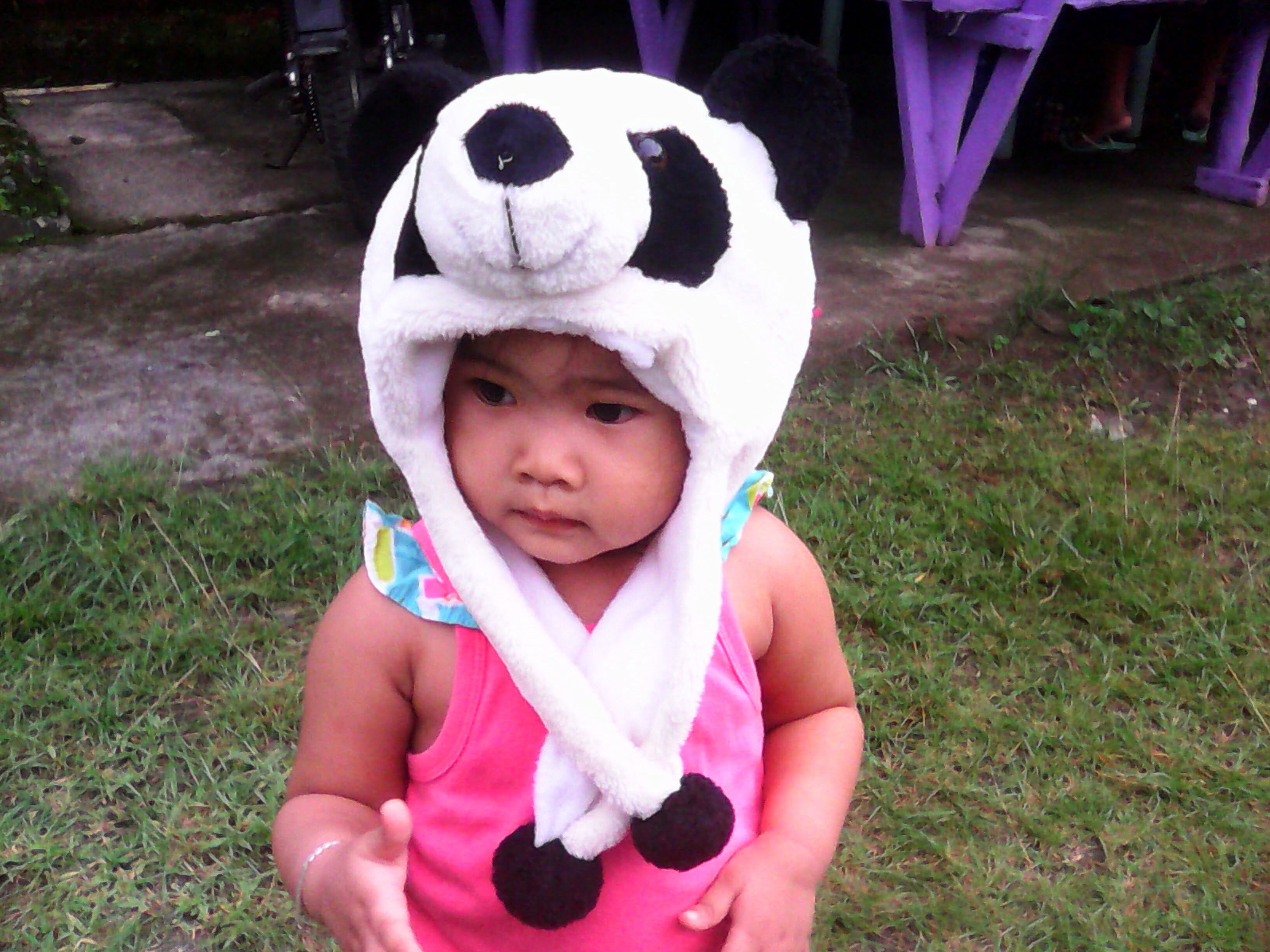 [smartads]
Although this subject was brought up in  Zine #77 , I said I would go into more detail of it, so here it comes.  I've got no notes for this so it's all coming from memory.  Not always a good idea for me to go by memory, but since it was only yesterday, I should be able to remember most of it anyway.  I may end up repeating a little from the brief encounter you had in that Zine #77, but it won't be too much I'm sure because I didn't say that much there.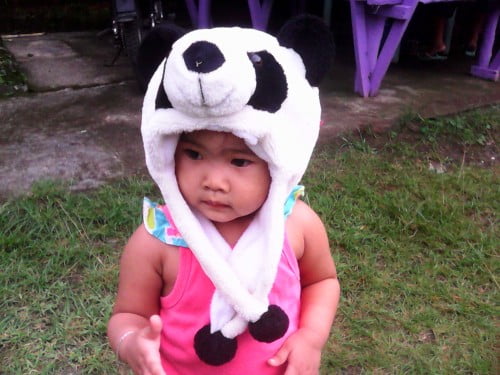 This is Samantha wearing a panda bear hat.  She doesn't normally mind wearing a hat, but when she's in a bad mood she does
—-
So the morning of Monday, 12 May I was told that we would be leaving at 0730 or 0800 to get to the beach before all the guests started showing up to get things ready for their arrival.  Lita doesn't really like for people to have to wait if it can be helped.  Not so surprisingly we left right on schedule at 0825.  Actually that might be a little ahead of schedule for Filipino time.   Most everyone rode in the back of Ado's multi-cab.  It was a normal workday for him, but we needed to get a large group of people there somehow, so we just rented the multi-cab for all day.  We did get a discount because, after all, he and his whole family was there at the beach with us having a good time also.  The rest of the people from here rode in a large tricycle that Neil rented.  Neil is Juvic's Australian boyfriend, for those of you that do not know.  He's here for a couple of weeks, making his first trip to the Philippines.
Anyway, when we got to Malajog Beach, the area was already cleaned.  Lita said she was thinking that they would have to clean it first.  I guess with the new area probably going to bring in a lot more money, they want to keep the customers happy.  Smart move.
Samantha (with a little help from mama Juvic) blowing out her candles.  She's only 2, but there were plenty more than 2 candles
—-
After unloading, they started cooking shortly after getting the charcoal going.  I didn't have much to do, as usual, there until some of the other expats starting showing up.  Randy and Teri arrived first, followed by Dean and Cristina.  Mostly all we did was talking until Hans (not his real name, but I can't remember his Swedish name) showed up.  It was his first time at one of our gatherings and he brought a few cans of San Miguel which he promptly started passing out to us.  George and Nila were the next to show.  Hans came with them, but they walk slower I guess.  The last ones to show up were Scott and Lucy, but I guess better late than never.
Neil and Dean, both Australians, did a little Aussie talking for awhile, but Neil was needed on the other side and Dean was ready to help us drink some of the San Miguel beer.  Neil doesn't drink, so he did not participate in that part of things.  I don't know what everyone else was doing there, but I was enjoying myself drinking and talking to people that understand most of the slang that comes out of my mouth.
A clear day at Malajog Beach.  Clear for most of the time anyway.  It rained a couple of times, but that doesn't deter the swimmers in the Philippines
—-
We had two covered areas for our crew.  One area had the Filipino food and the other had the more American style food.  It was a great arrangement and I hope it is done that way for future events.  Lita made 5 different dishes including those chicken/pepper treats I like (and it seems all the other expats too), BBQ chicken, potato salad, macaroni salad and baked potatoes (which were a big hit).
After awhile it started pouring down rain, but Filipinos and the people use to being here are not deterred.  They stayed in the ocean and on the beach.  A lot of the teenagers were playing with a volleyball, but no net.  Me, well I was my normal stick in the mud type person.  I need to get over that.  I did not go in swimming, but I did hang out near the water on the beach.  I did talk to Dean about snorkeling and I hope to be able to try that in the not so distance future.
I didn't get any pictures of the other expats.  I did get a picture of Neil though.  I guess I'm not very good at taking the right pictures at the right time.  You'd think I'd be better at it by now.  I just normally forget to pull out the camera.
This is Neil talking with Crystal as Poppa looks on.  This is in our patio area
—-
Oh I guess I should mention that Samantha had a good time and got several presents.  She likes the water, but likes sitting in the sand digging where the water just barely gets to her the most.  Even she sat out in the rain, but her and Neneng sat under a large umbrella, like the one in the picture of the beach above.
Everyone seemed to have a good time so it was a successful outing.  I hope to have more of the expat get-togethers even if they are not at the beach and ideally not for a child's birthday party, although that also could work and has worked out fine usually.
Time for us to get a couple days of rest before heading down to Tambis.  Looks like I will be going after all.  There is a party tonight (the 14th) for our barangay (Bagacay), but I don't know if I will be attending because we have plans to leave at 0400.  Of course that might mean 0500 or even 0600 (see Filipino time above).
Salamat Y'all