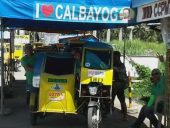 [smartads]
Here I go again, being too lazy to type up a post.  Retired life is difficult.  Difficult to get motivated after relaxing in a cool breeze, drinking a beer and listening to music all day week.  It's only been a few years, I'll get the hang of it in a few more … maybe.  I went for a walk to Calbayog Proper (downtown Calbayog) a couple of weeks ago and I took a few pictures along the way.  This was the same day that I stopped off at Kamalig Event Center to talk with the owner, John Blackwell.  I have already posted their menu from that day: Kamalig Event Center Menu, but I neglected to do the extra work to complete this post.  It's time to stop procrastinating and take care of it.
Before I get started though, I have one more thing.  Another expat, Jerry Cook, has a site that I've come a little bit interested in and thought I'd share it in case it interested some of y'all also. The name of the site is: Triple Click (their link no longer works 17 Oct 22) and they sell and auction things there.  They have a very nice variety so I encourage you to at least check it out.  IF you decide you want to sign up (sign up is free), then please do so from the link I just provided.  That way Jerry will get credit for it.  I also have 2 new ads on the front of the blog now, which are from Triple Clicks in case you want to check those out too.  The more clicks they get from my blog, the better I look, so I'll leave that up to you.
Okay, on with my little walking adventure.  I'm starting to alter the way I walk downtown now.  Instead of going straight down Mahalika highway, I will turn right, right down the road from our house and head towards the market area.  They are still in the process of completing the road from the highway to the market parking lot.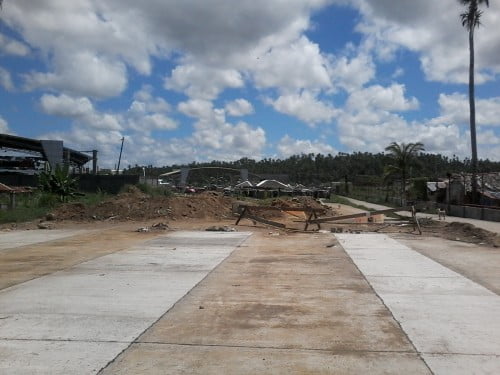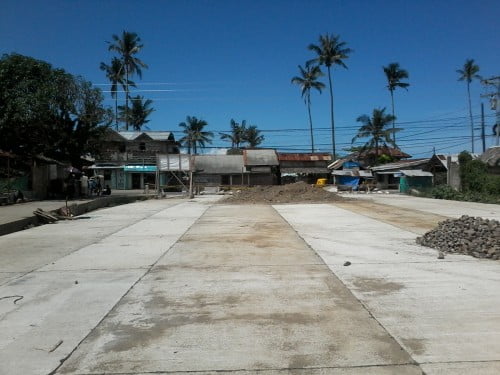 After you get off this partial road and walk through a little bit of dirt and grass you will come upon the parking lot of the market.  Today was the first time that I noticed that on the far end of the parking lot, they have like a trike waiting area.  Trikes are lined up, waiting to get enough people in them to make a profitable trip.  They did that at the old market too, but, so far, this one is smaller.  It too could end up being larger later.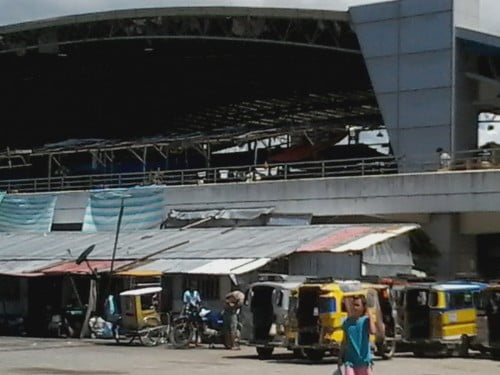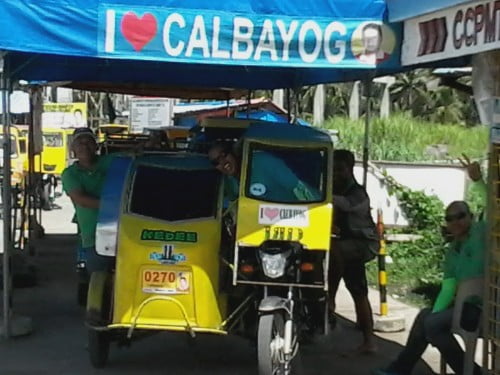 Once you get to the next road, which I don't know the name of, but I think they call it only Magsaysay extension road, you see some businesses there.  There seems to be more and more each time I go that way.  Most of them are eating places or little sari-sari stores, but they do have a bike shop there and an educational place there, plus the Mormon church and other little stores that I should have gotten pictures of, but didn't.  Maybe next time.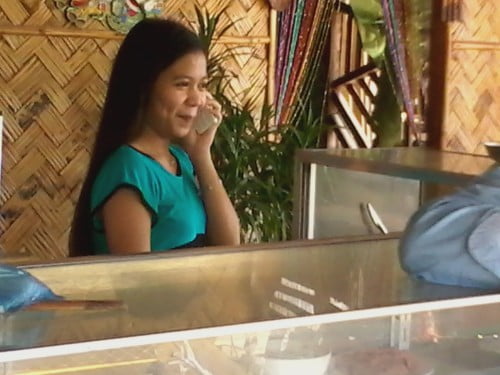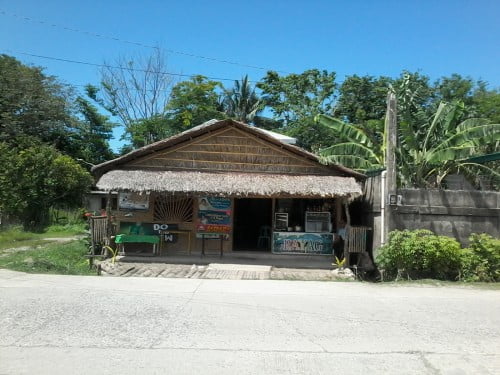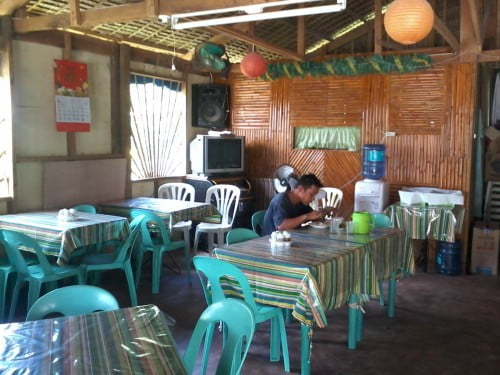 That's all the pictures I took for awhile.  I continued down the Magsaysay extension road until I got to Pido Street and I turned left, back towards the highway.  When I got to the highway, I turned left again to head back home.  As I was walking I really only had one thing that I wanted to check out, which I did, but noticed a couple of others things before I got there that I decided to take a picture of that also.  After all, that was part of the purpose of the trip, to take pictures.  The first one is that I noticed that Joy Hotel has made improvements.  Then I noticed that we have a famous department store name here in Calbayog.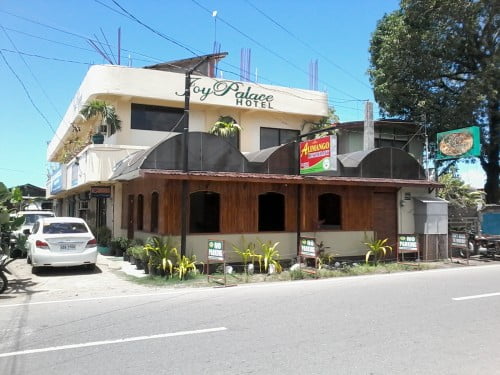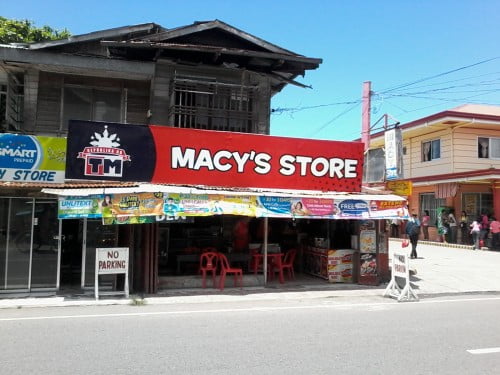 So now it's time for the one thing that I wanted to check out on this walk.  I wanted to try to get some inside pictures of the Seaside Drive Inn.  Why they call it a "Drive Inn" I do not know. It is a hotel.  I did get inside to take pictures this time, but it's not a very big place that I could see.  My guide didn't seem to be very proficient in English, so maybe that was part of the problem. He did show me a place to take a couple of scenic shots of the ocean from the hotel area and he did let me go upstairs, but not in any rooms.  It was a pretty narrow hallway to walk down, but at least I could walk without touching the walls.  I didn't get any pictures upstairs, since I couldn't go in any rooms, but in addition to a couple of scenic views, I did get a picture on the inside of their front desk, but that picture seems to have vanished.  I think I accidentally erased it.  The Seaside Drive Inn is open 24/7, just ring the buzzer for assistance.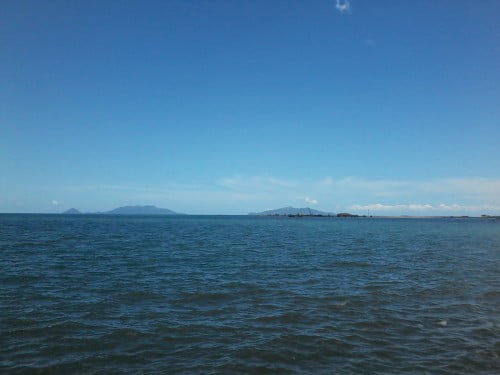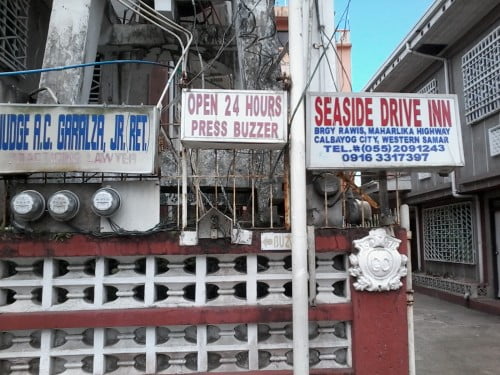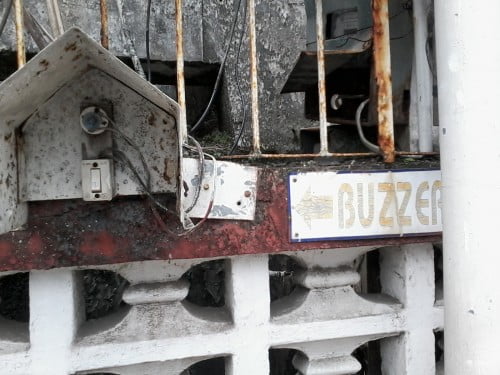 After leaving there, I was starting to get tired.  I thought about getting a trike to go home, but opted to keep walking instead.  Maybe I could lose a few calories and not be able to find them again.  So as I'm walking I come up on the Kamalig Event Center and notice that the place is open and there are a couple of cars out there.  I told myself that his might be a good time to finally meet John Blackwell in person, if he was there.  I decided to take a chance and figured the worst thing that could happen was that he wouldn't be there but I'd get a few more pictures for this post.  Well I got both.  John was there and I got pictures.  He recognized me from the blog and as it turns out he is a very nice guy.  I think that most of the following pictures I have already used on the blog, but, just in case, I'll put them on here again.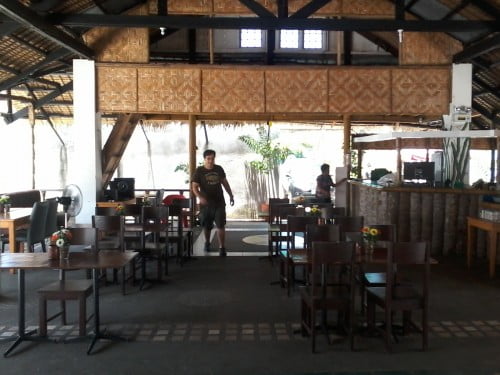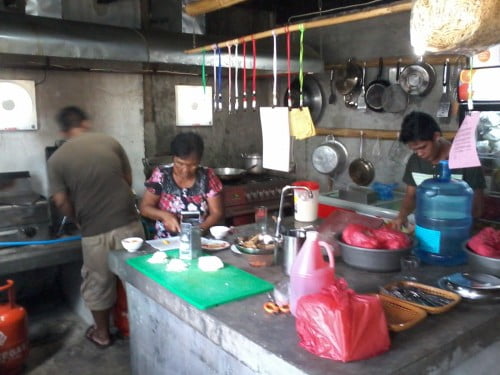 This next picture of the Kamalig dance floor is the area they had the projection screen set up for the "Fight of the Century".  He just unveiled those 2 55″ TV on the wall for this photo.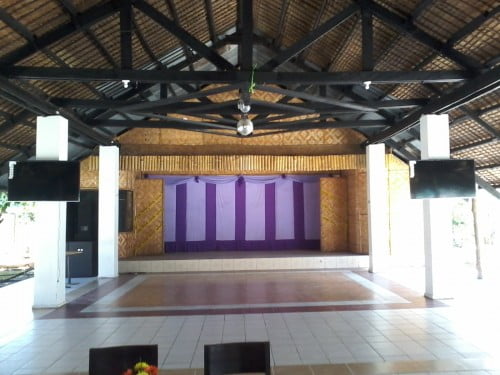 Last, but certainly not least, here are a couple of pictures of some of the food at the Kamalig Event Center.  The pictures I took did not come out even close to as good as these, so I'll use these.  I have not tried the tacos here yet, but I plan for that to be my next meal there.  Also I hear that their pork burger is really good too, but I'll do the tacos first.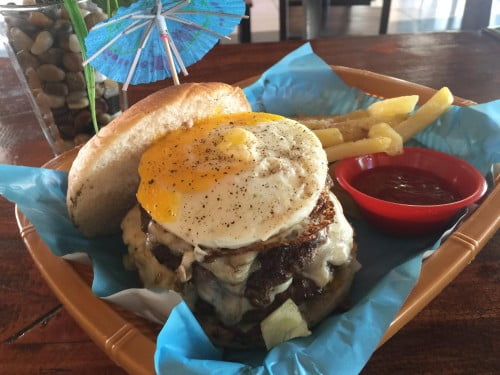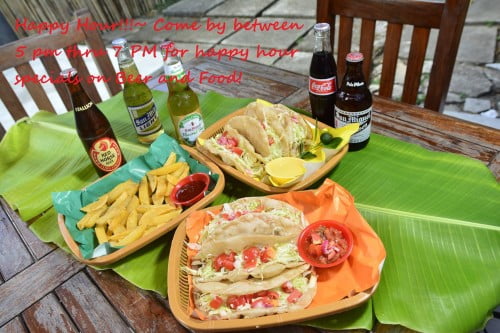 After I left here, I had a few leftovers from my cheeseburger, for Lita, so I took a trike home.  I didn't want for her food to get too cold and she was probably wondering where the heck I was anyway.  I visited there for about an hour I guess.  I didn't really keep up with the time.  When your retired time is usually not that important.  So that concludes my little Calbayog Walkabout.  Until next time.
Salamat Y'all