Announcements and Super Saver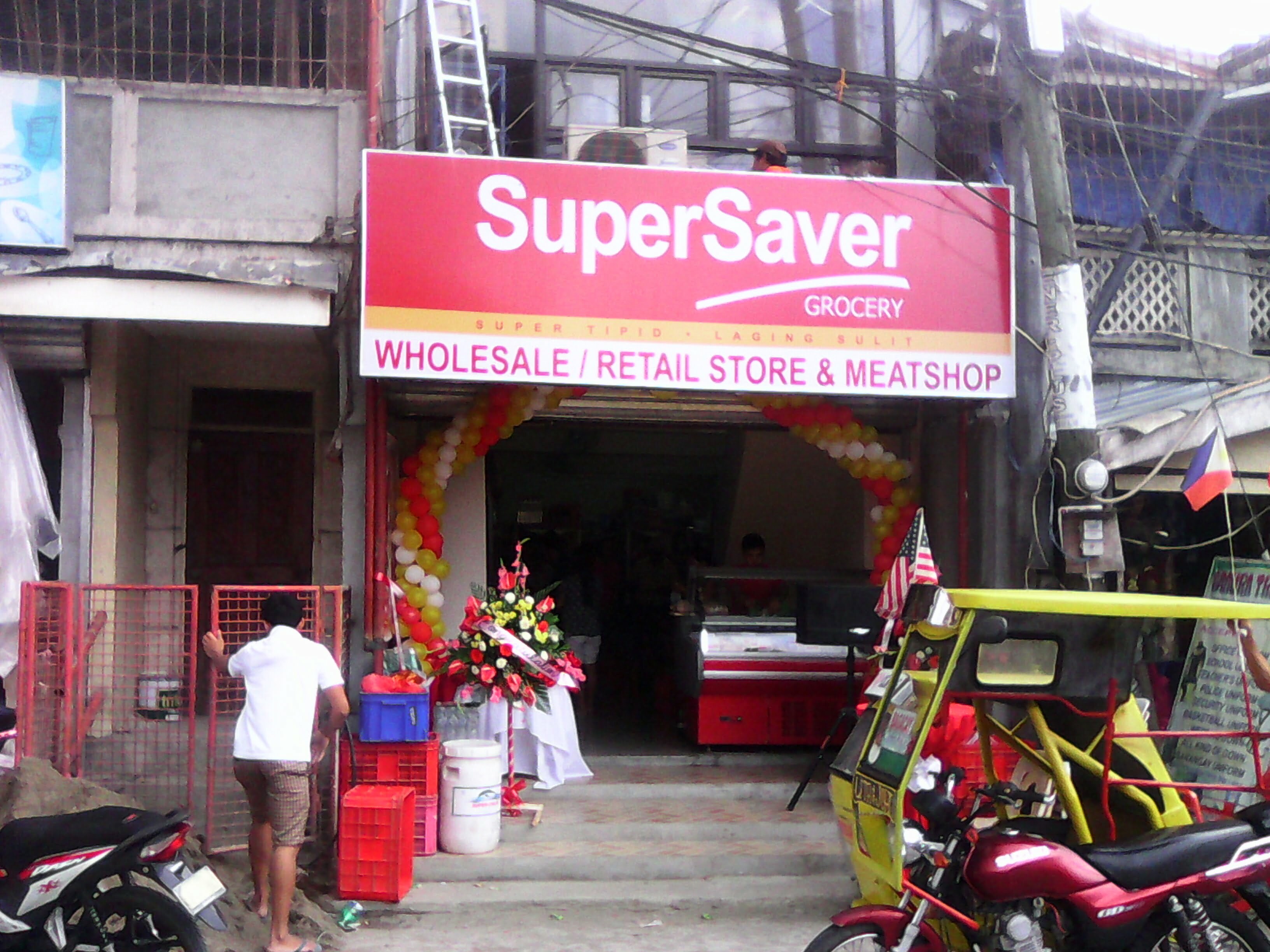 [smartads]
I have recently found out from owner John Blackwell (another Texan I will add) that the Kamalig Event Center, not so far from my house, now has all you can eat Italian style pasta during their happy hour.  Their happy hour is actually 2 hours long from 5 to 7 pm, Tuesday through Sunday.  The cost is P50 and you only need to purchase 1 drink to make all this happen.  I did some corresponding with John and he said that they would serve you pasta until you dropped, if you wanted.  Personally I 'could' eat a lot of pasta in 2 hours, but I shouldn't and probably would't go overboard.  Sounds like a good deal to me, so if it does to you also, it's a good place to check out.  I need to go there when things are in full swing so I can take pictures for the blog anyway.  All I mostly have are pictures from the outside and I've seen pictures of the inside from others.  I want my own.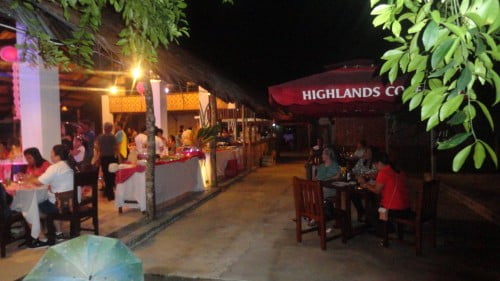 The 2nd announcement is that I hear there are plans to build a new cockfight pit here in Calbayog.  As you may know they tore down the old one and are building (almost finished) a road from the highway to the market.  That's pretty close to my house, but this new cockfight arena is going to be even closer than the old one was.  From what I understand, the property behind us is where the new arena is to be built.  In fact, I also heard that the entrance to where we had the Pepsi warehouse is where they will be building the road to the arena.  That means the road would be right next to our fence.  I don't know if I'm going to like that very much.  I'm thinking of making the wall higher and maybe some broken glass on the top of that.  We'll see how things turn out though.
Today, 10 April, was the opening of Super Saver here in downtown Calbayog.  When I saw the pictures post from a fellow expat, I was anxious to get down there to see what they had.  Here are the pictures that he posted.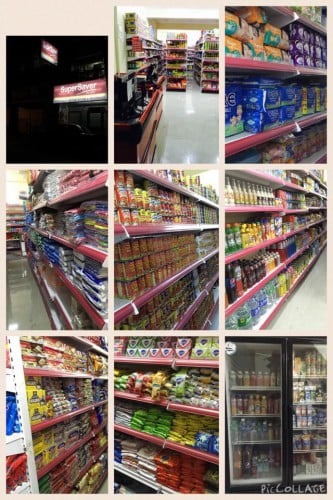 That looked like a place I really wanted to visit and hopefully they would have things the other stores do not.  Well not only was I disappointed, but I doubt I will ever go back into that market again.  It wasn't all bad though, something good came out of our trip.  First of all here are some of the pictures that I took while at this Super Saver store.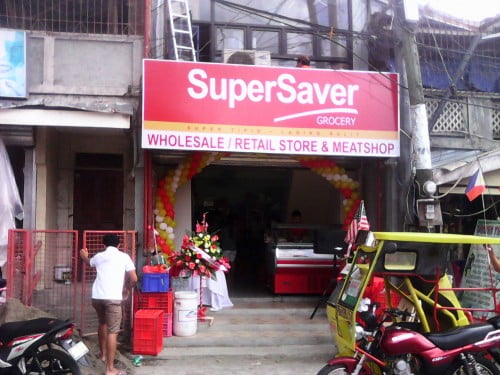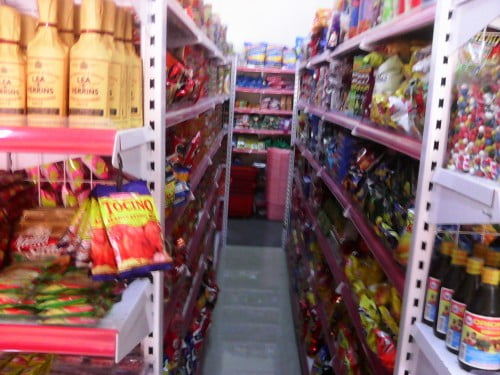 The expat that posted those other pictures must be an expert with the camera.  He made that store look large, or at least it did to me.  As you can see from the entrance, it is a pretty small store.  That is the whole store, 1 floor.  They have their warehouse upstairs.  I could barely walk up and down the aisles, so I just stood outside waiting on Lita.  It was weird when we arrived.  It was like 10:30 in the morning, and although they were open, they wasn't selling anything.  Why?  Because the manager was on break.  That's what the lady told us.  They let us look around though.  We were getting ready to leave and the manager came off break, so we could have bought something, but didn't.  Lita did go next door and buy some of the plastic bags we use for out ice and ice water sales.  It was P20 less at the other store then at this new store.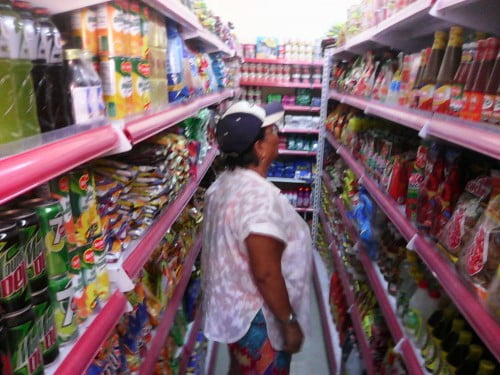 The only good thing about our whole trip to this store was after we left.  Lita stopped at a little stand to get some potatoes, but they wanted P80 per kilo and she can normally get them for P60, so that was a no go.  However they did have corn on the cob for P20 each.  After she got it home and showed me, it turned out to be the nicest looking corn I have ever seen in my life.  I hoped that it tasted as good as it looked, and it did.  I loved it.  I'll be sure to stop by there again to get more.  I didn't get the name of the place, but as you leave Super Saver heading towards the river, it's the first left turn.  Almost immediately on your left you will see the stand.  If you get to Magsaysay, you went too far.  Check out this corn.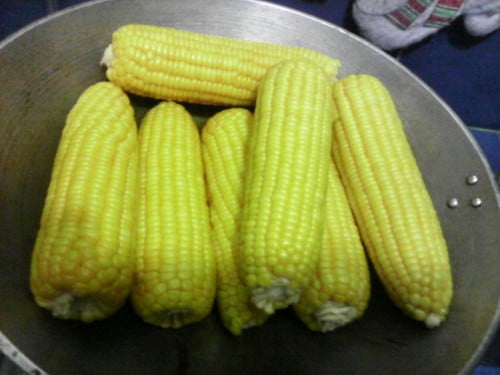 It looked this good all the way around.  Lita steamed it in this wok and afterwards I added some butter and a little black pepper and ate 2 of them pretty quickly.  I'll be having a couple more here in a little bit with some fried chicken.  So overall it turned out to be a pretty good trip.  I'll be looking for that corn there often now.  I hope they can keep up a good supply.
Salamat Y'all