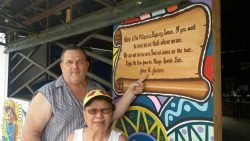 5 Apr: Around about 10:15 pm tonight, as Lita and I were watching "The Outlaw Josey Wales" (Lita has never seen it before for some reason) we had an accident occur in front of our house.  Some drunk guy riding his motorcycle must have passed out while driving and hit one of the road signs out front that says "Slow Down".  Well he slowed down alright.  He hit the sign then the ground.  Neighbors came out of the woodwork.  Some to assist, some to just observe.  When I first heard the big crashing noise, I figured it was someone or the cats messing some place they should not have been.  Shortly though I got up to go to the bathroom and saw a group of people out in front of the house, the neighbors.  I went out to check and my relatives all starting gathering at the gate about that time.  I came back in and told Lita and she had to go out to see also.  The guy laid there for a while.  I wasn't sure if he was dead or alive, he wasn't moving, I know that.  Eventually the barangay multi-cab showed up and they cleared a place to lay him in the back.  Four of the neighbors picked him up and put him in there and they took him to the hospital.  He still had not moved.  After he left and the neighbors dispersed, some of my relatives moved the motorcycle more out of the way.  Hopefully, if he lived, he'll be able to find that motorcycle when he returns.
6 Apr:  Well it seems that the guy did live.  It seems that what happen was that he was just passed out the entire time.  He probably had no idea what had happen until he woke up in the hospital.  I do want to point out that 10:15 pm is way past the 9:00 pm curfew that has been established here.  Also there is a ban on selling any type of alcoholic beverages.  I'm assuming this guy already had it at home or was able to find a place to buy it anyway, which does happen.
Also today I made the final arrangements with Christian at Mango Lounge for our anniversary dinner the next day.  We put our order in a couple of days ago.  Because of this virus, we cannot go out to eat, so he volunteered to bring it to us at the house.  We should be getting it somewhere around 6 pm tomorrow night.
7 Apr:  Our 40th wedding anniversary.  The ruby anniversary.  There is not much we can do but we did wish each other Happy Anniversary and have our dinner that evening.  That's fine though.  We probably would not have done much more than that anyway, if anything more at all.  The dinner consisted of steak, baked garlic prawn (with 2 types of cheese), mashed potatoes and tossed salad.  We also opened our last bottle of red wine.  No alcohol is being sold around here right now so we'll have to be careful on drinking it too fast.  It was all very delicious.
8 Apr: I went downtown again today.  Since Xoom is giving me troubles with our money right now and I can't seem to contact them, I had to go get our money from an ATM at Metro Bank.  It's more difficult and more expensive that way, but, at the moment it seemed to be my only choice.  I still saw a few people walking around without masks.  There are too many people in the downtown area for me not to wear my mask.  I went by to get some of our medication, but the place I normally go was out of stock on all but one of the ones I needed.  I was going to another pharmacy, but the lines were so long at all of them.  We're only very short on one of the medications, one of mine, but enough to last a couple more day anyway.
I stopped by Mango today and got to play a few games of dominoes.  We played on an extra long table to keep the 1 meter plus distance.  We were at least 2 meters apart but it still worked out having to stretch a little bit.  We, Robert and I, played 7 games and I won 5 of them.  I only lost one of them by 10 points, after being behind by 70 points going into the last 2 hands.  The other game I lost, I don't want to talk about that one.  So bad on my part and so lucky on his.
That's all I have for now.  The action for 9 April, so far has been boring.  I may try to go downtown again later to see about getting that medication filled.  I might just have to wait in line or get my nephew to wait in line for me.
Salamat Y'all