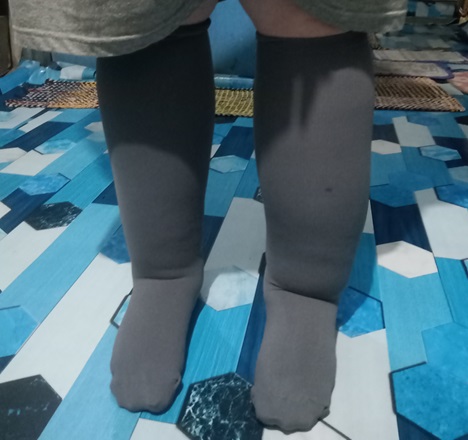 Feature picture – Actual compression socks that I'm wearing as I type this post. You may notice that the left leg is a bit larger than the right leg. Explained later in article.
As I have been told by more than one doctor, for a fat guy, I'm in pretty good shape. One big problem I do have, that my drunken tricycle incident seems to have intensified, is the blood flow in my legs.
I'm not sure if I have mentioned that tricycle incident in PeakD yet. If I get enough requests (10 requests) to post it, I will write a whole new story on it and the immediate and long-term effects it has had on me so far. It's an interesting, funny, sad, tragic, silly and life-changing story.
Back to the story at hand.
Because of the low or no blood flow in my legs I need to wear compression socks. This insufficient blood flow is known as Venous Insufficiency, which you can read about here: Healthline – Venous Insufficiency.
If you do not know what compression socks are or would like to learn a little more about them, you can check out this article: Very Well Health – Compression Socks.
You have to get the right size socks for you. If the socks you get are too loose, then you are wasting your time because they will not put sufficient enough pressure on your legs to ensure the flow of blood through the veins. If you get them too tight, you could be doing more harm than good, even cutting off the blood flow completely.
For me I was told by the doctor to get the 3X size. He didn't have any in office (only up to 2X) so he was supposed to ship me some. They never got here if he did. I finally found some 3X on Amazon and, lucky for me, they were eligible for free shipping to the Philippines (with at least a $49 purchase). The socks were not that expensive, I believe they were $26 for 3 pairs, but the normal shipping is about twice that much to send to the Philippines. I figured I need some shirts anyway, so I just ordered 3 shirts and the socks, less than $60.
They, in my opinion, have some very ugly styles of compression socks. The only ones I would wear in public were black, dark blue and gray. They came 1 of each color. Most of the compression socks they sold looked more like Christmas socks to me. I wouldn't be caught dead in socks like those.
Anyway, compression socks help the flow of blood through your body. Instead of the blood settling in the legs (causing them to turn brown (on us white guys) it flows more normally through the body supplying all the nutrients it's supposed to be doing.
You may notice in the feature picture that my left leg is larger than my right leg. The left leg is where I had my drunken tricycle incident, and it tends to get larger than the right leg when I'm stationary too long, especially when I sit for long periods of time (in front of the computer usually).
When I sleep at night or when I take a nap, I raise my legs higher (above the heart) to let the blood flow. That does the same as the compression socks so there is no need to wear the compression socks to bed. I do wear them to bed sometimes if I'm going walking early in the morning. Nening is not around to help me put the socks on so early (usually around 5 am).
What? Help putting socks on? Yeah! These suckers are not so easy to put on. Although I discovered the best method to get them started (from a doctor on the internet) I still have a hard time getting over my big belly long enough to pull the socks over my heels correctly. You have to be sure to wear the socks correctly or they could dig into your leg and hurt pretty bad. I've been there and done that. Anyway, since Nening already works for us, I just enhance her salary a bit for volunteering to help me with these socks. She's happy, I'm happy.
I'm not exactly thrilled about having to wear these types of socks for the rest of my life, but I don't know if any of the available surgeries are right for me. I can check on that later. I think I saw 3 different surgical procedures and only one of them I would not do.
Life lessons learned. Wear regular socks on a regular basis. If I would have worn socks more often instead of the half-socks or constantly wearing flip-flops, I might not have gotten this problem at all. Chances are I would not have. Being retired here in the Philippines, it's so easy just to put on those flip-flops and head out the door. My advice is don't do it.
*** On a quick side note, my lottery tickets did not win, again. I guess I will still be without until at least the next lottery drawing I buy tickets for.
Salamat Y'all