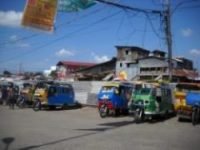 27 Mar: Last night I was told that today is the day that no one is allowed to go outside their houses.  I'm not sure if that's true, seems silly, but I don't have anywhere to go anyway, so I'll just play it safe and stay indoors.  So this could be a very boring entry for today.
I'm trying to figure out how to share a movie on my computer with someone in another city, online.  I can't seem to figure out a way to do that because the movie files are too big to send via e-mail.  Oh well, I'll just find other movies to send from YouTube.  Some of those movies are pretty good.
28 Mar: I am prepared for another boring day today.  At least my internet came up early.  It wasn't on when I first booted up but came up shortly thereafter.  I read that Mango, and all restaurants in Calbayog, must now do take out or delivery only.  No more dining in until further notice.  I suppose that will not affect Foreigner/Games Day as long as we do not buy anything while there.  Last week only 4 people showed up.  I'm expecting about the same this next week.
Payday is this next Wednesday but right now we are not allowed to go downtown from our barangay except on Thursdays and Fridays.  I figure I'll just go on Friday.  That way both my retirement and the social security will be there.  Just make 1 trip and save a little bit of money in the process.  I think that after I get the money I will have to go by Metro Supermarket to get some items.  I'm not sure she will be going.  I'll keep you up to date on that.
29 Mar:  I found out today that all trikes operations have been suspended until 14 April.  It's already going to be more trouble to go get the money and grocery shopping because of this virus.  Lita is not even allowed to go downtown because she is over 65.  The elderly are more susceptible to the virus and they are being extra cautious around here.  So I'll have to go get the money and do the grocery shopping by myself.  I don't mind, I'll spend less than she does, but I don't know everything that she likes to get.  I'll try though.  So, no trikes, which is how we usually go shopping, but my nephew has a car that his father lets him use at times.  I think that will be my transport for shopping in April.  I'll also have to pay the bills.  Actually, it was just confirmed while I was typing this, my nephew will be taking me to the places I need to go next month.  We'll also be bringing a friend of mine that needs transportation.
Today I've decided to defrost the refrigerator in my computer room.  Too much ice has built up around in the freezer.  I have to defrost this thing every couple of months.  The deep freezer in the kitchen also needs to be defrosted.  I'm hoping Neneng will take care of that freezer as part of her daily duties.  It takes more time to do.  It's already unplugged and we have not been selling very much ice during this virus scare anyway.
Something I'm going to have to try to remember to buy this payday is a UPS for my computer.  I had one before but it started giving me problems.  I hope to find a different brand than I have been buying but I'll take whatever is available.  That is if I am able to go shopping for one.  I'm not sure how much of the mall is open or if any of the smaller stores downtown are open.  I haven't been over there in almost 4 weeks and it will be more than 4 weeks by the time I do go there.  We had a short brown out today.   I do have a surge protector on my computer but I still worry that these brown outs are harming my circuits.
That's the end of this day and this post.  I wish it could have been more exciting but, you know, being stuck in the house will make things less exciting most of the time.  Maybe something exciting, none threatening, will happen in the next post.  I hope to see you there.
Salamat Y'all