[smartads]
Remembering back to Zine Entry #61 – Globe and Power Rumors you may recall that I was having problems with my phone and of course we are still in the middle of the longest brown out in Samar history.  Well I believe it is the longest anyway, it sure feels like it and it for sure is the longest that I've ever experienced.  I'd like to let you know about a couple of current situations before I go back to the notes.  Actually the second thing I want to say seems to be a direct result of the first thing.  On Saturday, Dec 21st, Scott, an expat, came by to fix my computer.  He has a computer repair place here in Calbayog that you can bring your computer to or, in my case, he came by the house.  I'm not sure if he will come by if it's like a PC and wants the laptops at the shop.  I'll have his information here so y'all can contact him.  He was here for about 9 hours taking care of things.  I'll have more details when the time line comes up, but it was nice to be able to communicate in English to him and he really, I mean really, knows what he is doing.  I highly recommend his services.  The second thing is that after Scott worked on my system, my blog ads on this end are now working.  I know y'all could still see them, but I could not.  Also the camera phone I borrowed from Juvic is now registering when I plug it in.  I still need the drivers though to make it work that way.  I'll just remove the memory card and do it the long way so I can get more pictures out to y'all.  I should start with more pictures in the next post or two.  I do have an interesting development from this computer repair, and it's a good one with a happy ending, but I'm going to save that for when the timeline comes up.  I did want to be sure to get his information to you, so here is his business information, although it does not have his name on it.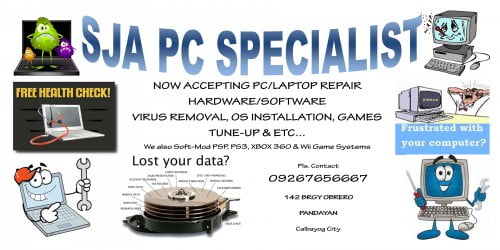 Computer problems don't stand a chance around him, he is the man to call.  He is married to a Filipina and this business is the only income that he has.  He's great at it and he loves doing it.  And I will say again how much I loved not having to repeat things because there is no language barrier.  He has helped other expats and even some local internet cafes acquired his services.  I'm very happy with my computer now and just as soon as I can figure out all the new things installed and can get around better, I'm sure I'll be happier.  Now back to our regularly schedule post.
On Thursday the 28th I heard 3 more times, from 3 different people that the power would be back on tonight, if all goes well.  Supposedly when they test it and there is no problem, they will continue to have power, but only at night.  Well that's okay with me because night time is when I need it the most.  The rumors also say that in about 6 months, when they expect to have Tacloban up and running, then all power will be restored back to normal.  Well as of this writing it is 3:45pm, so we should see pretty soon if all this is true or just more BS.
As it turns out, the rumors were partly true, but in a good way.  The power did come back on, but not on the 28th.  It was on the 29th of November (my niece Jaclyn's birthday) that the power FINALLY came back on.  The time was 0142, which means it was only 16 minutes short of being 504 hours without power.  At so early in the morning, we did not hear the normal cheers, but I'm sure that there were plenty of them from the people that knew.  I'm sure others were sleeping and didn't realize it until they woke up.  I know I was screaming on the inside and I know that Lita and I were both awake when it came on.  Lita was thanking God and I was laughing at the mosquitoes because their buffet was now over.
I quit taking notes for a few days after the power came back on, but I got back to it starting on 4 Dec.  Well except for on 1 Dec I will note that we did have a brown out at 5:09pm, but it only lasted about 30 minutes.  It's the first one since the power was restored.
On 4 Dec I went downtown to pay the internet and do some shopping.  I found out that I am unable to get the internet upgraded because the account is in my nephews name and he still owes them, from another account, a little over P5400.  Now if I had my I-Card, then I could get it put in my name.  Anyone reading this that plans to move to the Philippines, but sure to get that I-Card and even your 13a Visa, BEFORE moving here.  It's much cheaper to get them abroad and there is no 1 year probation on the I-Card, like there is on the one you get here.  We hope to get ours on our next visit to Texas, which looks like will be this next August.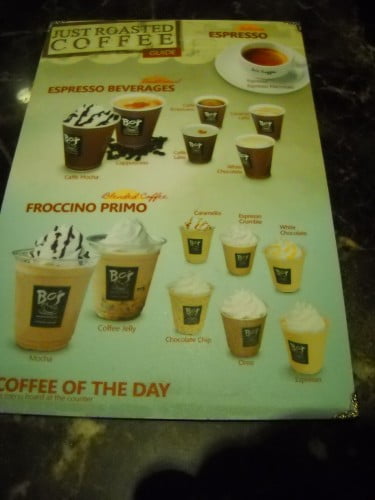 I stopped by Bo's Coffee for my Oreo Froccino and after I was there a few minutes an expat came in.  He is an Aussie, but of course I forget his name.  He was a pretty nice guy.  His wife was there and she was very pretty.  One of the first questions he asked me was if I liked to drink beer.  I told him I did, as often as possible.  I told him about my blog and he went there to check it out while there at Bo's.  I think he is hoping to have some expat get togethers on a regular basis.  I hope that too because I like meeting people I can actually talk to without having to repeat myself or not knowing if they really understood what I said and just said "Okay" because the just wanted me to be quiet and quit talking to them.  Besides, I probably only know about 1/4 of the expats around here and it would be nice to know more.
I did something today that I have never done before.  I bought myself an umbrella.  The top is dark blue and the underside is silver.  It's very much like the colors of the Dallas Cowboys.  It cost me P165 (only) at Vidas Mar.  I'm sure I won't use it much, but there probably will be some times I'll need it.  Lita would be the only other person I let use it because umbrellas have a way of getting broken around here.
I'm going to end this post now.  For the next post I will tell you of the Christmas presents that Lita has already gotten AND given out.  We have our carpenter building things for us again.  Not just us, but Titing also.  Also I found a place here that actually had clothes that fit me.  Stay tuned for that and more on this bat channel.
Salamat, Y'all
[smartads]