Zine Entry #35 – Cubao to Calbayog
[smartads]
We were finally on our way to Cubao again after the bus breakdown at the end of Zine Entry #34 – Angeles to Cubao.
In Cubao  we wanted to take either DLTB or Philtranco bus lines.  When we got into the city we went right past a DLTB so, since Lita had already mentioned it to the bus driver assistant, the stopped the bus just past it so we could get off.  Naturally, from what we were told by several taxi drivers anyway, this DLTB does not go South, only North.  I don't know if it's true or not and I was in no mood to argue at the time.  So Lita spoke with the drivers a few minutes and then we took a taxi to another DLTB that was across town.  When we got in the taxi and started to roll, I noticed that the meter was sitting at P607.  I asked Lita just how much this ride was going to cost?  She said that she had already negotiated with the driver and it would be only P250.  Well that was a relief because I was going to tell him to stop the taxi right there so we could get out.  I wasn't paying P607 plus.
When we got the the 'right' terminal, there were the usually people out front looking to help you get to the right bus, for a tip of course.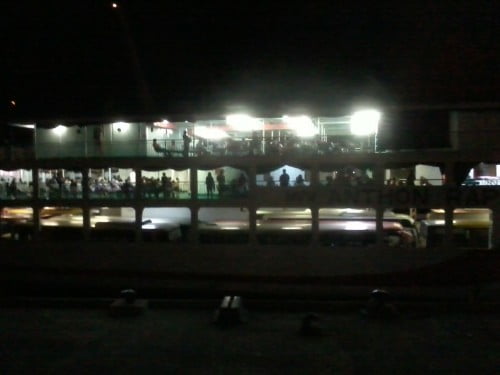 A little side note here for people that don't already know.  In the Philippines you have people that are willing to do all those little tasks that you'd rather not do, for a small fee.  Actually they come up with all kinds of ways to try to help you, for a small fee.  I mean, like at the bus terminal.  These guys let you know what bus you need to get on, they help you with your luggage and even help you get up and settled inside the bus if you need or want it.  In our case, the guy even showed Lita where the CR and snack bar is located.  His tip was P50 ($1.25), which is more than I think he normally gets, but Lita likes to give 'a little' more when she can.  You don't want to give too much more.
Anyway, the bus that the guy directed us to just so happen to be a DLTB bus so I got on right away and Lita headed for the CR.  The price of the ticket to Calbayog is P1000 ($25) each.  You also will have to pay the fee for the ferry when you get there, but that is only like P11.20 (.28) each.  One thing that I can really attest to is that the air con, at least on all the buses we were on, were very cold.  I had to close the vent above us because it was so cold.
After 3 short stops, we finally made it to the ferry.  We were not allowed to stay on the bus this time.  So I brought my shorts and my notebook on the ferry with me.  I still had a lot of this information to write in and didn't want to wait too long because I know I would have forgotten something.  I did finally get to change out of those hot long pants I had on.  I think that next time when we go to the terminal, I will go in my shorts and just have the pants ready, in case we happen to get a flight.  I changed in the CR that was marked "He".  I figured that the one marked "She" would have been a bad choice, but maybe more interesting.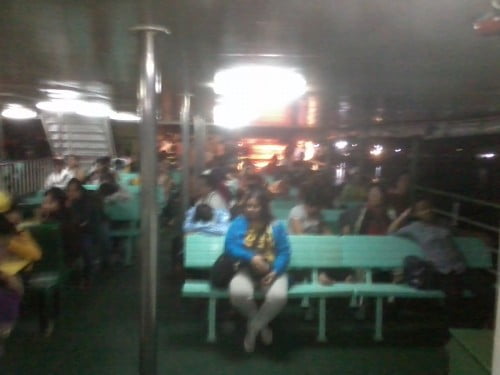 We got a seat on the left side of the ferry, right next to the rail to make sure we could get the nice breeze coming off the ocean.  Lita decided to buy a Mountain Dew.  They are the short long neck plastic bottles and the cost P50.  I noticed that they had some San Mig Light beer, but no other kind.  I think that kind of proves my point that San Mig Light is nothing more than flavored water.  I figure they don't want people getting drunk on the ferry, and maybe falling off, and you probably would have to drink a half dozen of the San Mig Lights to even start to get a buzz.  It takes me about 2 liters of Red Horse to get a good buzz, 3 to get drunk and 4 to be wasted, so there is a comparison. Yeah, I know, a bit of a light weight.  If I'm eating good though, I can go more.
I didn't get the exact time, but the ferry ride lasts a little less than 1 hour, about 45 minutes.  I think I said earlier that it was 2 hours, but remember I was sleeping the last time, so I just got the time confused.  As I was writing these notes, it was 0445 and we docked in Allen around about 0500.
After a pretty much uneventful ride, we finally got back to Calbayog.  No one was there to meet us, but it was about 0700 and those that are up that early are busy doing things.  Some people have to work.  We took a tricycle home, it was raining.  We said our hellos to whomever we encountered, then pretty much slept after that.  We explained to everyone the bulk of what happen the next day.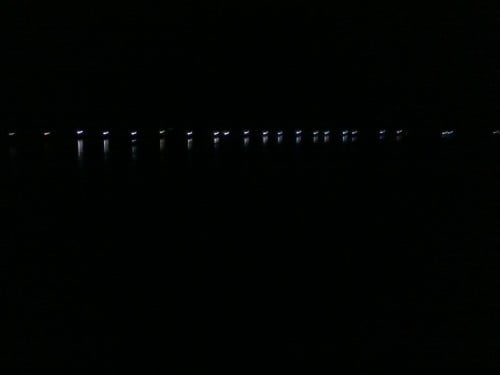 So we need to go back next month.  It looks like we will be taking the bus again since I don't like to pay full price for airline tickets and it's too late to get any of the sales because they normally have a travel period that is a few months down the road.  We did learn several things to do and not to do that will make our next trip a bit easier though.  Also since we have been back, I have been in contact with Ray.  He lives in AC and has volunteered to show us around the area next time we are there.  He also does not have a car, but he knows how to get around with the jeepneys and tricycles pretty good.
We hope that he will be able to get us to San Fernando and the S&R supermarket.  It is supposedly like a Sam's Club or a Costco.  He's looking into the easiest way to get there.  He says that if you just get in any jeepney, you could end up having to take 4 jeepneys and taking about an hour and a half to get there.  He is pretty sure there is a place to get on a jeepney and it will be about a 20 minute ride.  If he finds that one, then we hope to go to S&R when we get there and check out what they have.  Supposedly they have many items from the US.  Anything that we want that is not there, we will buy where ever we end up going and just get the rest in San Fernando when we return.  That's less carrying for me, so that's good for me.
Well that's the trip.  Not very fruitful, but interesting.  I will continue the normal posts until we are ready to go again in August.  We will not be leaving here without seeing the Space A schedule at Clark this time.  No more unnecessary chances like that.  I'm sure I will have even more useful information for people wanting to visit the Angeles City and Clark when we go next month.
Salamat Y'all
My Google map of the Calbayog City Hotels that I have been able to find online
Calbayog Expat  (Facebook page)