Zine Entry #32 – Closer to Possible Flight Time
[smartads]
With the conclusion of Zine Entry #31 -DM Residente Hotel  it was Sunday evening and we were planning on heading back to SM Clark Mall the next day and it was my turn to pick where we were to eat.  I was thinking Italian or at least Pizza Hut.  Things seem to not go exactly as planned with us, but part of the plan did come true.  Let's see what part that was.
So on Monday morning we did something that we should have done on Sunday, or even Saturday morning.  We went to Puregold and bought some food for the room and food for when/if we ever get on a flight.  This way it will be less expensive than eating at the restaurant all the time.  The drinking part even more so.  For example, at the hotel a can of Coke costs P50 and at Puregold it is less than P11.   Also a bottle of water at the hotel is P30 and at Puregold a little less than P8.    For as much as we, especially I, drink, it will save us plenty of money.  We also bought some cup of soup, deviled ham, bread, chips, salsa and fruit.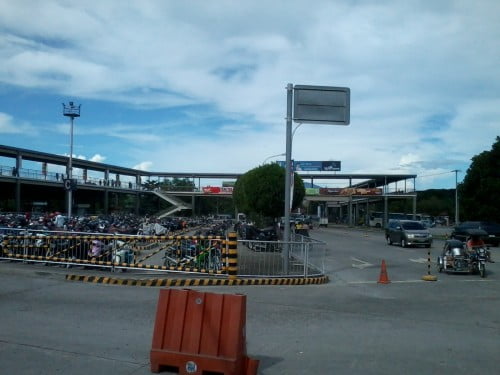 After shopping it was around about 11:00 and we decided to go next door to Pizza Hut.  At least part of what I wanted to do that day came true.  I was hoping not to go to another restaurant where I was practically assured of having chicken again.  Oh, I do love eating chicken, especially fried chicken, but usually the chicken I find elsewhere is not as good as Lita can cook.  I guess I'm a little spoiled with her cooking.  The pizza we got was half Hawaiian (Lita's favorite) and half Supreme.  I ate my half (4 slices), but Lita only at one slice.  She said she was full, she does that a lot, so we brought the other 3 slices back to the room.  We have plans to eat that later, probably with some of the salsa that we bought.
Be Aware:  The refills at the Pizza Hut are not free.  I only drank 1 glass of tea because of that.  Lita had 1 Pepsi, but the guy at the counter felt sorry for her and gave her a free refill before we left.
So now it's time to go back to the hotel.  We flag down a tricycle driver.  Just to try to be sure that we do not get lost again, I showed him the little map that I acquired at the hotel and a couple of other drivers showed up while he was looking at it.  They all talked, he said he knew how to get there, so we got in and left.  Yes, that's right, he got lost.  After driving around for awhile and from my limited view from riding inside, I spotted the hotel straight ahead.  I guess he was not really looking because he turned left.  I got Lita's attention (she was riding on the back of the motorcycle) and she got him to turn around and go back.  I'm starting to think that most of the drivers around there, don't know very much about the area.  I was a little concerned about whether they would let us bring the food we bought into the hotel, but that was a non-issue.  They did not even look at me funny that I know of.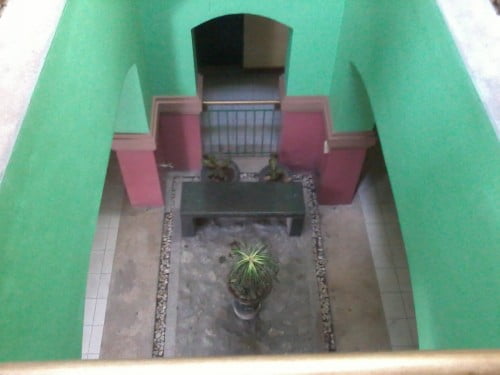 They did come by to look at the TV, but not because the satellite has been adjusted already.  It was because they didn't know that something came by to look at it already.  It seems that the day shift and the night shift did not coordinate with each other.  That seems to be a common occurrence here in the Philippines.
Later, around 5:15pm, I called Mr. Corrigan to find out if the flight on Tuesday (the 9th) still only had 1 seat available.  I did not expect it to change, but you just never know with Space A.  I was told by the lady at the front desk that I had to call from their office.  It is a local cell phone, but I was told I could not call from the room.  Calling from up front was going to cost P28 per minute.  I figured the call would not last longer than a minute so I didn't argue.  As it turns out the call lasted about 30 seconds, so they only charged me P20.  Mr. Corrigan did tell me that he would know, in about an hour, how many seats would be on the Wednesday flight, so I did call back.  For Wednesday there were to be 8 seat available for travel to Kadena.  That's worth a shot, so we made plans for that.  That call also only cost me P20.
So I made the reservations with the hotel to take us to the Haribon security gate the next morning.  Departure time being 0645 because I did not want to take a chance of being late and the roll call for the flight was at 0730.  It only should take about 10-15 minutes for the trip.  It's still Monday evening, so we still have a whole Tuesday to go through.
So on Tuesday we planned a day at the hotel again because if we do not get out today, it going to be rough on our pocket book to stay there any longer.  We wanted to save what we could, when we could.  Today is when I noticed that they have a massage service at the hotel.  The prices range from P500-P650 per hour depending on the type of massage you get.  Being so close to Fields Avenue, I figure that you can get all kinds of massages around there.  I'm pretty sure that the ones at the hotel are without the "Happy Endings" though.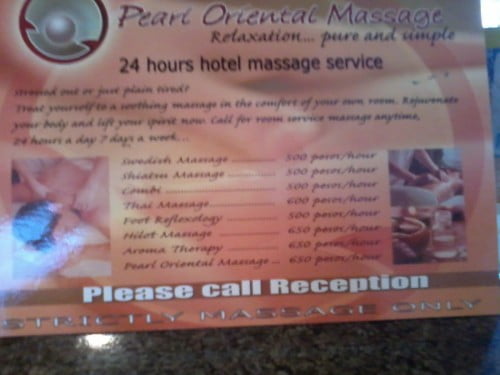 I walked around the next block down and I found a couple of sari-sari stores there.  I also did happen to find a couple of massage parlors too.
For Tuesday lunch Lita and I shared an order of the buffalo wings and 1 order of rice.  We got 6 pieces of chicken with this order.  Yesterday it was only 4 pieces and the day before it was 5 pieces.  It only says 4 on the menu.  I also ate some of the deviled ham and chips with salsa.  Lita helped with that too.  We ate in the room, but there is only 1 bench to sit on.  I 'borrowed' a chair from poolside.  As I was getting it a couple of the maids saw me.  I just put my fingers up to my lips and said, "Shhhhh"!   The just laughed and went about their business.  I did make sure that one of them saw me return the chair though.
Part of the afternoon we wondered and talked about how Rick Smith's widow, Flor, was getting along.  We were unsure of how he left things with her.  We hope that in some way we will be able to help her once we got back.  We are not sure how, but we hope to somehow.
Later that evening we had what we hoped would be our last meal at the hotel.  Lita ordered some of the chop suey and I just got some hot water to make my cup of soup and another ham & cheese sandwich.  Lita said that the chop suey was very good.  The meat in it is liver, so that is for sure not for me.
We have a wake up call for 0600, but most likely we will be up way before that.  Lita will have everything packed and ready to go before we go to sleep tonight.  That's just her thing.  We will show up in our traveling clothes hoping for the best.
Salamat, Y'all