[smartads]
This post will be a little break from my trip.  I'm doing this because by the time I get all my notes entered, I will have information here that will be a couple of weeks old.  I'd rather keep y'all up to date as close as possible.  So at least this post will be after we returned from Angeles and starts on 12 July.  I'll get back to the trip on the next post.  The pictures on this post though will be ones that I did not get to use on the previous 2 posts about the trip.  Maybe I can slip in a couple of new pictures from around here.  I did put comments on every picture so be sure to read those to get a better idea of what's going on with the picture.
Late morning of the 12th my internet and phone both went out.  I called Globe and after trying their normal things over the phone, which is all the things I tried already, they determined that they need to send out maintenance.  However they said that they could not send anyone out until Sunday (the 14th).  Just great!  I also made sure I told them to put on the ticket that I wanted them to check my internet connection to make sure I was getting the upload and download I was paying for, at least.  I had to call them with my cell phone.  It was my first call, not a text, made on this phone. Around 1:10pm the internet decided to come back up. I didn't call Globe back because I still wanted them to check my connectivity.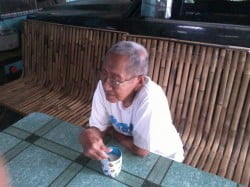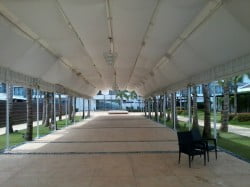 Also on 12 July I was made Admin of a website called Space A Travelers of the USA.  It is a informative website about Space A for people seeking answers.  I had been answering a lot of the questions on the site anyway, so one of the guys asked me to be Admin.  Sure why not.  It's something more for me to get involved with and I'm sure that I will end up learning something from it.  It doesn't pay anything, but it's okay.  The experience will be payment enough. 
Shortly after being made Admin, and while I was asking some questions about it, we had a big thunderstorm.  I mean it was really coming down, rumbling and lighting up the sky.  I usually don't bother turning off my computer during the storms, but this one made me think I better.  I even unplugged everything, just to be safe.  Nothing happened that I know of, but it's better safe than sorry.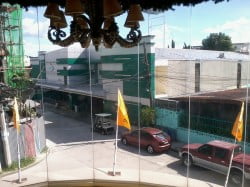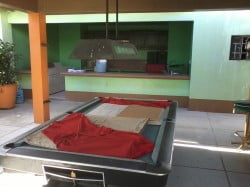 On 13 July Randy & Teri Landis showed up.  They just moved here from Mississippi and have been around since 4 July (same day we left on our trip).  They just wanted to stop by to let us know they are around and to talk for a little bit.  They are purchasing items to complete some finishing touches on their house.  Lita and I plan to take a trip out that way whenever they are ready to start accepting company.  We still owe them a spaghetti dinner and he still owes me a beer.  We will be sure to take care of all that stuff as soon as possible.
Shortly after they left Bebie (Cathy's mom) showed up.  She is here to see her grandchildren and to help Cathy purchase items to turn their little house in the back into a 2 story.  She seems to be doing okay now financially after finally getting the money paid back she borrowed for her husbands hospital bill and funeral.  I suppose she does not have much left to pay for otherwise.  She wants to be sure that they build a bedroom for her when she comes to visit.  That way she does not have to inconvenience others.  I'm thinking that someday all the houses here will be at least 2 story and maybe even connected together.
On Sunday (the 14th) I walked downtown to get out some money to get our medication.  I left just a little past 0800 so it was not so hot.  I actually walked all the way there, around downtown and all the way back.  I didn't do any power walking, but I did walk at a pretty fast pace for most of the trip.  I did have to dodge people and vehicles at times, so that slowed me down.  As I was getting to the bank someone was walking out of the ATM and someone was going in, but I was the next one in line.  Maybe I should make all my ATM trips on a Sunday morning instead of waiting in the 10-15 person lines.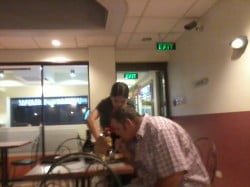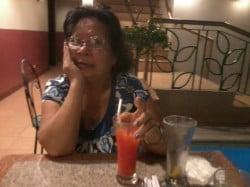 Sunday afternoon Ado purchased the dirt, hollow blocks and lumber to start on their 2nd story.  The family will move into the little store up front for 2 or 3 weeks, while all that is being done.  I'm sure they will be out before 8 August, because that is when Lita wants to reopen a store/restaurant.  It's our building, but we don't mind them moving in for the renovation.  Lita will be sure they are out before she is ready to start the store.  She gets pretty loud when people try to take advantage.
Sunday evening Gary Beaudean invited me over to the Ciriaco to talk and drink beer.  I accepted (duh).  He and Jen were having a little party celebrating their anniversary.  Some of the Filipino relatives were there, but not too many.  Gary and I sat at a separate table, talked and drank a few beers.  It was pretty nice actually.  The service was a bit slow though.  I'm not sure how long I stayed there, but it must have been a couple of hours at least.
Gary was going to stop by on Monday afternoon at the house for a spaghetti dinner and some more beer, but he started having stomach problems and had to call it off.  It's okay, we can do it another time, not a problem at all.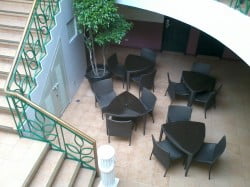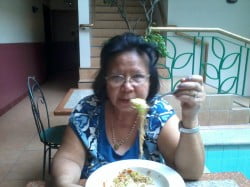 Today (Monday the 15th) I was in contact with an expat living in Angeles.  His name is Ray Blazier.  He has life in the Angeles area for about 6 years now and has volunteered to show us around.  He, like most of us here, does not have a car, but he has the jeepney system down pretty good.  He told me about a place called S & R that is suppose to have many of the food items we are use to in the US.  I hope to be able to check that out before we head out of the country to see what things they don't have.  Those things will be the only ones we buy out of country to carry back.  Of course whatever else he thinks would be interesting for us to see we can check out.
I suppose that's got everyone caught up now.  Like I said, I will return to the trip in the next post.  I'll have the whole trip down before I begin the next trip in August.
Salamat, Y'all