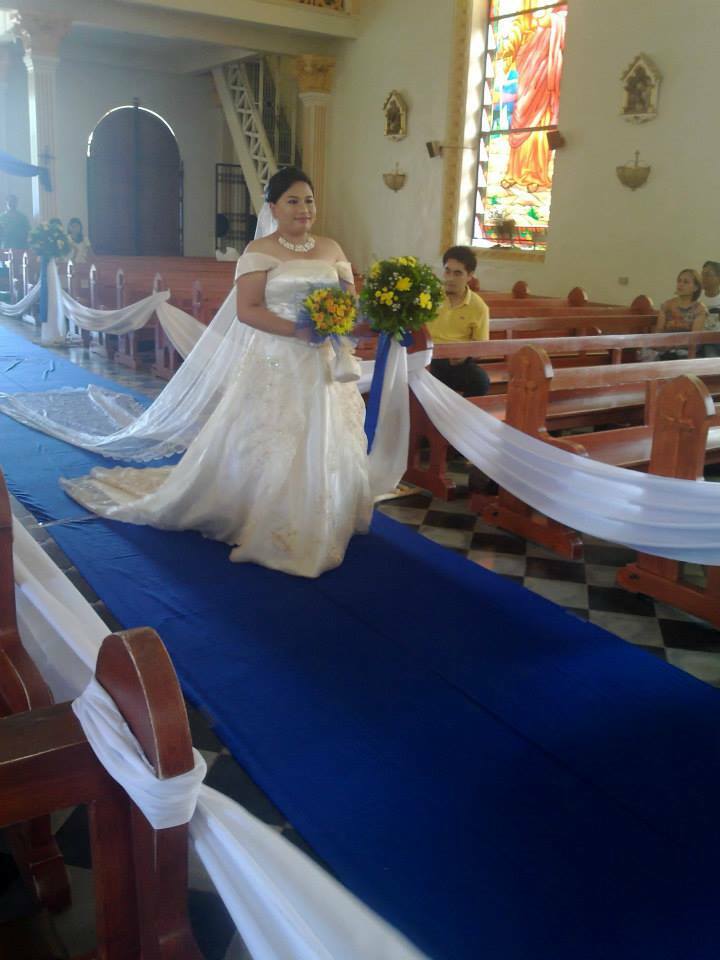 [smartads]
Recently I have found something that is absolutely an essential thing that I'm going to need to survive living here in the Philippines.  I did not believe it to be true before, but in the last week or so it has been something that I pretty much miss.  I will get to what it is later on in this post, but I am going to be doing things in order of how they happened this week, so it will have to wait its turn.
Since I will not get a new camera until after the first of the month, I 'borrowed' the photos in this post from Juvic's Facebook.  I knew she would have pictures because she really likes to take pictures.  I know she won't mind at all.  I have about 20 of them so I'll probably just put a dozen of them on here and put out the others a little at a time in future posts along with whatever pictures I end up taking with my new camera.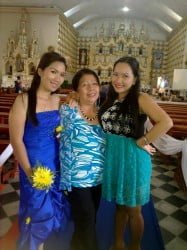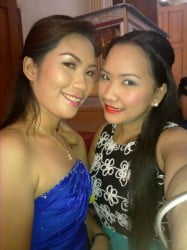 Bruce stopped by again recently to talk for a little while.  He was out riding his new mountain bike that he bought and I think that he welcomed the visit to get a good breather too.  From what he told me, the did quite a bit of traveling during the day, to places that I have not been and some I didn't even know existed.  He made me wish that I had a mountain bike too.  Bruce was wondering why we have not taken advantage of being across from such a large hotel.  He thinks we should get a restaurant going.  Of course I agree and we have tried a couple of times, but it seems to not work out.  We only have so much money to commit to a restaurant, so we can't just go whole hog and take a chance of it failing.  Our best chance so far was this last time, but when the Ciriaco never answered us on the contract for their employees, well that just fell through.  We did borrow some money from a local loan shark at 20% interest to fix the place up a little bit and get some supplies and we had to pay that off even though we never even got started on the restaurant.  It looks better in there, but it's still not doing us much good.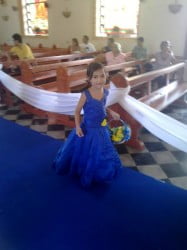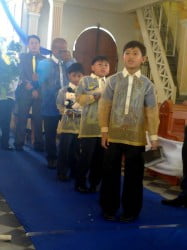 Lita and Judith are talking about a small grocery in there right now, mostly selling rice.  There is no other place around here that sells rice, except at the new market, so maybe it will be profitable.  Lita says she would still like to have a smaller restaurant upstairs though with 5-7 tables, plus the picnic table downstairs.  All that is in the 'someday' category again.  Maybe if I got more involved with it, it would take off faster, but I have been sitting in the background letting them take care of it.   Anyway, we will see what happens later.  I still think a small restaurant that caters to the foreigners staying at the hotel would do pretty decent.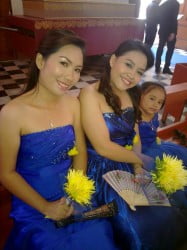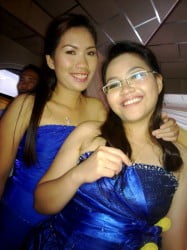 On 25 May, Marianne (Mar & Ludy's youngest daughter) got married.  All their children are now married.  It was a nice wedding and of course Marianne was beautiful in her gown.  In fact all the bridesmaids were lovely, especially the Maid of Honor.  The Maid of Honor was my niece Jade.  She lives in Tacloban and her and her whole family came up for the wedding.  Now I already think Jade is a beautiful young lady, but even I was taken back by how much she was changed without her glasses and all dressed up.  I didn't even recognize her at first.  She had to talk before I knew it was her.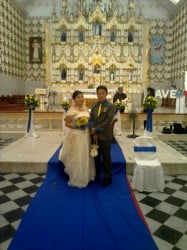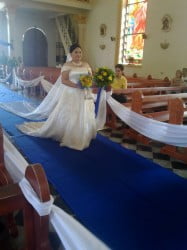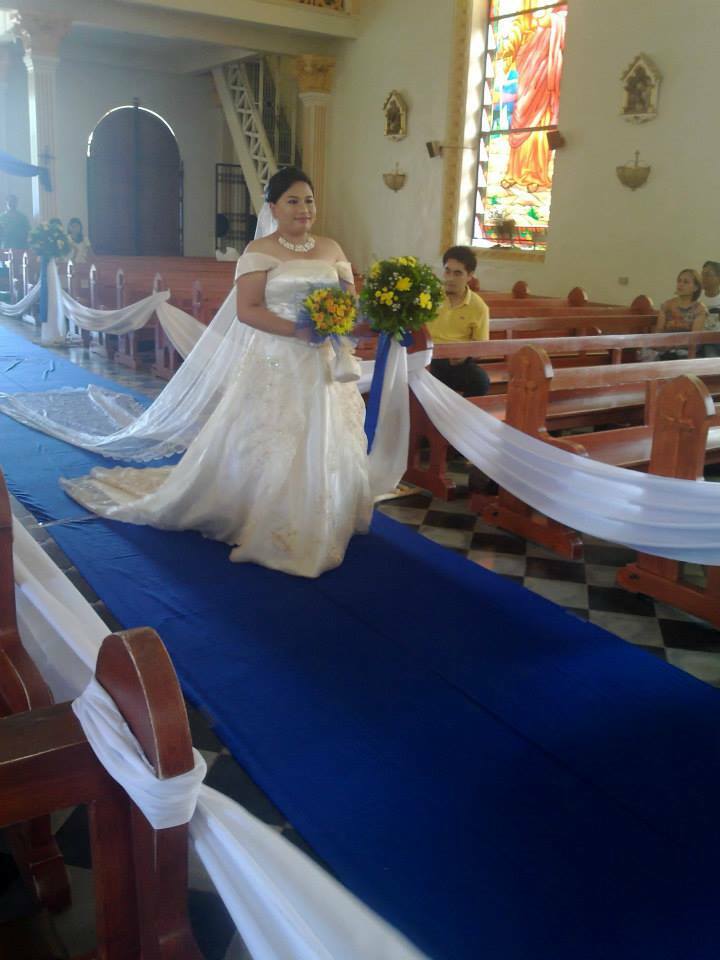 After the wedding they had the reception at Marju Krisel Hotel & Resort function room.  It was my first time to have a function there and I will say that it seemed bigger when I was the only one in there taking pictures before.  It was crowded, but that is to be expected for Marianne.  She is a wonderful, friendly woman and has plenty of friends.
I think I just discovered that her name is actually Mar Yanne and not Marianne.  I've only know her for 13 years though.  Filipinos go by many names, usually shortcuts for their given name, but they have been known to spell their names differently, as it is not really a concern.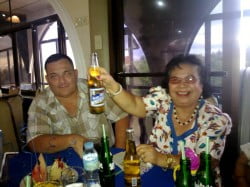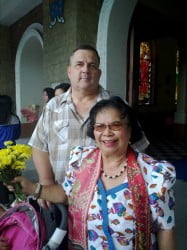 The foods at the Marju Krisel were many.  So much so that I did not have and excuse not to eat, like I usually do.  I had enough to eat.  Mar even came by to check on me to make sure I did have enough to eat.  The only problem I had, besides the crowd, was that when they broke out the beer it was all San Mig Light.  I don't drink light beer.  San Mig light is like 5% alcohol, so it's actually pretty useless to drink as far as I'm concerned, although plenty of people do like it.  Ramil asked if I wanted some Red Horse and I asked if it was already bought.  He said no, but it was not a problem.  I told him to not get any since it was not purchased already.  Of course about 5 minutes later I had a liter of Red Horse.  It was not cold, but it still tasted better than that San Mig Light (at least to me).  Of course Ramil was happy to help me drink the Red Horse and even purchased a 2nd bottle.  What a guy!  Oh, ok, I suppose he wanted the Red Horse just as much as I did.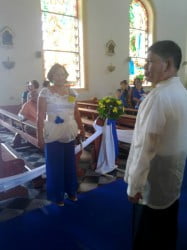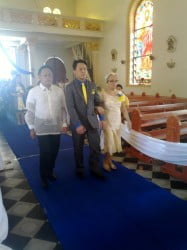 After being there for about an hour or so, we decided to leave.  As we were leaving we saw Ted and Gloria Kennedy coming in.  They were going to the restaurant to eat.  I thought that they were already gone, but that is not until next month.  Ted said that they would be coming by again before they left.
Well in the next post I will tell you about the dog scare that I really enjoyed and hope to get to do it again soon and often.  Also I just realized that I never told you what the essential thing was that I discovered I need to survive here in the Philippines.  Oh well, sorry!  It will have to wait until next post also.  I didn't realize that I would get such a long post from what little information that I had.
Salamat, Y'all