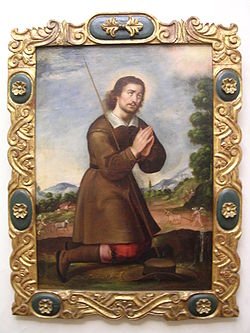 [smartads]
Well another trip down to Southern Leyte and Hindag-an Falls and Forest Park has been made.  The whole Gloria family, except Victor, went along with Poppa.  That means that Judith, Juvic, Grace and Samantha are all not here at this time.  I hope they all have a safe trip to and from.  Bebie was here, bringing back Precious, but she has a seminar to attend on Monday for the school, so she went back.  Besides, everyone will be staying at her house while they are visiting.  They will be back in 3 or 4 days.  Lita was going to go, but changed her mind the day before.  They are all there celebrating a birthday.  I hear that that place has improved since the last time I was there.  I really need to get back and take updated pictures.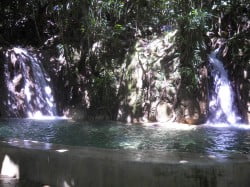 Cathy and her family probably would have gone but her father-in-law just died a few days ago and they stayed to go to the funeral.   Cathy and family are having a rough time this year so far this year as far as father figures go.  In January her father (Khany) died and now her father-in-law.  I hope things are better for them the rest of the year.  No one should have to put up with so much misery in such a short time frame.
FranJessy Trading (the Pepsi business) now has a sign out front.  It's the first time they have had an official sign as far as I know.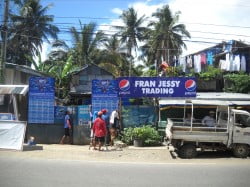 May the 15th was Fiesta Day here in Bagacay.  It is the celebration of the sainthood of St. Isidore – The Laborer.  It is the fiesta that people wander to other people's houses to eat whatever was prepared.  We did not have too many visitors this year.  Here are 3 links you can read up on Saint Isidore if you would like.  The third link I thought was interesting in that St. Isidore is considered the Patron Saint of the Internet (although that has not been officially recognized by the Catholic Church yet).
http://en.wikipedia.org/wiki/Isidore_the_Laborer
http://www.newadvent.org/cathen/08186a.htm
http://www.telegraph.co.uk/technology/facebook/8334250/Profile-Saint-Isidore-the-Patron-Saint-of-the-Internet.html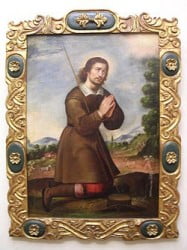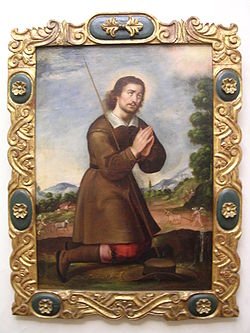 The pedicure lady was here again today (Saturday) and I got another pedicure.  My toe nails were so big and I was starting to cut myself with them at night.  I could have just cut them myself, but she got here at just the right time and she can get out the ingrown toe nails while she is at it.  A pedicure for P35 is a lot better than the $35 it would cost in the US.  At least that is how much I think it costs.  I have never had a pedicure until I got here.  I'm glad it's the same lady too, because when I tell her, "No pink", she knows already what I am talking about.  I told the lady that I give myself manicures and demonstrated the "teeth" method.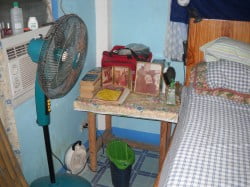 Lita and Pam cleaned the bedroom today.  Boy oh boy does the dust collect in there.  While cleaning I saw 3 mice and Lita told me that they found a litter with 3 baby mice in it.  Pam took them outside, so I hope the larger ones followed them.  I suppose that the cleaning will have to be more often if we want to keep the house mouse free.  They never bother us.  In fact I'm sure they are more scared of us then we are of them.  It's just having the little critters running around, especially when we have babies around here.  We don't want anything to happen to the babies.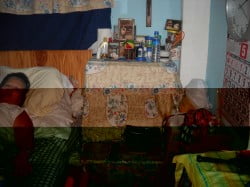 I now have a little table next to my computer table to put the phone on.  It was on a bench.  Next to our bed, on each side, we have the two smaller tables that were out in the restaurant.  Since it looks like now that they will not start a restaurant because we have not been able to get a contract with the Ciriaco and it seems they are no longer interested.  Lita didn't have a table on her side, she just had a couple of the balikbayan boxes stacked and covered.  One of  the boxes is now gone, less places for the mice to have babies, and the better of the two she put on top of the table to give yourself a nice looking area.
Salamat Y'all