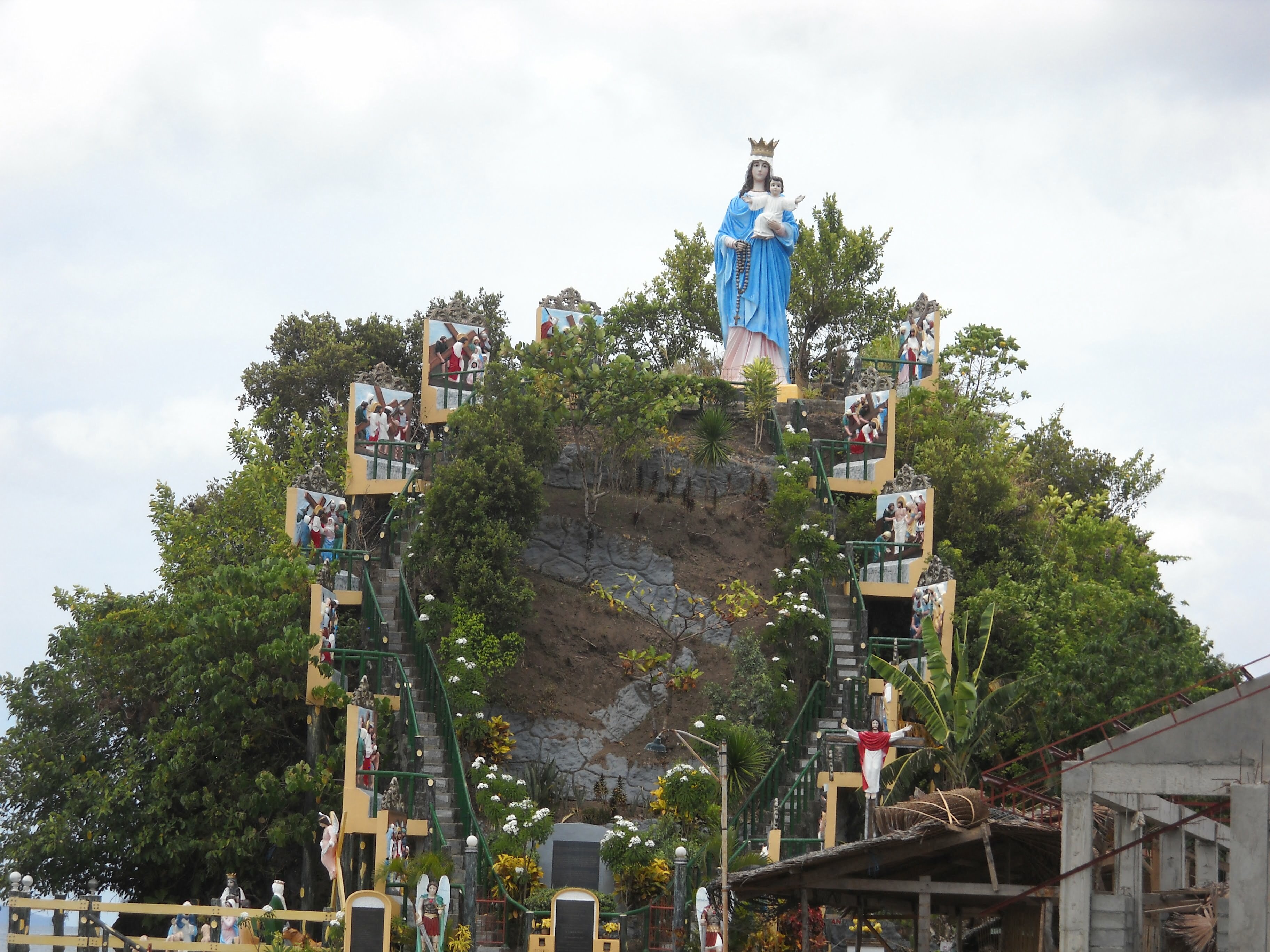 [smartads]
So we had just left George and Nila's house on Sunday morning to do a little exploring around places that Lita and I have not been yet.  We made our first stop at the local church, right next to their house.  I saw, not sure if Lita did or not, the stained glass window that they donated to the church.  It is the one to the left as you walk in the front doors of the church.  Out in the churchyard there are a lot of different statues.  I got pictures of most, and probably all of them.  This church is like most other churches I have seen in the Philippines, no air con.  Most of the electric fans that are there do not work so it's pretty hot inside there.  Even if the did work, I don't see how those little fans could cool that whole place sufficiently.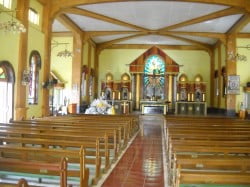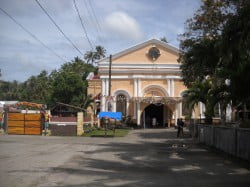 It's time now to head to Malajog to see the grotto.  It will be the first time I have seen it up close.  As we are leaving George asks Nila which way they should go.  For a brief second I was confused because I figured he knew exactly where he was going.  Well he does.  That is a normal question he asks her because they have 2 situations for departing town.  If there is some reason to believe that an abundance relatives or others might want to travel with them, the 'sneak' out of town.  If they know of no reason to suspect a bunch of people, then they go out of town 'the normal way'.  Actually there are only 2 ways to get out of there, so there is not much of a choice anyway.  For this time out, we sneaked out.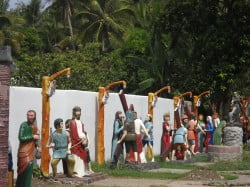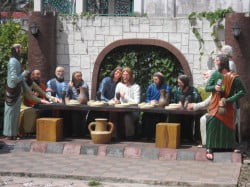 So we get to a part of the  Malajog area that I have never been to before.  George took this small dirt road down and it just seem to end.  We were by some houses and he just parked.  I could see the grotto over there and it looked like it had stairs to climb up, but no one seemed to want to go up.  Maybe it's not allowed, I don't know.  Since no one mentioned anything about going up or said anything about it being okay to do so, I just took a couple of pictures from the fence.  The gate was open, but none of us went in.  After there for a few minutes and talking about the beach, they said we were heading for a place that Nila's brother worked.  Now they told me more about this place than I can remember, but for now it is suffice to say it is a coconut plant.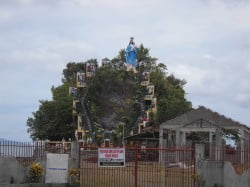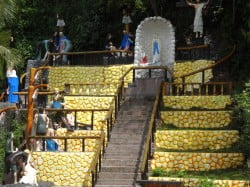 Before heading over to the coconut plant, we needed to stop by and get her brother because he had to sign us in so we could look around.  I should have made note of the place we went to, but I didn't.  It was off to the right down a long road that was not really big enough for 2 vehicles unless everyone slowed down, moved over and squeezed.  We had to do that a couple of times.  We pulled into a basketball court, no one was playing, and Nila & George went to get her brother.  I got a picture of the basketball backboard with the name of the place on it, so I guess that was something I did right in getting a location.  He must have lived close because they were only gone for a few minutes and she said they had to wake him up.  He, and of course I don't remember his name, climbed into the back with Nila and Lita and we headed to the factory.  George pretty much knew the way, he only had to ask for directions from his brother in law once.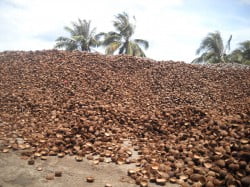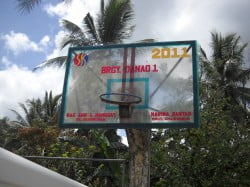 So we pull up to this large factory looking place and the brother in law gets out to sign us in.  They actually just let us in before he was finished signing us in.  We went by a giant pile of coconut husks and that is about the time I noticed a bad smell.  I never knew that coconuts could stink, but it was pretty bad for me.  I guess when you get use to it, it's nothing.
Next we headed for the dock, but there were no ships in.  We walked over to the edge and George and I both decided that would be a good place to go swimming if it were easier to get back up on the dock.  Of course it's a business area, but there were some local kids there and although I did not see them get in the water, they were all wet.  They were hanging around in a control tower looking place, playing.  The smell back here was not near as bad as next to the coconut husks.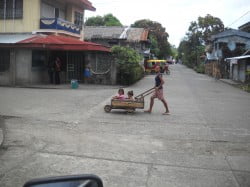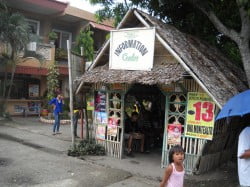 So after leaving here, I thought we would be going back home to Calbayog, but I wasn't even close to being right.  It's okay though.  After dropping of the brother-in-law, they decided to head out to San Joaquin.  I said, "San Joaquin cool, maybe we will see Gary's house while we are out there".  I have never even seen a picture of his and Jen's house, but I knew it was a 3 story house and I figured there were not too many of them around.  Besides, neither Lita nor I had ever been to San Joaquin before.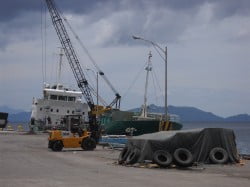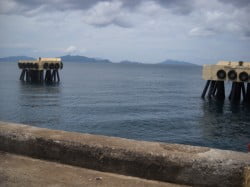 So when we get to San Joaquin we look around for their house.  I think we did find it, but the camera was acting up.  I really need to get another one.  I have talked with Gary since that trip and I described the house to him that we saw.  We both agree that it was his house.  We didn't get to see the front of it though, only the top floor from the back.  Next time we are in the area I hope to have a working camera.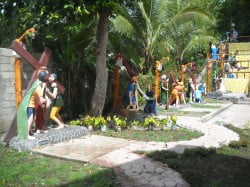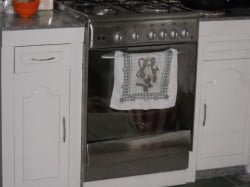 After that we headed back to George's house, had lunch and then he told us home.  It was nice to get away, but it was nice to get back also.  It did make me want even more to get that hot water heater, but we probably can't until at least August.  It's okay though.  Sooner or later we will have basically everything we need to live a decent life here with very little worries.  Right now we ain't got so much to worry about anyway.
Salamat, Y'all