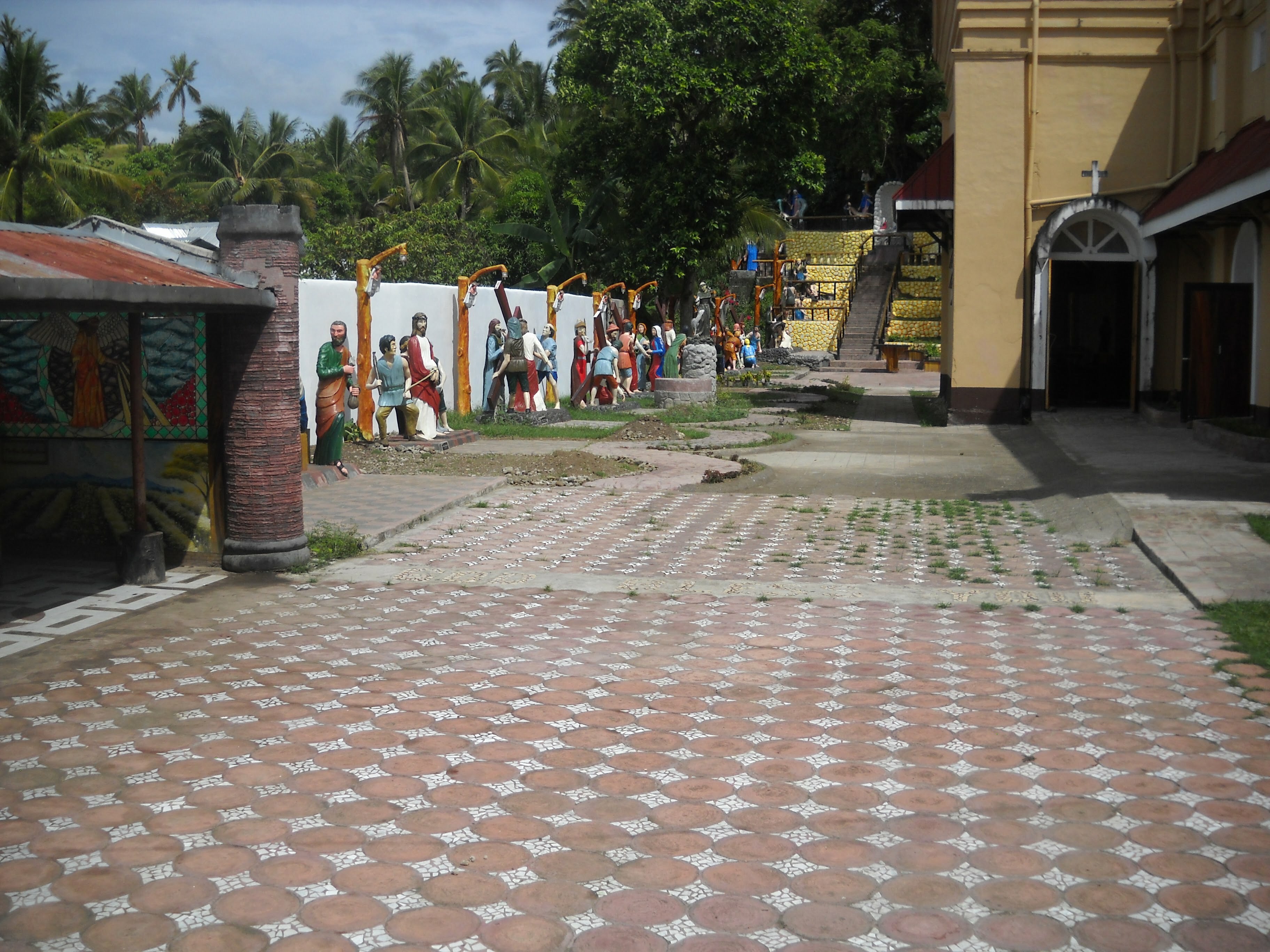 [smartads]
Except for a few things, it's been pretty uninteresting the last week or so.  I did get to do a few first time things though, things that I have not done since I've been here anyway.  It's things that I hope to be able to do more of later on.  Since I don't want to wait too long before I put a Zine entry in here, I figure I better make an attempt with what I have.  I probably have enough to make a decent post, so I shouldn't worry about that.
This past Saturday, somewhere around 1 o'clock in the afternoon, George and his wife Nila came by again.  They had invited us to spend the night at their house in Tinambacan.  It was raining pretty hard so I was unsure as to whether they would show up or not, but obviously they had.  George said that they were at the wet market when it started the downpour.  I had just laid down to take nap when they arrived.  Oh well, I can sleep anytime.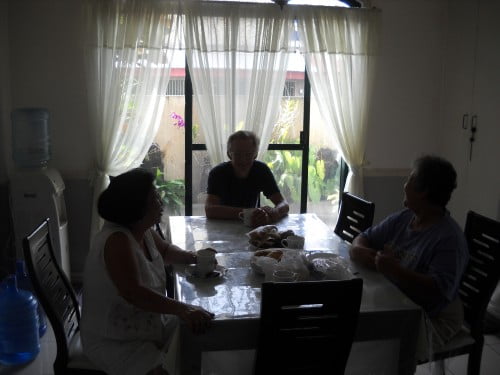 We got packed right quick.  It was only for one night so there wasn't too much needed, but I hate for people to have to wait on me, especially when I really should have been ready to go already.  We were all on our way within about 10 minutes though.  We needed to stop at Monterrey Meat Shop to get some chicken on the way to their house first.  Nila went in, but she didn't like the chicken in there, too small.  We stopped at the other Monterrey downtown, same thing.  Not to worry though, she knew of another place close to their house.  George has his own vehicle, a panel wagon looking thing, and he does his own driving, so we didn't have to worry about having to pay anyone extra to do all this 'special' driving around.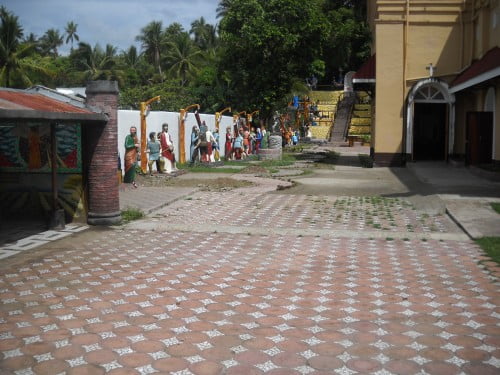 This was my and Lita's first trip to Tinambacan ever, so we were a bit curious as to what it looked like there.  I found out that they live in Tinambacan Norte, as opposed to Tinambacan Sur (North vs South).  They live on a sort of cul-de-sac street, next to the local church.  It is a very nice house.  George said that he paid a lot to get it that way and had to ship things over from the States to get just want he wanted.  It's a nice house, but according to George it takes a lot to maintain the upkeep.  They have central air, not heat but who needs that here.  They have an American sized washer and dryer, an oven, a microwave, a full sized refrigerator and, I think, 2 hot water heaters.  One for upstairs and one for downstairs.  It was nice and cool in the house, especially since they had fans running also.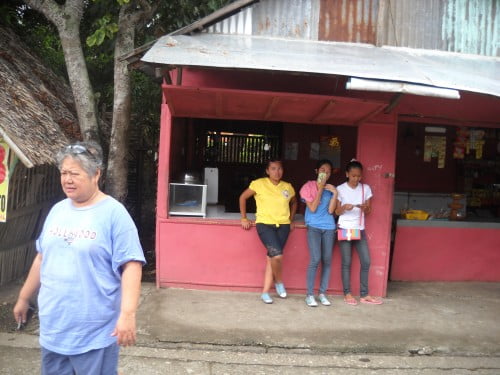 They are such good hosts.  Almost immediately after arriving George offered me a beer.  He drinks San Mig and buys it in the liter bottles.  He tries to have 3 cold liters in his fridge at all times.  When he took one out for us to drink, he would put another one in there.  He had 2 cases of them right next to the fridge.  Nila made Lita some lemonade and they sat at the table and talked, gossiped, whatever it was.  George found out that I like country music and proceeded to play his Time Life collection of country music.  We listened to all 10 cds before we were finished.  It was pretty good timing to, because Lita wanted to watch Philippines Got Talent (PGT) and it was just coming on.  Around about 10:30pm, the ladies decided that they would head off to bed.  Us macho guys stayed up until about 11:00pm.  Well not so macho.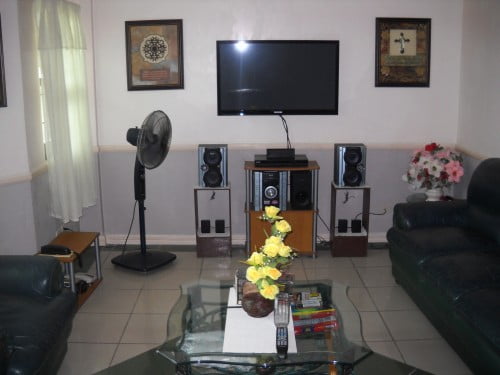 It was not so easy going to sleep in a strange house, in a strange room and in a strange bed, but I managed.  Lita said she didn't sleep well because she was not use to the bed.  We did okay though.  Amongst the sounds of the dogs, roosters and church bells, we awoke the next morning feeling pretty good.  I went in to take a shower.  They have hot water and I didn't want to miss out on that opportunity.  It looks like it's going to be August or maybe September before we get our hot water heater.  I think I'm going to delay the plumber coming by, if I can, to just come when we have that hot water heater, so he can install it for us.  We need to try to save some money because we have to leave in July for our yearly departure.  But we will have that hot water heater here and installed before the end of this year and probably by the end of the 3rd quarter.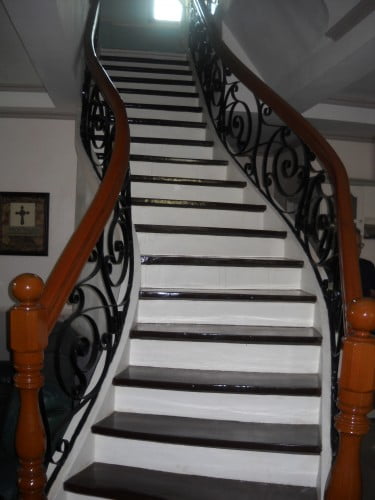 After my shower and changing into the clean clothes we went down to breakfast.  We had a day of sightseeing planned.  At least sightseeing for Lita and I, they have already seen the things.  After getting down most of one of the strongest cups of coffee I have ever tasted, we prepared to start by looking around in their neighborhood first.  Since we were close to the church, we started there.  I got several pictures, one of which I have posted on here.  Next we would be heading out to the Malajog area to see the Our Lady of the Most Holy Rosary grotto.
I'll have the rest of this in the next Zine though.  I should have known that I would have plenty to say, just as soon as my fingers and my mind got in sync.
Salamat, Y'all