[smartads]
On the 16th of April a electrician finally made his way to our house to fix the problem with the outside outlet, which was also affecting a couple of the outlets in the computer room.  It is hard to get an electrician to the house unless you know one or someone that knows one.  Of course it's better to know one yourself so that you won't have to depend on someone else to find the time to get in touch with them for you.  It turns out that one of the wires burned out and needed to be replaced.  That probably accounts for the sparks that were coming out of the outlet until it just totally went out.  We had been complaining to Mar just the day before, so I guess it was fresh on his mind and he called the guy quickly.  I figure it was him because he also just happen to arrive right about the same time that the electrician did.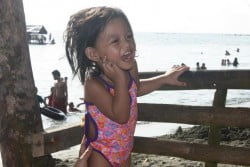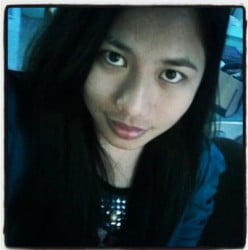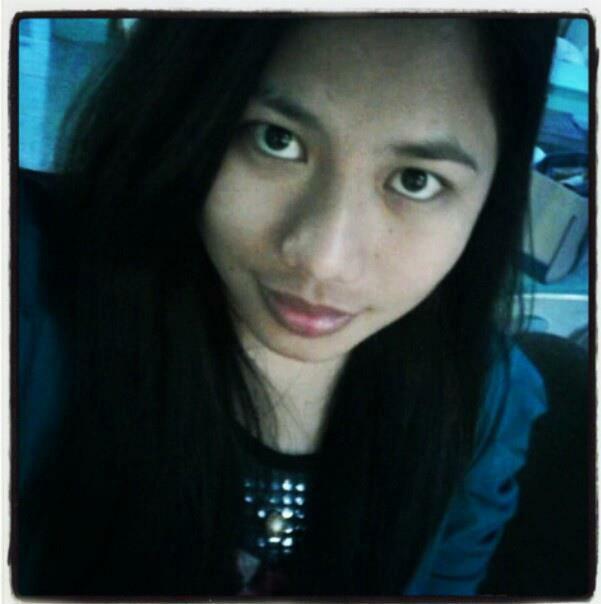 The price of the electrician was P200 for labor and P324 for parts, so a total of P524 (about $13).  That would probably only get us one hour labor in the US.  This electrician is the same guy that wired our whole house when it was built.  I'm not going to hold this one little thing against him though.  Things like this happen.  I'm actually surprised it doesn't happen more with the constant power surges we get around here.  So we don't have to depend on someone else to contact him next time, we did make sure to get his phone number in case we need him again.
Rick sent me yet another news item.  It is about the ground breaking of the Metro Department Store and Supermarket.  Here is the clipping that he sent to me.  It's suppose to be finished before the end of the year, so that's some fast construction.  Maybe it is not so big, but at least the supermarket will be air conditioned.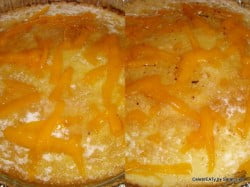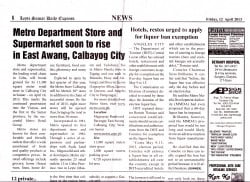 We plan to have a plumber here at the beginning of next month.  We have some things in the CR that need to be fixed.  It's nothing major, but a few little things are starting to happen and we want to nip it in the bud before it gets out of control.  Actually we waited a bit long this time, but at least it's not so bad.  I wish we had the money to get that hot water heater at the beginning of the month so he can install that also.  Maybe we will.  I know that I have been very patient waiting on that.  I'm a patient person, but I do have my limits.
I realized that all the pictures that I have been putting in the Calbayog City Restaurant category were not set so that they would open in a separate window.  I'm not sure if that prevents y'all from opening in a separate window, but I know I like for the pictures to open separately.  Anyway I changed them all and there should not longer be a problem with that.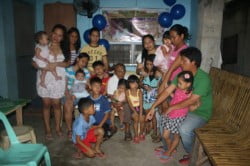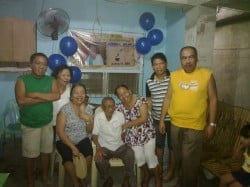 For some reason, I have a difficult time with pictures on this blog.  I guess I don't really understand how to use them properly.   I have been trying to set up a gallery almost since this blog started.  I keep messing things up somehow, or maybe it's the plug ins, I don't know.  I do know that I have resorted to making individual galleries.  Right now if you look under "A/V" then "Photos", you will find a Calbayog City Music Museum.  It's the first one that I have completed.  I hope to have several more of them and just update them as I get things.  The only problem I see with doing it this way is that the order of the pictures do not change and all new pictures are added to the end.  I guess that is not a major problem though for anyone that is actually looking at the pictures.
You will also see the Media Library Gallery under that "Photo" category.  I did manage to fix that so there is only 1 set of pictures instead of two like before.  It looks so much better now.  That gallery is every picture on the blog and it adds the newer ones to the top.  If you click on the little square thing on the right it will bring you to the post that the picture is associated with and you can click on whatever picture there, then click it again in the next frame and it will load the largest picture for you.  If you only want to make it larger and not bother with the story,  you can click on the circle thing on the left.  The first time you go to make the picture larger, circle or square,  it usually takes awhile because most of the pictures are the whole page big.  At least it takes a while on my computer.
I am in the process of trying to straighten out all pictures on the blog.  I hope I don't mess anything up.  Y'all might come across a missing picture in one of the older posts though, so don't be too surprised.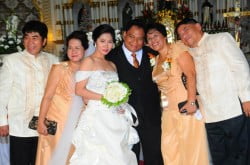 Pam will be off for a few days so we will not have a BBQ during that time.  Her mother-in-law just died.  She should be back to work on the 22nd.
Y'all don't forget to check out Live in the Philippines on the 20th to see my next guest post I sent in there.  It talks about some of the issues I have with Filipinos and the Philippines.  It's suppose to come out around 0500 PI time.
The next Expat Get Together is tentatively set for 10 May in the afternoon.  I starting thinking  that just showing up when it's good for y'all is better than setting a specific time.  I'm going to be having them in the afternoon of the 2nd Friday of every month.  Y'all just show up when it's good for you.
Salamat, Y'all