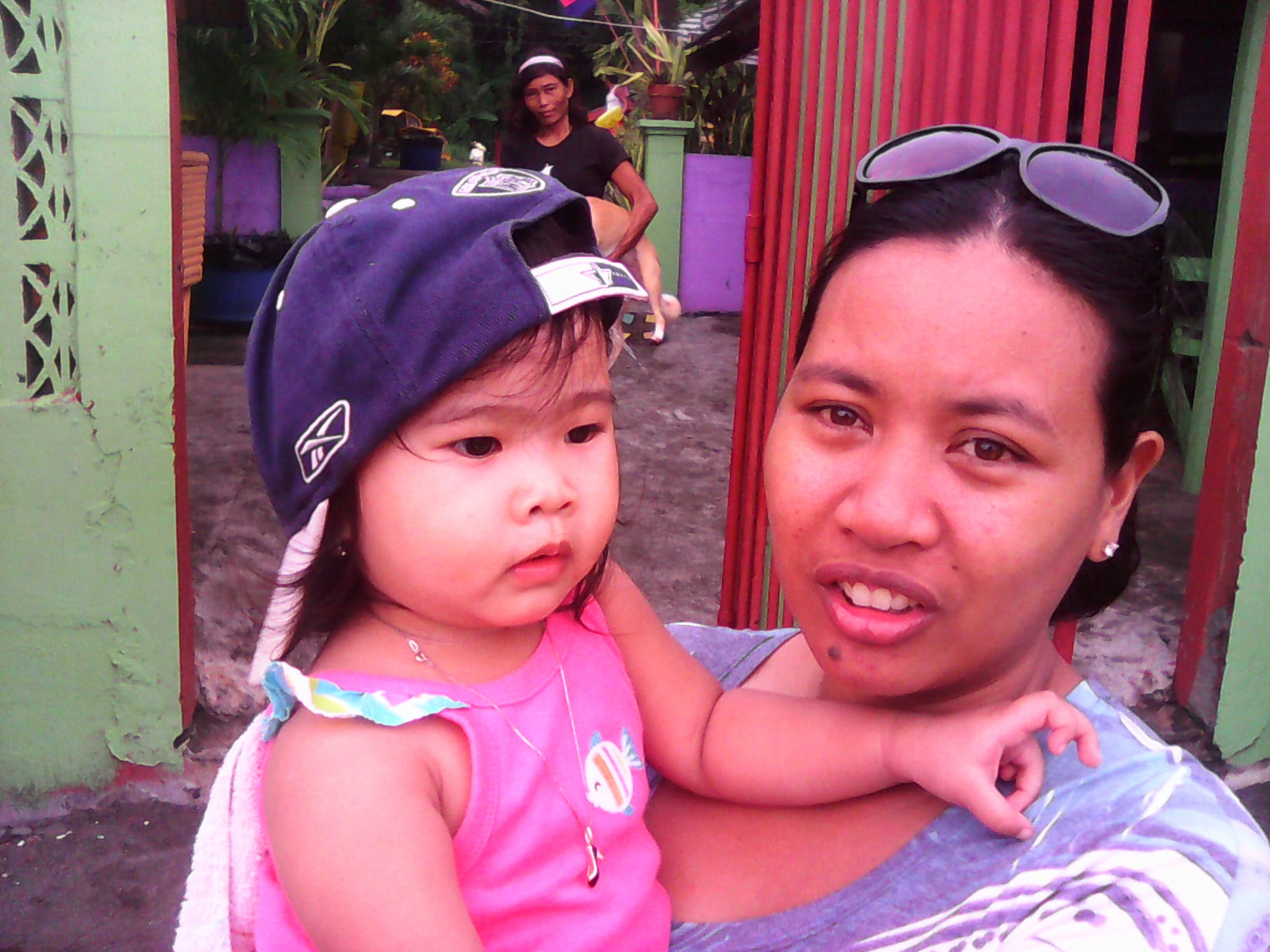 [smartads]
I found an interesting video and just wanted to give y'all a chance to view it in case you have not seen it.  It's interviews of western women (all in Australia I think) giving their opinion of man that go to Asia (particularly Thailand) to get women.  The author of the story about the video is Tim Spotswood and he does an excellent job of expressing his feelings on each of the comments by the woman.  I tend do agree with his analysis.
 Check it out for yourself and lets see if you agree also:
http://expatinphilippines.wordpress.com/2013/10/10/men-are-pigs/comment-page-1/#comment-241
—-
Another link I came across is of the Almira Garden Hotel updating their Facebook page:
https://www.facebook.com/photo.php?fbid=661412760579981&set=a.306606719393922.70855.
100001337905320&type=1&theater
—-
Their website:
https://www.facebook.com/almiracalbayog?fref=photo
—-
Link to their hotel information and pictures on this website:
https://texaninthephilippines.com/2012/04/30/almira-garden-hotel/
—-
Correction:  On the last post I stated that our van rental to Tambis was P6000 plus P1500 per day.  That is wrong.  It was actually P12,000 plus P1500 per day.  I did go back to the previous post and correct it so this is mostly for the people that read the post before I made the correction.  Thank you Juvic for getting that correction to me.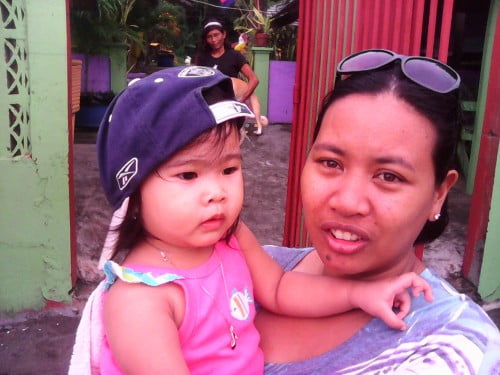 Samantha with Ante Cathy at Malajog Beach
—-
On 22 May I met 2 more expats.  The first one's name is Dennis and he is from Minneapolis.  He is here scoping things out for his eventual move here.  I don't remember exactly when he said it would be but he is looking to start a business, so if there are any suggestions, lets hear them.  The second expat has already been living here about 3 years.  His name is Corey DeWaele and he is my 'almost' relative.  He is the brother of my second cousin's husband, so, almost.  He had his son with him, cute little boy, and that kid was hungry I guess.  He wanted and ate one of the large hot dogs.  He seemed to love the sauce that he kept licking off his mouth, plus when he finished, he wanted another one.  Good eater for such a small one.
On 25 May I went to Western Union to cash in my AdSense money.  I'm not allowed to say how much or how long it took to get it, but I will say it would be much, much better if more people were checking out the ads I display.  I found out that there are at least 3 Western Unions in Calbayog City and it seems that only 1 of them is open on Sunday.  The one on Magsaysay Blvd says it is open on Sunday 8am-Noon, but it was around 0930 and they were closed.  The one on Tomas Gomez next to the bridge is the only one I found open.  I didn't see any name on the outside of the building indicating it was a Western Union, not at eye level anyway.  The front is the typical black/yellow Western Union colors though.  The place looks more like an airline ticket sales office from the outside, at least to me it did.  Once inside though, it is a nice little place and I think I will go there for any Western Union business I have from now on, no matter what day it is.  Unless of course they are closed or overly crowded for some reason.
Lita and I at Malajog Beach – May 2014
—-
As of 29 May, Gary is back in Calbayog.  He lives way out in San Joaquin, but I expect to see him from time to time.  I'm not sure how long he will be around this time, but I know he is looking forward to the day he can move here permanently.  If the internet would get up to speed, he probably would move here sooner.
I should also be meeting a new person soon.  J D Donahue is suppose to be in town now and he said that he would stop by to see me while he is here.  I'll be looking forward to that.  I'm not sure if JD is planning on retiring here for good someday, but I guess I'll find all that out soon.
Speaking of internet, I have been having issues with mine recently.  It's working, but it seems to be lacking something.  There are a few places I have problems logging into now.  All this has just recently started happening, so I think I'll be calling up Globe to do a check of the lines.  If that doesn't work, they'll need to come by because this blog is one of the things I have problems with getting into.  My new way of getting money from the states, Xoom, is one of them also.  My other blogs at WordPress and my Yahoo fantasy football (that just started up) are some of the others.  Even my Facebook chat will not load most of the time.  Something is going on with the connection and they will definitely need to fix it.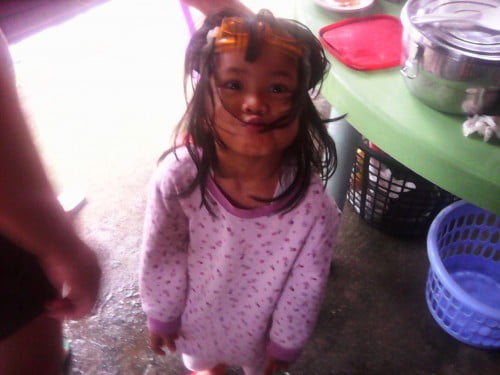 Goofy Cassandra with goggles at Malajog Beach – May 2014
—-
Well that's enough for this post.  it is now 31 May, almost 11pm and we were at Malajog Beach for about 6 hours today for Judith's birthday.  Of course I forgot my camera again.  I need to find a way to turn taking it with me into a habit so I won't forget so much.  I spent a lot of that time in the water and I think my face and neck areas got a little red.  I'm going to have to go to bed now, if there is nothing good on TV.  I was just watching TV before coming in here and there wasn't then, so I don't have hopes of that improving.
Let me know what you think about those links on here.
Salamat Y'all