Zine #78 – Southern Leyte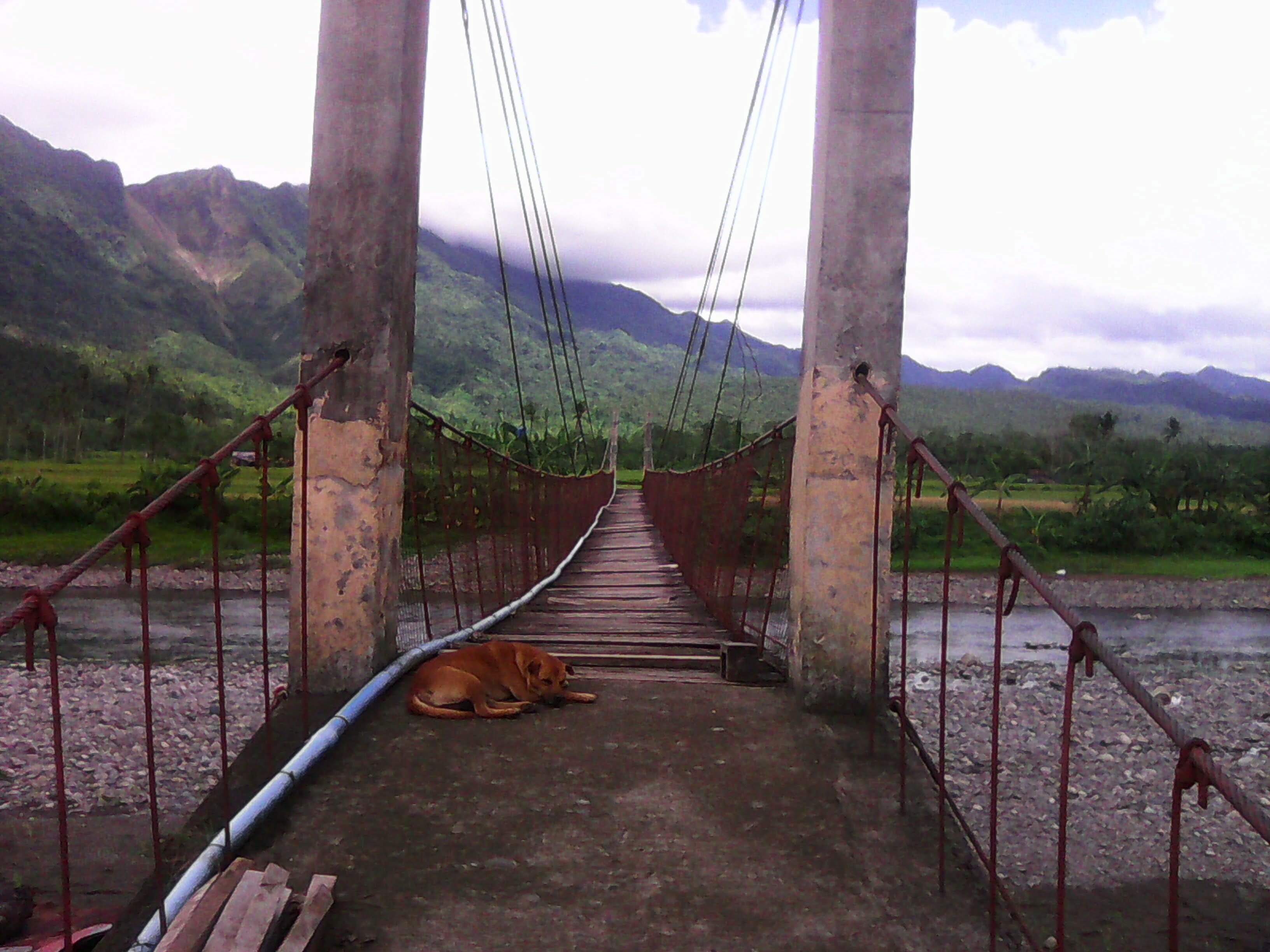 [smartads]
I've got a little bit of some things that I have not reported yet.  I'd also like to give you a little bit of information on our trip down to Tambis.  First of all I'd like to be sure that y'all know that I have 3 more videos loaded. None of them for Calbayog City, but all for the Philippines anyway.  I tried to put them on this blog, but it seems that they are too large for that.  Oh, well, I'll just try to be sure to not let y'all forget them.  I really need to either work on my narration skills or just play music during the videos.  These 3 are not narrated very well at all.
https://www.youtube.com/watch?v=HUolBBWs89g (Tambis St. Bernard Southern Leyte)
—-
https://www.youtube.com/watch?v=tpesmWx81Tw (View of Hindag-an Falls and Forest Park)
—-
https://www.youtube.com/watch?v=paC7k95EvtQ (St. Bernard Southern Leyte Proper)
—-
Our trip to Tambis started on 15 May early.  We left around 0430, only a half hour past our scheduled 0400 time, so good for Filipino time.  Lita, at first, gave me the impression that we would be there for only 1 night.  I didn't like that, I figured if we are going way down there, we should be gone at least 2 nights.  Well it turns out what we stayed 3 nights.  Lita didn't tell me that until we were about ready to go though.  Griff (Neil) and Juvic rented a van, with driver, for us to travel in.  It was a bit crowded, but Lita and I were sitting up front by the driver.  It was still crowded a little because I guess my butt is big.  The van rental was P12000, plus P1500 per day, but I'll have to check on that.  I'm sure Juvic knows the answer.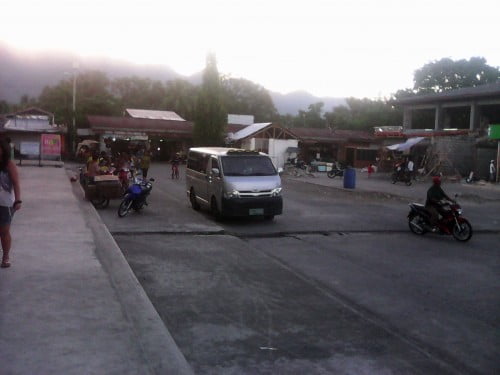 This is the van we had for our trip from Calbayog to Tambis and back
—-
We stopped in Tacloban at Jun's house.  It's the first time I've been there since Yolonda hit his house.  I must say that it looks a lot different than before in the front half of the house.  All the nice things they had there are gone.  They did have people working on rebuilding while we were there.  It must have been someone they trusted a lot too, because it turns out that they are also going to Tambis with us in the van.  Now I'm really glad that we are up front and now back in all that crowd.  We didn't stay there very long, only about 10 minutes.  After Tacloban we had at least 15 people in that van (including Samantha), plus all the luggage.  Maybe if there was a place to put the luggage behind the back seat it would not have been so bad, but there was not a place back there.
I can't even remember what time we arrived in Tambis, but I believe it was around noon.  Mostly everyone just passed out and relaxed for awhile after arriving.  After a few hours most of us got in the van and headed for St. Bernard Proper.  That is when I made the #3 video above (St. Bernard Southern Leyte Proper).  It was a bit interesting right after making the video.  I had a few of the young ladies there flirting with me.  Hey I can't help it if I'm so handsome to them.  Of course I couldn't do much, and I know it mostly because of the white skin, but it was still nice for them to be doing that.
The main swimming area at Hindag-an Falls and Forest Park deeper water to the left, slide at the front
—-
The next day we went to Hindag-an Falls and Forest Park.  That is where I made the #2 video (View of Hindag-an Falls and Forest Park).  That video is mostly the walk up to and the entrance, but I did get a little bit of the inside too, plus I did take some pictures of the inside.  We stayed there for about 6 hours and it did a lot of raining during that time.  Of course, as usual, it did not deter people from swimming.  I even saw a couple flashes of lightning, but they kept on swimming.  I was already out and sure was not getting back in during a storm.  As normal, it rain hard for awhile, stop, rain hard again and then finally stopped for good.  We left after the last time it stopped.  That evening we went to Catmon, which is the only other real town of any size around there.  All the blood relatives and some of the others were raised in Catmon.  Neneng and Chatty's mother and some sisters still live there.  There were 12 children in the family, so I don't think they are all still around there.  I think all the 4 brothers have already moved away, but I'm not for sure.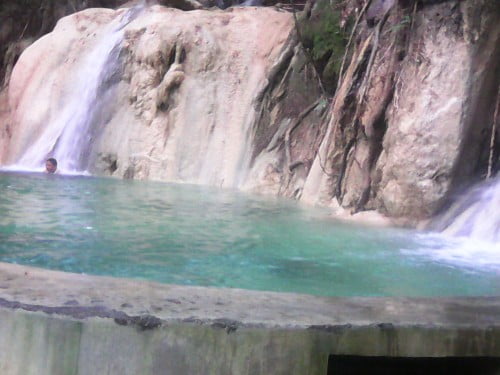 The deeper pool at Hindag-an Falls and Forest Park.  It's where I spent most of my time in the water
—-
The next day, Saturday the 17th, they had plans to go back again.  Before they left though, they went back to Catmon because Neneng did not get to see her mother the day before.  Juvic had already reserved a set of tables at Hindag-an Falls, right next to the water (table group 8), but Lita and I decided that we had enough fun in the water, so we volunteered to stay at the house with Poppa.  Someone needed to stay with him anyway, since he can't get up the hill to the resort.  While they were gone I did video #1 above (Tambis St. Bernard Southern Leyte).  I got finished in plenty of time before they returned and was even able to take a nice long nap.  I was glad that we were leaving the next morning though because I was missing my computer and internet.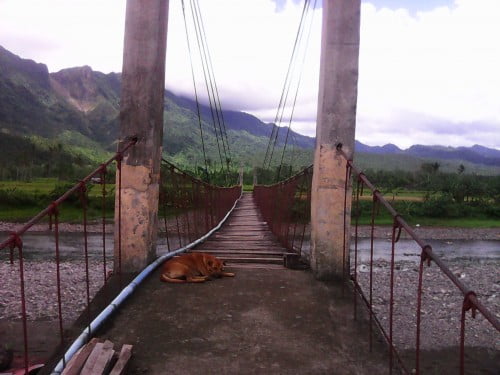 Rickety bridge across Tambis River.  Landslide area in the background left
—-
Next post I will let you know about a couple of new expats I met.  One of them already lives here (an almost relative) and the other is here scoping things out for an eventually retirement here.  Plus I hope to have news of an expat party coming up very soon.  All expats in the area will be invited.  Yes Gary, I'm talking about your party, so when you have the details, please let me know.
Salamat Y'all