[smartads] It's early Wednesday morning now (0049).  I just finished improving the Samar Headlines blog (new name-part of the improvement).  I changed the template and it looks so good, I think I will change the Calbayog Corner so something very similar.  But for now, it's time for bed.
It made it to be around 0845 and I've been out and working in LolyKat for about 10 minutes.  I had to shave this morning, but the first 2 S's will have to wait until later.  I went ahead and brushed my teeth too, even though we are out of mouthwash.  I will be buying the largest bottle of Listerine I can find not later than Saturday.  I don't think they have really big bottle of that here though.  I don't like to run out of mouthwash and it doesn't seem like other people like it when I run out of mouthwash either.  In the meantime, I will use either the little ball of menthol gum or the V-Fresh gum.  The V-Fresh tastes a lot like Wrigley spearmint, so I'll probably go with that one.
Lita bought a large bag of banana's this morning for only P200 ($5).   She's trying to figure out were to put them all as I write this.  She takes them out of the bag and hangs up as many as she can to display and also to let them breathe.  Vicky will use some the next few days for the desserts and we probably will sell 1 or 2 bunches in that time frame.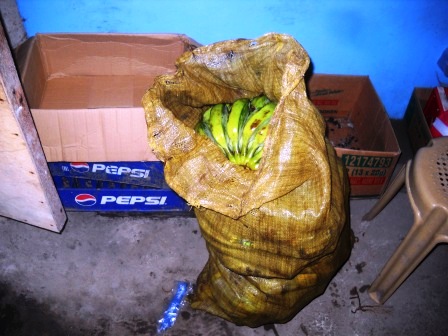 Since Lita was in the store, I decided to slip into the house to eat some cereal.  By the time the milk was poured in the bowl, Lita came in and said she had to go to the CR, and I needed to go back out there.  I just brought the cereal with me.  I wanted to eat it in the house, but that didn't work.  No sooner did I sit down then 2 beggars came to the window.  I try to give the older people something, but Lita gets mad if I give too much.  Of course right now we are not exactly rolling in money either, so I just gave them P5.  I wish it could have been more like P50, but it's not happening at this time.  Besides, they might have friends that they would send my way if I gave that much.  I finally had time for my cereal now.
I've noticed recently that the drivers of the Nature Spring mineral water truck have been stopping by here more often for food.  Actually they get it to go and don't eat it here like a lot of others do.   Some more people that have discovered the excellent food quality served here.
It looks like the Pascasio family is heading for a little outing.  They just left with 8 2 liter bottles of Pepsi Max.  The were heading in the direction of Gandara, so they were probably heading for Ado's mother's house.  Cathy's parents (Khany and Bebie) will be leaving probably on Sunday afternoon or early Monday morning.  Actually probably on Monday because there is less traffic then.  I saw on the news that part of the area around there had to be evacuated because of the potential of flooding and landslides from all the rain lately.  I suppose they don't want to take a chance after the Guinsaugon incident a few years back.  I'll have to ask Khany if you heard anything about what going on there.  Everyone is probably alright or I'm sure we would have heard something by now.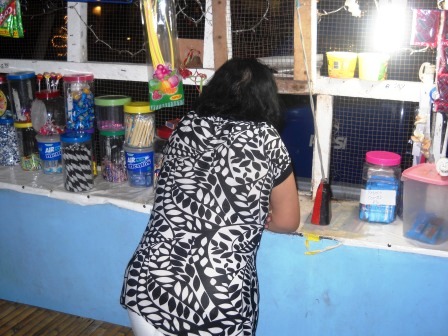 I'm going to have to remember to buy a couple of pairs of flip flops for my big feet next time I'm in a store that sells size 13, or at least American size 12's.  That opportunity will probably come in March or early April.  Our 32nd anniversary is April 7th so I hope we can go to Korea for a couple of days.  While we're there I can get those flip flops and also get a nice steak at the NCO Club.  We need to go there to find out more information about the HOP (military flight) going to the US, so we can take that instead of spending so much money on a commercial flight.  It's a perk that we've earned and haven't used, but I now plan to take full advantage of it.  Osan has regular flights going to Yokota (Japan) and Seattle twice a week.  I wonder if Yokota has regular flights to over parts of the world?  If I can get a network of regular flights, we can travel all around, not spending money for transportation.  The seats and accommodations might not be so wonderful all the time, but it'd be free.  I'm going to check to see if it's even possible.
Oh, it's such a stupid game anyway.  I am however down to my last 2 sheets (4 games) of Triple Yahtzee now.  I sure hope they have some in Cebu.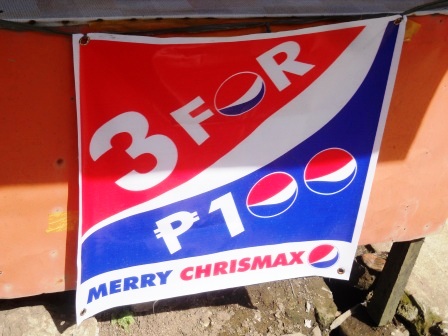 I just got off the phone with Marcials Grille.  I talked to the owner and she informed me that they will be closed on 1 Jan.  In fact, it's the only day of the year that they are closed.  I will have to take Lita on a different day.  Most likely on 31 Dec or 2 Jan.  I will see which one Lita prefers.  After all it's her birthday, so she should be able to at least choose the day.
It's straight up 4:00pm by the clock in LolyKat.  I just finished eating and I suppose it should be my turn out here in the store.  I'll probably be out here for at least a couple of hours.  For lunch I had 3 cucumber & tomato sandwiches and the remainder of my stew that I made on the 23rd.  The one that Lita put the Mami noodles in.  Did I mention that?  Maybe not, but she did.  It was good and now it's gone.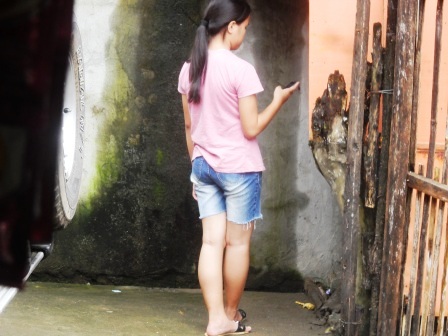 It's been a bright, shiny day all day today, but now it's threatening to rain.  It's only sprinkling right now, but there ain't no telling around this place.
Mar, Ludy, Marianne and the boyfriend came by, but only Mar and Marianne got out of the car.  Mar came by to talk to me this time.  He said that he just didn't notice me the last 2 times he was here.  That's why he didn't say anything to me.  Okay, I guess I'm just so small he didn't see me sitting in the store.  Whatever the case, I'm glad that he is not mad at me about anything.  Maybe it is the Listerine and/or deodorant.
At 4:20pm, Jay showed up.  He walked up so I don't know where he walked from, but Julianne's house is in that direction.  Lita's going to yell at him because he was suppose to be here 2 days ago and he didn't call to say anything.
Neneng just informed me that there is a scheduled brown out tomorrow from 0600-6:00pm.  Some more of their stupidity.  Stop being part of the problem Samelco and be part of the solution.
Useless Knowledge:  Britain developed the first tanks for use during World War I.  The word Tank was used because it didn't mean anything and didn't give the Germans a clue as to the weapon's possible use.