[smartads] Okay this should be a interesting post,  and long one too.  In fact, with all my usual blabbering, expanding on details and thinking up new things that I may have forgotten, I may have to do this post in 2 parts, or I may end up with about a 3000 word post.  I won't really know until I get going though.  This is the first post at the beginning of our little trip to Hong Kong.  I start out early in the morning and I tried to jot down everything along the way.  If you've ever traveled international then you know that sometimes it gets frantic and you forget some things.  I did get some small details in here, but I'm sure there were a few things I forgot.  Hopefully I'll remember them as I'm typing.  I didn't get a boat load of pictures but I did get quite a few and I'll try to associate the picture with the day I am posting about.
Useless Knowledge: One ounce of the material that constitutes a spider's web could stretch 2,000 miles.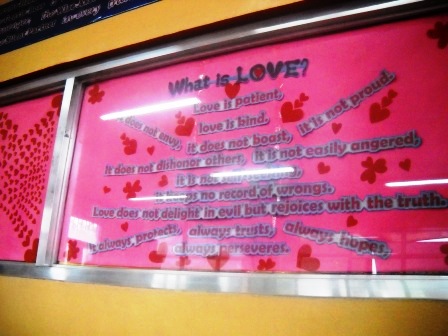 7 May –As you may be able to imagine, we had a hard time sleeping last night.  We were both anxious and nervous about our trip to Hong Kong.  The Grand Tour van was scheduled to pick us up at 0900 in front of the Ciriaco, but Lita was awake around 0500 and I myself woke up around 0600.  We did our final check and then our final, final check of things that we were taking.  This would be our first time traveling with no check in luggage, another thing that I've always wanted to do.  If it works out well, I'm hoping to make that a standard for future traveling.  I hate lugging all those suitcases around and then having to wait for them at the carousel.
At around 0845 Lita decided that that was close enough to 0900 and wanted to head for the front of the Ciriaco.  It's raining pretty hard when we get outside, so Saddam opens the big umbrella and walks Lita across the street to the hotel overhang, then he returned and I walked under the umbrella over to there also.  Normally I don't worry about an umbrella for such a short walk, but since I'll be doing a lot of riding today in a vehicle that will be air conditioned, I didn't want to get sick before the vacation even started.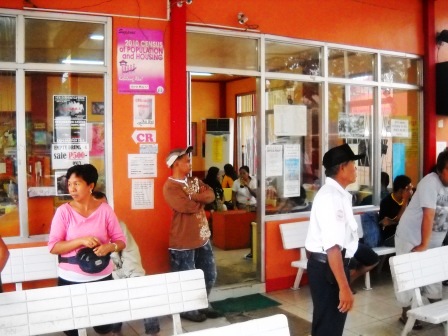 Of course, running on Philippines time, the van did not show up until 0915.  Actually for running on Philippine time, that is early.  Usually that would mean somewhere around 0930 minimum or even 10:00.
As I mentioned, it was raining.  That's because the Philippines was in typhoon condition 1.  That means a typhoon is definitely on the way here.  I was getting concerned about whether or not we would be able to get out on our flight, but I knew we had to at least show up at the airport in Tacloban so if the flight was cancelled, they'd give us another flight without charging us again.
The way the Grand Tour van service works is that we take a van to Catbalogan, then take another van to Tacloban.  The driver we had going to Catbalogan was a good driver.  He was driving in the rain just about the whole time and he did slow down (a little) for the curves and we did make it to our destination.
During the drive to Catbalogan there were literally dozens of people on the side of the road.  Some of them playing and some of them just walking, but most of them were working.  Even the children, who usually have to do some type of work, were there, working in the rain.  Most of the people around here can not afford to go a day without working.  They need all the money and/or supplies that they can muster up. The roads on the way had lots of flooding beginning and a few branches in the road that we had to go around.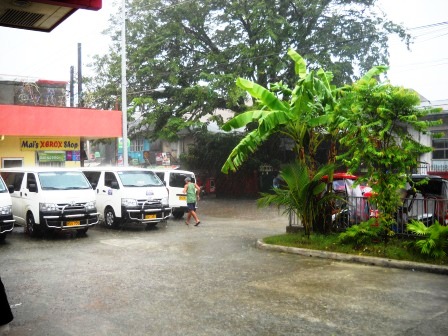 The cost of the van ride to Catbalogan from Calbayog is P100 per person.  The cost of riding a van from the Catbalogan van station to the Tacloban airport is P170.  We did not even know that there was a van that would take you directly to the airport from Catbalogan.  The van station reminded me of a small Greyhound bus station.  We arrived in Catbalogan around 10:55am and the next van going directly to the airport was leaving at 12:30.  There were 3 or 4 other vans heading to Tacloban proper, but we wanted the direct route.  If we would have taken one of the other vans, it would have dropped us off at the van station in Tacloban and we would of had to take a taxi to the airport, which would most certainly been more then the extra P140 (for 2) that we paid to take the direct route.  So we watched 3 other vans leave that were going to Tacloban and we just waited.  As we were there, a couple of other foreigners showed up.  Not sure if they were Americans or not because we didn't speak with them and didn't get close enough to listen in on any of their conversations.  They also were going to Tacloban and they took the van that left 10 minutes before ours did.
The ride to Tacloban had just about the opposite of the trip to Tacloban.  There was a little bit of flooding in the roads, but there was a lot of branches in the road or branches that hung down over the road so low that we had to go around them.  The driver from Catbalogan to Tacloban was a little more cautious then the previous driver, maybe to cautious.  We arrived in Tacloban around 1500, about a half hour late.  But we made it with time to spare, so I'm not complaining.  I'm especially not complaining because the other foreigners that left 10 minutes before us, had just arrived also.  In fact, we were ahead of them.  Plus we got in a line that was much faster then theirs.  I caught them looking at us and whispering to each other.  I figured that they must have noticed us in Catbalogan and wondering how we left after them, and are ahead of them in the line.
Oh, before we went in the terminal, we saw Jhunnel.  Titing had phoned to let them know that we were on the way and he came out to make sure we were there and to find out when we would be returning, so he could come by to pick us up.  Cool huh?  I had already sent him a message on Facebook, but he hadn't opened his account for awhile, so he didn't notice it.  It's a good thing Titing thought about calling, because that would be one less thing we had to worry about upon returning.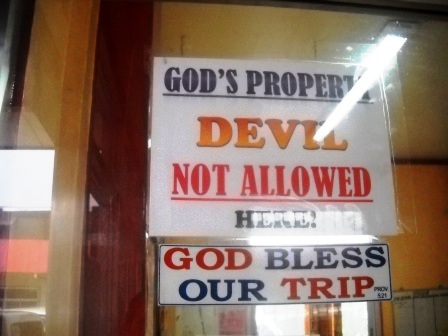 Jhunnel also informed us that the road that we just traveled on to get there, was closed due to flooding.  Very few other vans got out of Catbalogan before they stopped altogether.  That got me worried about whether or not our flight would be leaving, but Jhunnel had already gotten the answer for that too.  No flights have been cancelled as of yet and takeoff was scheduled in just over an hour.
Check in was relatively easy, but slow.  Seems like there is always someone in front of me in line that has a problem that takes time.  I did notice another foreign couple with a couple of grown kids, that were having a much harder time though, so I just took the wait in stride and didn't complain.  When we finally got up to the counter to check in, they wanted us to weigh.  Not our luggage, us.  That's the first time that I've had to do that and I didn't understand why, until it was time to get on the plane.
Useless Knowledge: Garth Brooks worked as a manager of a cowboy-boot store before he became the reigning male artist in country music.
Inside the restricted part of the terminal through the detectors we found a place to sit down and wait.  Well we got one chair for Lita.  I decided that I'll be doing a lot of sitting down for the rest of the day, so I wanted to stand up as much as possible while I had a chance.  Waiting was not so bad, unless you count the screaming kids running all over the place, rolling toys on the floor and dodging in and out of the crowd of people.  I was so glad the wait was short and elated when they announced it was time for boarding the flight.
The flight was schedule to leave at 4:20pm, but it didn't actually start boarding until 4:35.  I guess the high winds slowed it down a bit.  We were on the runway and ready to take out about 4:45.
I found out why our tickets from Tacloban to Cebu were P949 versus the normally P2599 for the other flights listed.  The plane we were riding in was not a jet, but a prop plane.  I had visions of being back in Shemya and riding that little noisy plane from mainland Alaska out to Shemya Island.  But it was okay with me because it was a pretty short flight, only about 30 minutes.  Of course one of those noisy kids was in the seat right in front of us and an even noisier one in the seat in front of him.  Before take off they were yelling and jumping all over their seats and I figured that his would be a very long  30 minute flight.  Thankfully after the plane was in the air, they settled down and fell asleep.  I was worried whether or not Lita would complain.  She did at first because it was very windy outside (due to the typhoon) and the plane bounced up and down a lot.  After we got up, it settled down and I too fell asleep.  Lita put a piece of candy in here mouth right as we were taking off, and by the time the candy dissolved in her mouth, it was time to land.  I think that next time we need to go to Cebu, I wouldn't mind taking the same plane, and more importantly, I don't think Lita would mind either.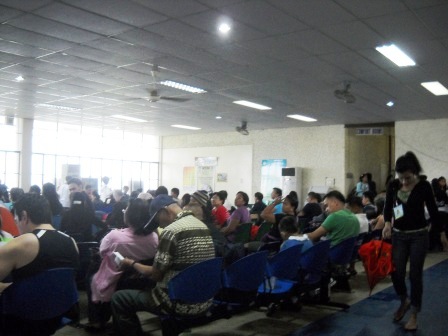 I did have a problem though.  It seems that the plane we were on was not the same plane that they showed me in the diagram online when I paid an extra P100 to choose our seats.  I picked 2 seats that were up front, with plenty of leg room.  The seats were got were in the middle of a long row, but thankfully the leg room was sufficient.  The overhead bins were so small that even our carry on bag did not fit in it.  The stewardress (we only had 2) offered to put the bag in the back and we would just pick it up as we were leaving.  I noticed after that, that there were a couple of other passenger with the same problem, so it must be an every flight thing.
The clouds are all fluffy looking.
They announced that we were starting our final decent at 5:13 and we touched down (successfully) at 5:26.  The announcement came over the intercom, "Welcome to Mactan International Airport ….blah, blah blah.  I mention this part because we were not at the international airport section.  They had actually dropped us off at the domestic portion of the airport.  Lucky for us the walk to the international portion was not that far, and all inside.
On the way we saw a currency exchange outlet, there were actually several of them there, and decided to get some pesos changed into Hong Kong dollars.  P2100 got us $300HK.  Since neither of us had ever been to Hong Kong, we had no idea how far $300 would get us, but it was kind of strange because P2100 in US dollars is only about $50.
When we got to the international portion we had to show our boarding passes and passports to walk about 25 feet.  At the end of that 25 feet we had to show them again and this time we also had to pay our terminal fees.  The terminal fee at this time for the Mactan International airport in Cebu is P550 per person.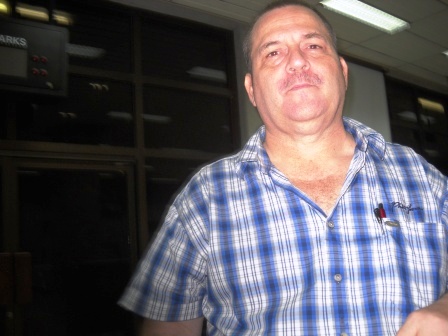 Next stop…Customs… but just to fill out a form, no additional payments and no big deal because it is a small form.
We were directed to Gate 6 and were enticed by a young lady standing outside a restaurant by the gate to come in to eat while we waited.  Lita decided to have some Korean noodles and I had Japanese noodles (yakasoba), all while eating in a Philippine restaurant.  After eating, and the yakasoba was good, we went downstairs to gate 6.  We are still way early for our flight.  It is now 7:00pm and our flight is not scheduled to leave until 10:15pm.  When we got to the gate there were quite a few people there, but after an announcement, that I didn't understand, they all got up and left.   So Lita and I were the only ones at this gate.  Not another soul in sight.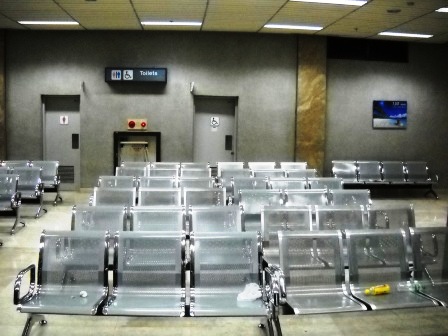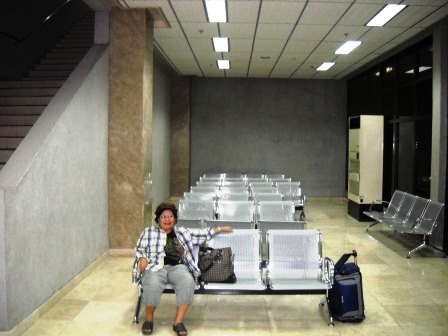 Bottled water in Tacloban at the terminal costs P25.  Bottled water in Cebu at the terminal cost P100.  Moral is if you want water, stock up on it in Tacloban.  It won't be ice cold, but it won't break you either.
One of the guys that works at the terminal 'suggested' that maybe they would be loading at Gate 2 instead of Gate 6 when our plane showed up.  He said that if it is raining, they will load at Gate 2 because we could use the loading chute.  At Gate 6 we would be walking out to the plane then climbing up the stairs into the plane.
So now at Gate 2 waiting, we are not alone.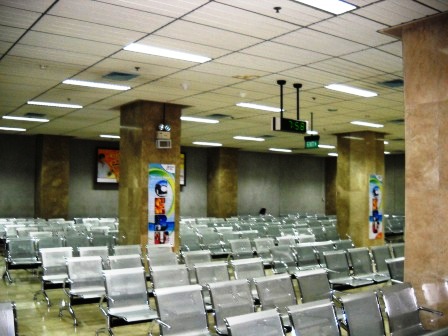 See her back in the back there?  The only other person at Gate 2 besides us.  As we were arriving at the gate, all the people that were at Gate 6 earlier were just loading through Gate 2.  It was raining.  Even the lady that jumps around to the different gates selling Dunkin' Donuts had left, just not on the plane.
It's 8:25pm now, only 1 hour and 20 minutes before our schedule boarding.  As of yet, no one is sure which gate will be used.  I asked Lita if she wanted to go back to Gate 6 because that is actually our scheduled gate.  She wanted to stay at Gate 2 because if they decide on Gate 2 and we have moved back to Gate 6, then she would have to climb back up the stairs.  She'd rather stay here and if it turns out to be Gate 6, then walking down the stairs is not a big deal.
At 8:40pm they announced they would be boarding at Gate 2, so we were glad we stayed.
Pretty much everything after that went normal.  No delayed flight, no excessive rain, no nothing, just waiting then boarding.  We were both wondering what it would be like in Hong Kong for our first ever visit there.
Useless Knowledge: After the attempted assassination of Ronald Reagan in the 1980s, William Katt's character name on TV's The Greatest American Hero was changed from Ralph Hinkley to Ralph Hanley to avoid any association with would-be assassin John Hinkley. Jr.
I'll be revealing Day 2 in the next post.  I kept a pretty good record of that day also, so expect another long post.  Be sure to click on the pictures to get additional information.  I believe I did remember to put something on all of them, but I'm not going to go back to double check now.  I'm finished and ready to post.  I didn't quite make 3000 words, but I hope it was interesting enough for y'all to read all the way through to at least HERE.
Salamat, Palaam
Today in Philippine History
To all of us in the East, the Fall of Corregidor is significant because it represents the final expulsion and decisive uprooting of Anglo-American power and influence from the sacred soil of the Orient. For the Philippines, this day is significantly a day of great rejoicing because it marks the first progressive stage in your march towards the goal of independence. Your complete liberation from American influence and domination in political, economic, and spiritual existence could never have been accomplished so thoroughly or so speedily except by the armed intervention of the Japanese Empire. This is the basic reason for the sincere and overwhelming jubilation permeating thruout [sic] the Philippines today and the basis of the increasing understanding and collaboration between and among the Japanese and Filipinos in pursuit of their common cause.
Photo credit: http://s1.hubimg.com/u/3440584_f520.jpg