[smartads] I was in a dream world at the end of the last post.  I was just coming out of a heated pool and sat down with a cold beer in a full sized lounge chair waiting on my steak that was grilling right next to me.  That's not an unobtainable dream, just not likely to happen anytime soon.
I was up extra early this morning.  It was around 0505.  Lita had just left for the market and I decided I needed to take a shower.  I wanted to get in and out before Vicky arrived around 0530.  I made it.  After getting about half dressed, I turned on the computer.  I was going to do a post (8 Jan), but I got distracted doing other things.  I'm hoping that I fixed the problem I've been having with people not being able to comment on my other blogs.  I found that there is a known problem and they gave a temporary fix, so I hope it works.
Lita showed up from the market about 0615 and decided that we should open the store early.  I told her, "Sure, just let me check a few more things here and have breakfast first".  There was not much for breakfast this morning, so I just had 2 peanut butter sandwiches.
Emilio Aguinaldo y Famy (March 22, 1869 – February 6, 1964) was a Filipino general, politician, and independence leader. He played an instrumental role during the Philippines' revolution against Spain, and the subsequent Philippine-American War or War of Philippine Independence that resisted American occupation.
http://www.encyclopedia.com/topic/Emilio_Aguinaldo.aspx
Aguinaldo became the Philippines' first President. He was also the youngest (at age 29) to have become the country's president, the longest-lived president (having survived to age 94) and the president to have outlived the most number of successors.
http://www.123rf.com/photo_9243875_philippines-circa-1998-a-stamp-printed-in-philippines-shows-image-of-emilio-aguinaldo-y-famy-march-2.html
For some reason I'm thinking cinnamon rolls and pop tarts this morning.  I'm not sure where the pop tart thought came from, but the cinnamon thought must be from the recent talks about the bakery we want to open.  Titing already has a name for the bakery too.  He wants to call it "Our Daily Bread".  Titing is a bit religious and I suppose it shows in the name he wants.  It's cool with me.  I don't care about the name.  I just want the cinnamon rolls, hot chocolate, no more sari-sari store and my share of the profits.  There are plans in the works and I'm not saying what until they are more materialized.  If all goes well I will be putting 3, 4 or even 5 entries per year in a yet to be started travel blog.  I've actually been trying to think of a good name for the travel blog.  How does "Texan in the Philippines and Elsewhere" sound?  Or Texas Tripper?  Or Tripping Texan?  Or just UJ's Travel Blog?  I don't know yet and it's not crucial at this point, just thinking out loud and typing.  But if you have an idea for a name, let me know.  Maybe I'll like it.
I did get to go into the house for about 3 hours.  It's 3:53pm according to the untrustworthy clock.  Business is very slow right now.  We are out of soft drinks, except for 2 Stings.  It's a little late now, so I might buy some more tomorrow.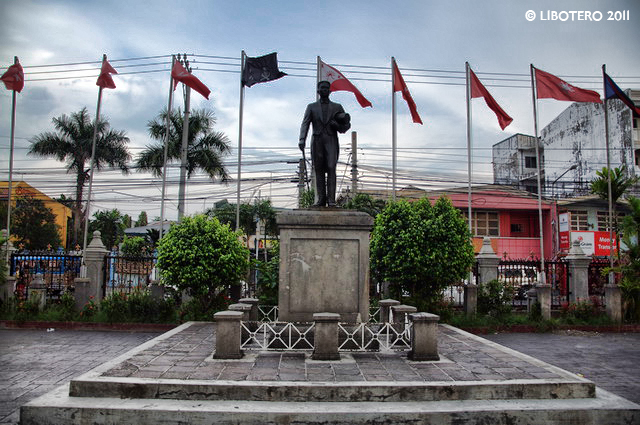 http://www.libotero.com/barasoain-church-malolos-bulacan/
I wanted to buy a battery for the truck this next payday and I had myself all talked into it, but then I found out that the registration is expired and it will cost about P6000 to renew it.  The registration was due last September (they go by the last number of your license plate) and if we renew it now, we would still have to renew it again in September.  I was hoping to have it running to pick up someone at the airport next month.  I can still do it if I want to take a chance at getting caught with an expired registration.  It ain't worth the risk.  I also wanted it running so we could take trips to Tacloban once a month to shop.  We can always go by van, but with the van, we are a little limited on how much we can carry with us.  With the truck we can put stuff in there and lock it up, then shop some more or go eat.  With the van, you have to carry the stuff with you all the time.
I ended up closing the store early yet again.  This time it was a little past 7:15pm.  It's still raining and I only sold P8 worth of stuff in the past 2 hours.  I just didn't see any reason to continue sitting here staring into space.
http://members.virtualtourist.com/m/a76f1/764/
Salamat, Paalam
Answers to 10 Jan Quiz in Green.
Filipino:  Guimaras.  The province is basically agricultural with palay, coconut, mango, vegetables, livestock, poultry and fishing as major products. Its major industries are tourism, fruit processing, coconut processing, fish farming, handicrafts making, mining, quarrying and lime production.
Guimaras is well-known for its agricultural crops, particularly mangoes, where some 50,000 of these trees are planted. The Guimaras Island is famous for producing the sweetest mangoes in the world. Guimaras mangos are reportedly served at the White House and Buckingham Palace. Guimaras' largest event of the year is The Manggahan Festival (the Mango Festival). The variety of mangoes produced are also best for making dried mangoes, jam and other delicacies.
Texas:  Gonzales is one of the earliest Anglo-American settlements in Texas, the first west of the Colorado River. It was established by Empresario Green DeWitt as the capital of his colony in August 1825. He named it for Rafael Gonzales, governor of Coahuila y Tejas. Informally, it was known as the Dewitt Colony.  The original settlement was abandoned in 1826 after two American Indian attacks. It was rebuilt nearby in 1827. The town remains today as it was originally surveyed.
Gonzales is most famous as the "Lexington of Texas" because it was the site of the first skirmish of the Texas Revolution. In 1831, the Mexican government gave the settlers a small cannon for protection against Indian attacks. At the outbreak of settler hostilities, a contingent of Mexican soldiers was sent from San Antonio to retrieve the cannon. On 2 October 1835, Texians under the command of John H. Moore confronted them. The Texians had fashioned a flag with the words "Come and take it". The Texians successfully resisted the federal troops in what became known as the Battle of Gonzales.
New Quiz Questions.
Filipino: The Mayon Volcano is located in what province in Region V?
Texas:  Which European was the first to 'see' the coast of Texas?
Answers tomorrow.