[smartads] This is inside the open market or wet market, whatever you want to call it.  It is open and it is wet, so both names fit.  This is one of the at least 2 places in the market that Qais's mother owns.  She owns this one and the one right across from this one in front.  I didn't see any other one, but there could be.  This is where Lita likes to buy a lot of her meat.  I don't know every place she goes in there.  I let her shop where she is most comfortable with the people she can deal with and their products.  I think Lita buys the chicken and hot dogs only from here, but she may buy other things also.  I didn't see Qais there, but he must have a brother because there was someone there that looked like him.  At least he did to me.  I don't look at guys much, so it's hard for me to really know for sure.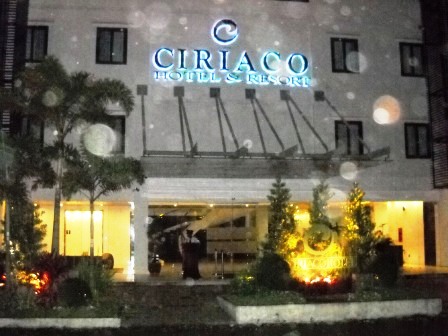 If I put the name Ciriaco in here, it gets me more hits when people are searching for the Ciriaco Hotel.  This is a nice picture anyway.  I took it because I was standing out front looking for something or someone to take a picture of and….well there it was.
As you can see I did get some pictures downtown and then I took some more here at the house so I would have some extra ones for y'all.  I'm not sure how many I have today, but I'm going to put them all on here.  I did not get a picture of Joy Palace yet, because I didn't stop while riding the tricycle back.  I tried to take a picture while he was pedaling by, but this stupid camera doesn't always take pictures when I press the button.  I'm glad we will be getting another one next time we are in Texas.  Here is the picture that I ended up getting when I tried to take it.  It took the picture a second or two too late so I got the alley next to the Joy Palace, that's it to the right.  I'll get a good picture of the improvements to the hotel very soon.  I saw on a sign on their new patio enclosure that they have at least one of the Cafe's open now.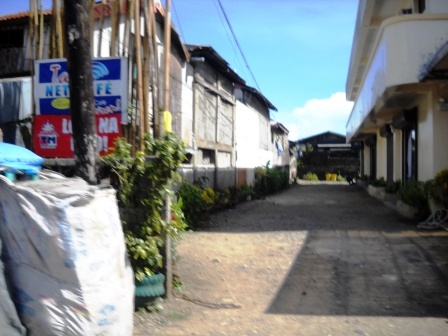 Useless Knowledge: "Long Tall Sally" was the last song played by the Beatles during their last scheduled concert, which took place at Candlestick Park in San Francisco on August 29, 1966.  (A good double trivia question)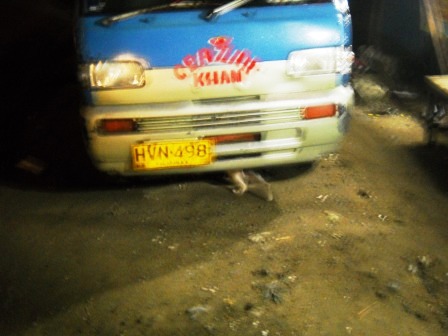 Sorry it's not such a good picture.  That is Blue (or Juvic …whatever) getting under the multi-cab.

29 May – Hits @ 0135 = 457939.    That's only 3320 in 24 hours, but as long as it is 3000+, I'm happy with that.
Lita went by to buy fish today.  She bought it at a place she went before, but not at the open market.  It costs less where she went, it's closer and she says the fish is fresher.  I asked her why she just doesn't go there every time then.  She says because she doesn't have a ride to get there, but for some reason she can always get a ride downtown if she needs it.  So I considered that a poor excuse.
Found this road sign while searching for strange road signs.  It's been hanging around my computer long enough, just waiting for a good time to post.  This is a good enough time.
I talked with my Dad today on Yahoo Messenger.  At first I had to type and he got to talk because the sound on my end wasn't working.  I told him I was going to reset the computer and call him back to see if I could fix the problem.  When I called him back, it reversed on us.  I got to talk and he had to type.  I thought that to be unusual.  I tried reset one more time, but still got the I talked/he typed thing.  Finally I just told him I would call him back when I got it fixed.  I opened up the computer and made sure everything was secure on the motherboard, checked all the cables and blew out the dust.  I guess something in there must have been wrong because when I put it back together and turned it back on, it worked fine.
There was a guy on Filipino TV tonight talking about being healthy.  You know, the right things to eat, exercise, no stress.  Lita acts like it's the first time she heard it, but I've been telling her the exact same thing for years.  I know how to lose weight, I just normally choose not to, until now.  But I'm only halfway doing it now.
Precious came by to visit me today, but she didn't stay long.  She just climb up on the bed, showed me her feet and then left.  I don't know what it was all about, but I don't try to figure out what children are thinking.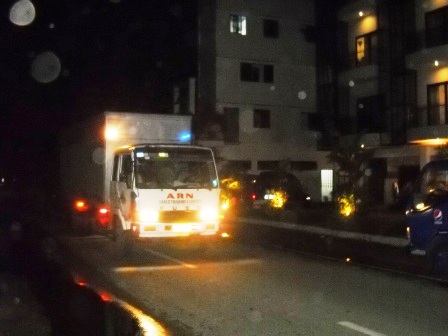 Useless Knowledge: The first video featured on MTV was by the group the Ruggles, and it was called Video Killed the Radio Star. (Another good trivia question…I know I didn't know this.  Never heard of the Ruggles)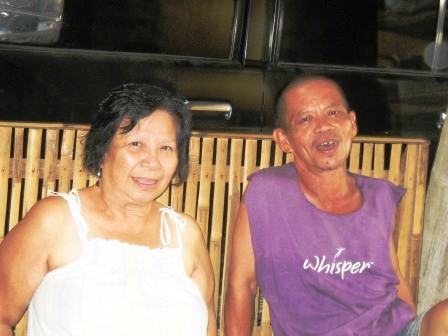 30 May – Hits at 0201 = 460672.  I've been trying to figure out how to get the "Tags" on the front of the blog.  I believe if I can do that I would increase the number of hits I receive.  After I finish this blog post today I'll make an all out attempt to figure it out.
Lita stopped by for a little pow-wow.  It seems now that Judith will be moving over here after all.  I told you things change on a whim around here.  The plan is still for her and the whole family, including Poppa to move here in December.  She wants to build on the back half of our upstairs.  I expected that.  Since they will be a major participant in the restaurant, that will work out fine.  We'll just have to keep Juvic and Grace's bedroom door closed while the restaurant is open.  Or maybe not.  Speaking of Juvic and Grace, the came by this evening to use the computer.  They just did the normal talking to and looking at webcams of the young men they know.
I've been having a problem with a Firefox update.  I've been trying to download it, but it won't connect to the update server.  I've let it try for over an hour several times.  It goes through everything else fine, but when it gets to that part it just keeps trying to connect, but never does.
It is parked across the street in front of the Ciriaco Hotel because the other 2 trucks are in the compound right now.  They will move it in there later when they can, after they finish loading up one of the other trucks.   They do work late around here at times.
Useless Knowledge: Hookers got their title during the Civil War, when Gen. Joseph Hooker, of the Union Army, tried to boost morale by allowing prostitutes access to his troops. Quickly dubbed "Hooker's girls," the prostitutes shortened the name to "hookers." The term stuck.  (Well I'm hooked)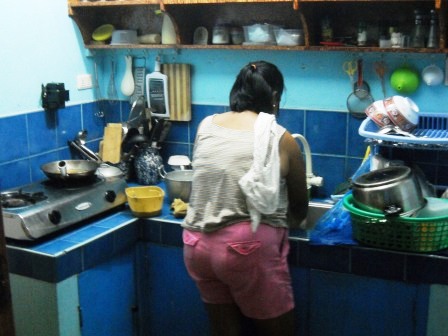 A little bit shorter than normal post, but I'll make up for it on the next one.  It could be a little bit long, plus it will also have me caught up…again.  Just when I got caught up a couple of days ago, I got behind again.  If I can find a way to hang on to enough money to get a fan this month, I will.  If not, next month for sure.  It's just too much trouble carry this one back and forth and then it inconvenienced me last night when I needed to let J use it to sleep.   Any hoot…
Salamat, Palaam
Today in Philippine History
Sen. Lorenzo Tanada y Martinez
1992 – Ex-Sen. Lorenzo Tanada, y Martinez, Filipino nationalist crusader and civil rights defender dubbed the "Grand Old Man of Philippine Politics," dies at the ripe old age of 94; the son of the last gobernardorcillo of Gumaca, Quezon during the Spanish colonial rule, he lived a life guided by a philosophy that led him to develop a principled nationalist resolve, as early on seen in his exhortation to fellow University of the Philippines Reserved Officer's Training Course (ROTC) cadets to take their training seriously in case such would be needed to fight the Americans in case independence is not granted; a pensionado who earned his law degree from Harvard University during the American colonial rule, he became a relentless crusader against imperialist United States' interference in Philippine affairs even after the Bald Eagle's granting of "independence" to the Southeast Asian nation; Tanada's vision and crusade will  eventually see some light several months before his death with the September 16, 1991  rejection of the Philippine-US Treaty of Friendship, Cooperation and Security [read: American imperialist military right to Philippine territory] that was supposed to take the place of the expiring RP-US Military Bases Agreement: Tanada, already old and sickly, attended the Senate discussions on the Bases Treaty, mustering all his breath in shouting "Mabuhay" upon the reading of the Senate vote rejecting the said military agreement.

Photo credit: http://www.newsbreak.ph/wp-content/uploads/2011/03/Lorenzo-Tanada.jpg
Gen. Vicente R. Lukban
1901 – P. Abayan, the local chief of Balangiga, Samar informs Gen. Vicente R. Lukban that the Principales of his town have agreed that they will maintain a policy of contrived friendship with the imperialist enemy troops during the early stage of the Philippine-American War (1899-1914); the seething desire of the Balangiga residents to fight for the preservation of Philippine Independence the Filipinos earlier gained against the Spanish colonizers will ultimately be quelled by the fierce brutality of United States Gen. Jacob Smith's "kill and burn" policy that will soon turn Samar into a "howling wilderness"; the Filipino freedom-fighters in Samar has engaged in guerrilla-style offensive to defend the fledgling Southeast Asian nation's dignity and independence against the pale-skinned North American enemies, including the surprise Balanginga incident/attack in their church headquarters four months later, prompting the gruesomely barbaric 'retaliatory' order of the vile invading Bald Eagle army's Gen. Smith to "kill everyone over ten."