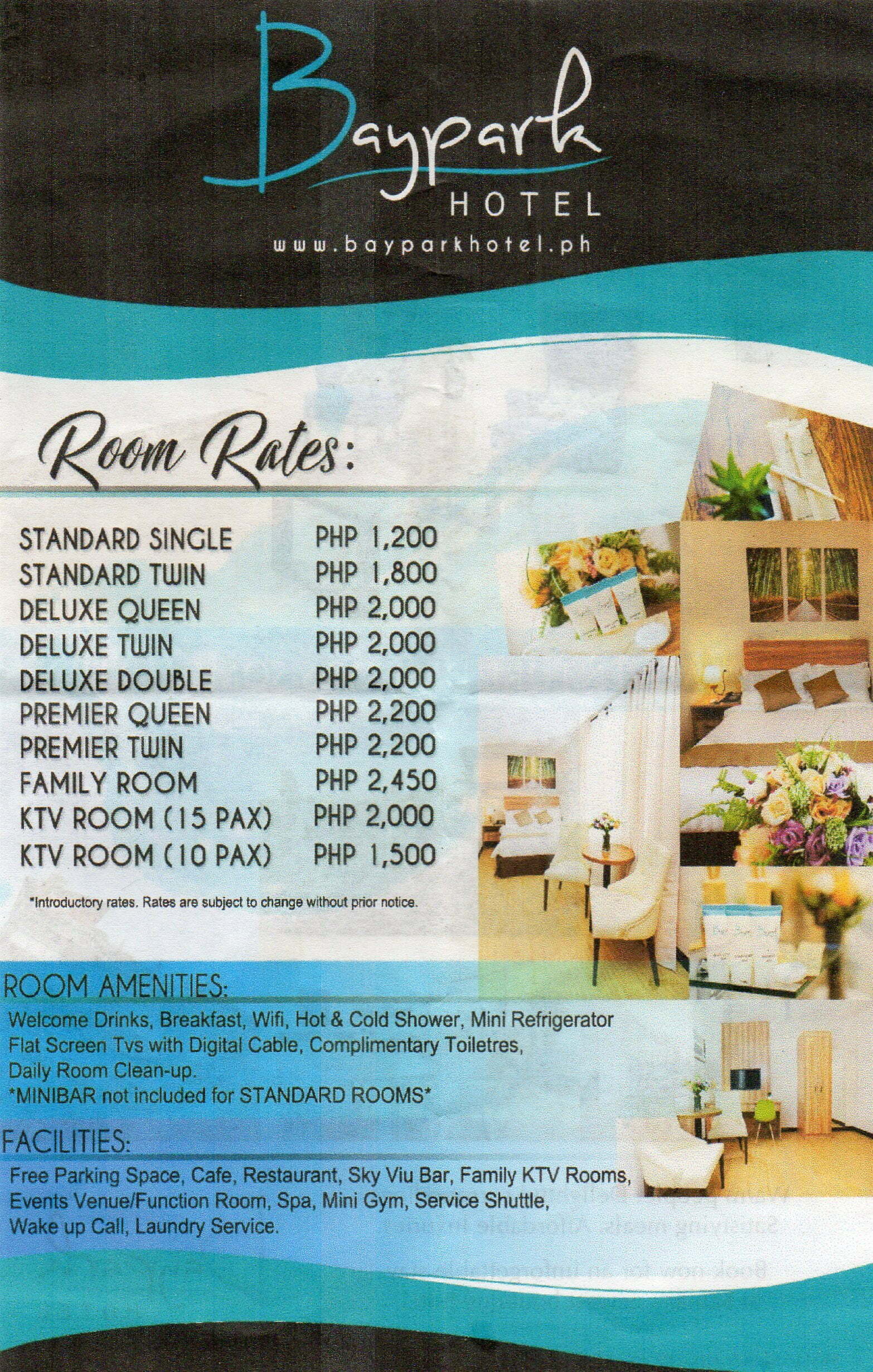 [smartads]
Today was Valentine's Day here in the Philippines.  As usual we went out to eat.  What is not usual though is we went to the new hotel restaurant to eat.  Instead of where we usually go, Marcial's Grill, we went to the Baypark Hotel.  This was only my 2nd time in this hotel.  The last time was just 3 days ago for the party of Ludy.  Her 60th birthday party and it was a grand party.  This is a nice looking hotel, although I did notice a couple of flaws. They can fix one of those rather quickly, but the other one probably will never be fixed.  I would like to thank Juvic Joy Gloria Griffiths for paying for our night on the town.  She sent the money from Australia for us and her parents to go.
Here is my assessment of this new hotel.  It's nice looking on the outside and the inside.  They have the rooms separated nicely from the restaurant area.  So well separated in fact that if I didn't know it was a hotel also, I would have thought it was only a restaurant.  The only give away was the front desk and the pamphlets laying about.
The food they served was pretty good.  One thing I ate I'm still not even sure what it was.  It was sweet & sour something.  I think pork, but it might have been fish.  The first helping  was pretty good, but I couldn't finish the 2nd helping, it just tasted completely different.  They did lack on variety as there was only 5 different foods, plus 1 dessert.  Two of the foods I did not eat, the rice and the pancit, plus I only ate 1 pork spare rib, and didn't quite finish it.  The best thing for me was the garlic chicken, even though I didn't taste much garlic in there.  They are a new hotel and this was their first year of having this Valentine's buffet.  They'll probably be better next year, but most likely we'll be going back to Marcial's Grill to eat next year.  Baypark did hand out roses for the ladies and Marcial's doesn't do that.
The couple of flaws I saw.  First the one that they can fix easily.  The restrooms (aka CRs) are not marked.  There was a guy looking for the restroom and he was standing right next to it.  There are no markings on the door and it looks like a storage room from the outside.  Like I said, easy to fix.  The big flaw that will probably never be fixed is that the elevator does not stop on the 2nd floor.  So anyone that has a problem going up or down stairs better not need to get to the 2nd floor because one way or another, you'll have to maneuver the steps.
While I was there I got their room prices.  I'm going to scan that in here for y'all.
They have more of a variety of rooms than the Ciriaco and their prices are less.  I didn't get to see any of the rooms in Baypark though.  I know that many people like to sit on their roof terrace to look out at the city.  I also know that their beer prices (p70) are slightly less than the Ciriaco (P80).  Of course most beer can be bought around town in little joints for P40-P50.  You can buy it from the warehouse or right off the truck for less than P25.  I don't know how they rate hotels in the official star system, but in UJ's star system, so far, the Baypark rates like 2 1/2 stars from me.  I see they have a a mini bar in the rooms and they also have a mini gym.  Things like that could get them higher on my list if they are included and worthwhile.  I'll have to evaluate it more to adjust the rating.  That's my report.
Salamat Y'all
[smartads]