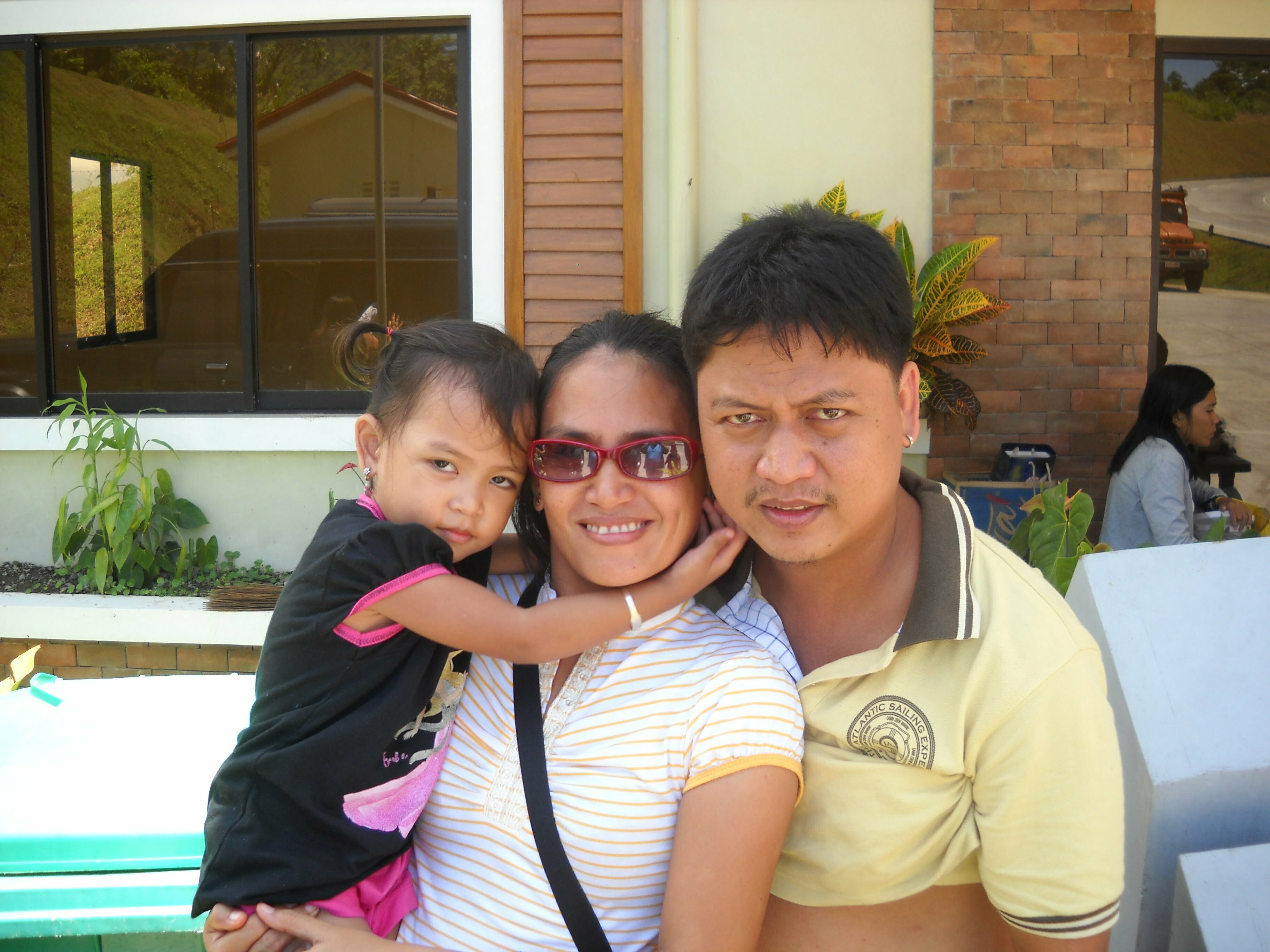 Today I woke up at 0555, but I didn't bother getting out of bed until 0633. Lita and I were talking about some of the things going on in our life right now and what we should do next. Shortly after we did get up she called a friend of hers in Texas and they talked for while, until her load ran out. I made pancakes for breakfast. I was going to make banana pancakes, but found out that Precious ate all the bananas. That girl loves bananas. I settled for just regular pancakes. They were okay, but I'll have to get those bananas, and keep some of them away from Precious, and make those banana ones to satisfy the need.
We ate a Marciano's (Mar) house for lunch. His daughter, Marianne, went through a bit of trouble to be sure that I had food there that I should like. Well it turns out she was right. That was the most food I have eaten at a Filipino party in the Philippines, ever. Now when we had our Filipino parties in the States, I ate more, because there the Filipinos are really use to us Americans, and who likes what. Anyway Marianne made some chicken rolls. They had ham, chicken and cheese in them and were coated with something that was tasty, I've learned not to ask what it is, as long as it tastes good. She also made some very small egg rolls, filled with only cheese, that were tasty too.  The last item she made, that I liked, was some cheesy macaroni. The sauce in it was a bit sweet, but it still tasted pretty good. Did you notice the 'cheese' theme going on there? I didn't realize it until just now that everything I liked there, had cheese in it.
Marianne's older sister Margie was here for the fiesta also. She is an engineer that works in Cebu. She made some mango cake looking thing, that I ate also. I didn't get a very big piece, because I ate so much already, but it was good also. Hear that Margie, I liked it. That was in case she is reading this. She said she would check it out. I like talking with Margie, she is a serious person who doesn't mind getting silly. She reminds me, of me, at least in attitude. She is suppose to be leaving tomorrow evening, the 9th. I will probably stop by to see her before she goes. If not, then I'll see her again soon I hope. When I first met Margie, she was skinny like a stick of macaroni, all skin and bones. Now she has a little tummy going and she thinks she is too fat. What women doesn't? I think she is just fine the way she is. It's what inside that counts, not outside. That's just window dressing. I was glad to see she wasn't so skinny anymore.
I didn't really go to the fiesta as much as I wanted, because I was frustrated with my computer being messed up and the computer shop having a hard time with it. But like I said, it's running well now and I've got a lot of things I didn't have before. I did get a couple of pictures and I'll try to post those later. The things I did have on the computer, I can get again, except some of the pictures. All the pictures for the blog are still on the camera, that's not a problem, but pictures I have had over the years are lost, unless I can find the CD that I burned them on. I didn't burn all of them though. It's okay because I'm making new memories now. Those old ones I still have in my mind, as well as that may be, so it's a loss, but no sense in complaining. Just learn from it and move on. Learn from it as in burn all pictures on CDs, or have backups on a 'different' hard drive.
When I got this computer back, there was a 2 programs on it called USB Disk Security and NOD32. Anyone ever deal with these? The NOD32 looks interesting, I'll have to check it out. As for the USB Disk Security, well I've paid to have AVG Pro on mine. It's still paid up, and I like it. I hear it's not wise to have 2 security programs on your computer at the same time, but I don't want to delete it yet, or ever if I don't have to.
Okay, next Apilado on my list just happens to be one I've already mentioned in this post, Marciano (Mar). Mar is married to Ludy (I don't know any maiden names). There are 4 children: Ramil, Marlou (Mar-low), Margie and Marianne. Mar is a vice-president at Northwest Samar State University here in Calbayog.  He has a PhD in Civil Engineering and his mind is full of ideas.  His whole family, except one, are Engineers.  Ramil decided that computers are better suited for him and didn't pursue the Engineering option.  Even Ludy is chemical engineer.  She works for the City of Calbayog.  Their 2nd oldest, Marlou, is the Engineer in charge of the new open market place that is being built here in Calbayog. Mar is a pretty interesting guy.  He, like all his siblings, smiles a lot.  He's always got these business ideas and I may end up doing a little advertising for him on here.  I told him I would mention a business he wants to start up.  It should work well, because when he does something, he goes all out.  I'm glad he is part of the family because he and his whole family has helped us out plenty of times.  End of Mar Apilado story.
I just found out today that not only are they building a new market there, but also in the same area, they are building a new bus station.  That will keep the biggest part of the bus traffic from traveling in front of my house.  That will work for me, because there is enough small traffic in front of the house now.  Those big smelly buses don't need to be here also.  There are a few projects going on in this area now.  Maybe they anticipate incoming tourists for some reason.  As I stated earlier, if there are tourist, we'll have a business that they like, so we can get in on some of the money they will be spending.  That way we can take that money, go visit someplace else and give the money to whoever.  It's a big circle, but it all seems to work out.
Tagalog word of the day, since we've already done babae, lets do:  lalaki (la-la-key) means boy.
Okay closing up for the 8th.  I will 'try' to load a few more pictures and get started on the post for the 9th.  Everything should be back to normal after that as long as there are no more surprises (knock on wood).
Salamat, Palaam