[smartads] So this is province #23 of 80.  It, like many other areas of the Philippines, has some very nice places that should be visited.  The capital city of Roxas is an especially interesting looking place.
Capiz (Filipino:Kapis) is a province of the Philippines located in the Western Visayas region. Its capital is Roxas City and is located at the northeastern portion of Panay Island, bordering Aklan and Antique to the west, and Iloilo to the south. Capiz faces theSibuyan Sea to the north. Capiz is known for its mother-of-pearl shells that have the same name and are used for decoration, making lampshades, trays, window doors. Capiz is known as the Seafood Capital of the Philippines.
http://en.wikipedia.org/wiki/Capiz
http://www.flickr.com/photos/8724323@N06/4748065305/
Useless Knowledge:  Natural blonds have more hairs on their heads than redheads or any shade of brunette. A blond has about 120,000 strands of hair, while a redhead has about 30 percent fewer strandsabout 80,000. Brunettes are somewhere in between the two.
http://en.wikipedia.org/wiki/Blond
http://en.wikipedia.org/wiki/Red_hair
http://en.wikipedia.org/wiki/Brown_hair
http://dreamcatcherrye.blogspot.com/2011/07/capiz-home-of-sunshine-industry.html
29 Aug – Hits @ 0000 = 1031669 = 5152.
It was another 0834 get up time for me.  I think I just did that a few days ago.
That hit count is less than 6000.  We haven't had one of those for a long time.  I wonder if I messed something up on the site causing people to be less interested?
At 0937 I lost the Internet but I think it was a power flux and it "should" come right back up.  This happens often around here.  Well Crap!  It didn't come right back up.  I had to call the repair service and they say they are working on the lines and it could be up to 24 hours.  What a crock!  They just don't want me calling them every 2 or 3 hours.  I've had these people call me a lot of times trying to sell me something, but now they are acting like they don't know what my phone number is, even though I had to give it to them again when I called so they could look up the account.  They say I should have gotten a call to tell me of the "scheduled maintenance".
I think something else I will change if I can is another Internet provider.  I've already heard that I only have 2 choices for Broadband and this one is the best one.  Go figure.  I just might look into a satellite company and see if that is an option here.  It will probably cost too much, but I'm going to check anyway.
http://www.flickr.com/photos/petalsmate/2859039524/
I may be missing my 11:30 draft today, it's 10:17 now.  I have 2 drafts tomorrow, one of them is within that 24 hour window.  Also I just set one team to do an auto draft.  It's a league with my former co-workers at my last real job.  If I don't get back on line before the system drafts, then the others will get to make adjustments before me.  They will get all the good leftovers.
Oh well, ain't much I can do.  I guess I'll kill Zombies and write the Level 5 notes for the blog.  I can't do anything else without the Internet, unless I want to kill terrorists instead.
http://www.panoramio.com/photo/10267074
I walked outside all pissed off, for about 3 minutes.  When I got back at 10:22, the Internet was back up.  I guess I will delay that Level 5 write up until after my fantasy football draft.  I do need to get that done though, it's the last level.  After that I will do one more write up for the other aspects of the Plants vs. Zombies like Zen Garden and Tree of Knowledge.
I've eaten more rice in the last few days then I have in any other month that I've been here.  Between the rice, pasta and bread I've eaten lately, I'm surprised that my blood sugar was a decent 115.
http://wilstop.info/2009/09/28/travel-destination-capiz-philippines/comment-page-1/#comment-23834
I haven't seen Mar recently, so I don't know if his is back from Cebu or not.  He was suppose to leave last Tuesday (the 23rd), then come back here, then go back again.  His oldest daughter, Marge, is having a baby so he wants to be there for that.  I've been waiting to see if he found those sauces that I wanted (Tabasco, BBQ sauce and steak sauce).  It's okay though, I can wait.  I've waited this long and if I have to I will wait until when I return to Tacloban in November.
Since I've put in that math question I have gotten zero spam messages.  That's good for me, but I hope it is not too inconvenient for all you legit readers.
http://www.pueblophilippines.com/photos/roxas-fountain-with-capiz-capitol
I did get started on that Level 5 of Plants vs. Zombies.  I'm just getting ready to do Stage 5, but I had to step out for awhile and when I got back I needed to do the regular post, so I didn't complete it yet.  I will soon though, probably tomorrow (Wednesday).
For that auto draft of fantasy football with my old co-workers, it did do the auto draft already.  I got lucky enough to be the first one there after the auto draft and had my pick of the free agents.  I didn't need too many though because I had already set my pre-draft the way I wanted it.  I got all worked up about missing that draft for nothing, but the Internet is down so much and I never know when it will stay down for a long period of time, until it happens.
http://capiz.i.ph/photo/v/Photos/Panit-an_+Capiz/panitan-capiz-paradise-philippines.jpg.html
For lunch today I had rice soup with a small potato (the last one for now) and some onions.  I've still got some of it left for tomorrow, but it doesn't taste that great.  It's okay, but I have done much better.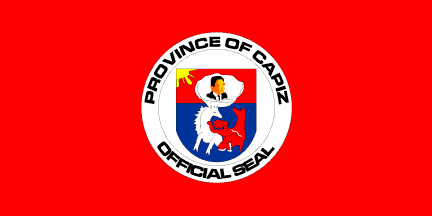 Lita is back to thinking I have a girlfriend on line again.  I wished she would stop that crap.  I do not, have not and will not have a girlfriend on line or otherwise.   It would have to be a real understanding girlfriend anyway, wouldn't it?  I mean I'd never see her, because I don't go anywhere.  Lita just has other things on her mind that is bothering her and Titing made a joke about me having a girlfriend on line, so Lita just ran with that.  Blind jealousy is what it is.
http://capiznon.org/2009/04/09/visita-iglesia-along-capiz-top-7-churches-to-visit/
Useless Knowledge:  Goodfellows Insurance outfit in London capitalizes on many people's weird mental states. Among the most requested policies are the "Alien All Risks" package, which offers $1.7 million coverage for just $400 dollar a year, should someone be abducted or impregnated by something not of this Earth. To date, 40,000 people have paid for this sense of security. Back in 1999, the ingenious company sold 15,000 women terrified that they might unwillingly be forced to give birth to the messiah immaculate contraception protection.
http://en.wikipedia.org/wiki/Alien_abduction_insurance
http://en.wikipedia.org/wiki/Virgin_birth_of_Jesus
http://campus.udayton.edu/mary/resources/agtalinstatue.html
I sure wish I had a Mountain Dew or a red Pepsi.
You may notice that is post is out earlier than normal.  That's because I did a lot of it before I went to bed yesterday.  I was still mad a Lita about the girlfriend thing at the time.
http://www.gigsilonggo.com/western-visayas-tourism-assembly-2009.html
http://www.worldatlaspedia.com/en/province-of-capiz/lugares_reconditos30/busquedaLibreDetalle-0-6945690
Useless Knowledge:  The composer of the ballet The Nutcracker, Peter Ilyich Tchaikovsky, wasn't that fond of the commission. What has become one of the most recognizable ballet scores in the world was, according to Tchaikovsky, "infinitely worse than Sleeping Beauty."
http://en.wikipedia.org/wiki/The_Nutcracker
http://www.ipl.org/div/mushist/rom/tchaikovsky.html
http://en.wikipedia.org/wiki/Sleeping_Beauty
Salamat, Palaam
Today in Philippine History
1896 – The Katipuneros, Filipino revolutionaries led by its Supremo, Andres Bonifacio y de Castro,starts the general uprising against Spain midnight of this day, a Saturday, with its first offensive attacking an isolated colonial garrison in Luzon island during the opening phase of the Philippine Revolution; despite the arrests, cruel torture, and/or incarceration of suspected revolutionaries, including Melchora Aquino (Tandang Sora) who is arrested and jailed at Bilibid Prison for giving aid to the Katipuneros, the flame of revolution would swiftly engulf nearby towns, with Spanish Governor-General Blanco declaring the state of war and martial law  in eight provinces; the offensive came a day after Bonifacio issued a manifesto setting the date as the beginning of the general uprising, five days after the Kataastaasang, Kagalanggalangang Katipunan nang manga Anak nang Bayan,  the underground organization batting for complete separation from colonial Spain, was hastily transformed into a revolutionary national government following its discovery through a traitor, Teodor Patino, who told of its existence to his sister nun; three days earlier, Bonifacio hoisted the glorious Katipunan flag in Balintawak and four days earlier, led the Katipuneros in successfully repelling the outnumbered Spaniards in the first encounter of the Himagsikan in Caloocan near the barn of Tandang Sora where they were temporarily headquartered.