[smartads] I ended the last post with a plea for y'all to read and judge my first from scratch story on the Idle Thoughts & Altered Dreams blog.  Don't worry about hurting my feelings, I can handle it if the story sucks.  A Robert Ludlum I'm not.
I got up at 8 something or another and decided that before I open the store, I'm going to cook and eat pancakes, so I did.  I added too much water to the mix and tried to compensate by adding corn starch.  Either I'm confused about what corn starch does or I didn't use enough.  Whichever it is, it gave the pancakes a unique flavor that was kind of nice.  Rick says that his wife, Flor, likes to put vanilla in her pancake mix.  I like that too and often buy the Pillsbury mix that has the vanilla already in it.  Maybe I'll  get that and try a little extra vanilla with it.
So LolyKat got opened a little before 0900.  Sometime today, probably early afternoon, I have to go pay those bills.   If Lita doesn't feel like watching the store, I'll just close for awhile.  Somehow or another I'm going to have to find a way to save enough money from this check to buy an extra tank of propane and a big bag of charcoal.  That comes out to about P1200, so I should be able to handle it.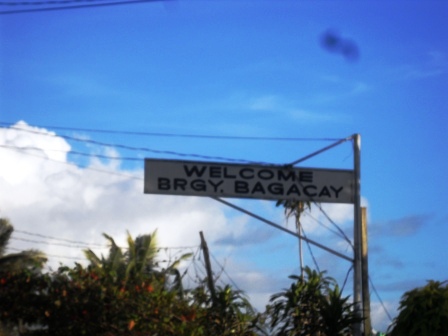 Without going into detail why, I found out that from now on I will get the paycheck, pay what needs to be paid, get what needs to be got, save what needs to be saved, the give Lita most of the leftover money.  I personally need little to survive here.  I'd like to have enough to buy at least 3 beers per week and then just a little more after that for odds and ends.  I figure about P1500 ($37) per month to spend on just me.  She seems to need a bit more.  After I've paid everything and saved what I think needs to saved.  I don't mind giving her the leftovers.  After all the only thing that I won't be buy is the food for us to eat.  That's her department.  I just make some requests.  From now on my requests should be easy to obtain.
We've had quite a few people asking for envelopes.  Maybe we should buy a box and see if they sell.  Most of the requests are coming from people that are staying at the Ciriaco, so maybe I should just suggest to them that they have a gift shop there.  Maybe that's already in their plans.  They are progressing over there on the building, so we will see soon.
I just had another little girl come by that must have been to the "What's your name" academy they have here.  It seems that is one of the first things kids learn to say.  That's all they say too.  I mean if it's a small kid, shouldn't they be saying something like, "What's you name, po?"  If they did that I might just answer them.  Right now I only do it occasionally and then I answer "Uncle John".  This little girl was with Evelyn, so I just told her to, "ask Evelyn".
I guess Arnel wasn't too drunk when I showed him how to play cribbage.  At least he still remembers the highest hand possible, after losing that P10 bet.  Maybe I can get him to sit down for awhile and play so he can get a better feel for the game.  Titing showed some interest in the game also, so maybe we can all 3 play.  I would not enforce the "muggings" rule until they were both well versed in the game.
At 12:45pm, here comes the rain again.  I was hoping it would not rain before I went downtown, but too bad for me.  Maybe it will stop.
I've been watching the window washer at the Ciriaco the last few days.  He does a very thorough job, but that must be a full time job.  The whole front side of the hotel is glass.  By the time he cleans the whole first floor, inside and out, then whatever other windows he has to clean, it's time for him to start over again.  I'll bet it takes about a week for one person to clean all those windows, inside and out.
A couple of Australians stopped by looking for a Globe load.  I sent them down to the sari-sari store where I buy my "Red Pepsi".  They also wanted some Marlboro Lights, but we don't have any.  Actually I've never seen any light cigarettes here, but since I'm a non-smoker and basically a non-shopper, I usually only deal with the cigarettes we have in the store.
Around 1:30pm Lita came out to LolyKat and I got ready to go downtown.  I had to be sure that I had all the bills, money and check card first.  I have left without the check card before and had to come all the way back to get it.  Such a waste of time.  I took a tricycle downtown and got out a couple of blocks from the bank.  When I'm downtown by myself, I don't ride the trikes, I walk.  I walked to the bank, but the line at the ATM was too long.  I decided to pay what I could pay then come back to the bank.  As I was walking around, it was not raining.  When I was inside 2 of the 3 buildings I had to go into, it rained.  By the time I got out, it had stopped.  When I got back to the bank, the line was still a little long, but not quite as long as before.  I had nothing else to do except to visit the DILG office, so I waited in line.
I ended up having to go to 4 different offices before I finally found the right place where Joan worked.  I did get some information from them, but I was hoping for more.  I did find out that the Official Website of the City Government of Calbayog should be updated soon.  They said in the near future.  It was my intention to stop by the Tourism Office before I came home, but I forgot.  It was a nice day again when I got out of the DILG office and I didn't see any rain clouds, so I decided to walk home again.  It never did rain while I was walking and I took several pictures on the way home.  Yes, that's right, I remembered to bring the camera.
I closed LolyKat early, about 7:00pm so I could fix stew for Lita and I.  We had the chicken stew all cooked and were just about to sit down to eat when Robbie came in and said, "Don't eat".  Mar was taking us to eat at Marcial's Grille.  Now Mar knew that I wanted to take Lita there, but she was sick so, as Mar put it, he wanted to continue my dream.  He picked us, his grand kids and daughter-in-law (Robbie) up here at the house and brought us all over there.  Ludy and Marianne were already there and Marlou, Chique and Ramil showed up later.
They had already ordered a family meal with about 10 different foods, but he let me order anything else I wanted, because he knows I am a picky eater.  As it turns out, the one thing that I really wanted to try was within that family order.  It was the baby back ribs that Gary, Blair and Rick have told me about.  The order came with a medium order (big bite), but we ended up getting another order.  In fact we ended up getting 2 extra orders.  You guys were right.  Those things are excellent.  This is coming from someone that is not a big pork eater people, so you know that I thought they were excellent.  I will never go to the restaurant and not order those.  I can tell you that already.
Also the spring rolls were very good.  I usually do not eat any spring rolls that are not made by Lita, but at every restaurant, I will at least try them.  This is the first time, that I actually liked them and in fact ate 4 of them.  I had to save some for the others.  I also had some rice, a small piece of chicken, a large salad and about 8 glasses of ice tea, but the glasses are small.  I would drank more tea, but we ran out.  Oh, and the ribs, I ate 9 of those, I think.  Maybe it was 10.  Count the bones in the following picture.  Remember one of the is from a piece of chicken though.
I'm going to have to say that Marcial's Grille is the best restaurant that I have every eaten at in the Philippines.  Lita said she was happy because it was the first time since we've been here that she's seen me eat so much in one meal.  When/If you ever visit Calbayog, it's a must place to try.
Salamat, Paalam
Useless Knowledge:  In August 1998, Priscilla Presley won $75,000 in a defamation lawsuit against Lavern Grant, a former army buddy of Elvis Presley's who claimed they had an affair before Priscilla married Presley It was ruled in a California superior court that Grant made false statements that were repeated and used in the book Child Bride: The Untold Story of Priscilla Beaulieu Presley by Suzanne Finstad. Priscilla long assured the world she was a virgin when she married the King.