[smartads] I sure am a terrible person.  I'm at a birthday party for Mar and this is the best picture I got of him all day.  I was there for about 3 hours, I took a couple dozen pictures and this was it.  I need to work on things like that.  Sorry Mar!
Be sure to click on the pictures for more information.  I believe I added more information on all of them, but I might have missed a couple.
Useless Knowledge: If one were to unravel the entire human alimentary canal (esophagus, stomach, large and small intestines), it would reach the height of a 3-story building.  (Some people are so small, I really don't see how this is possible, but I guess it is)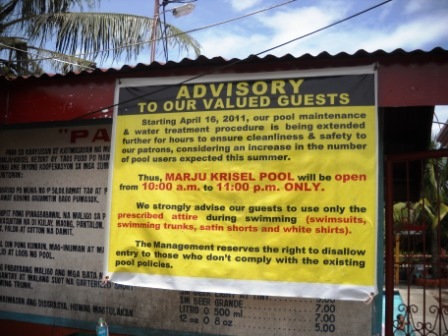 19 Jun – Hits @ 0202 = 543084.  A whopping 4784 hits in slightly over 24 hours.  Most of the time the numbers are up there pretty good.  Maybe I should change my 3500 average per day to 4000 instead.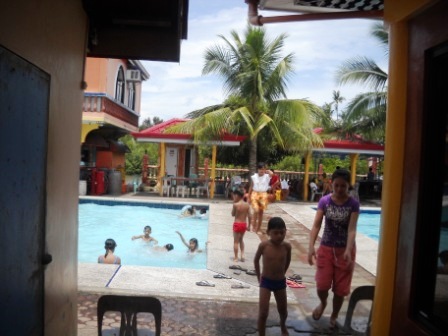 Today is Mar's birthday.  He is 53 years young today.  We are all going to a pool party at the Marju Krisel Hotel and Resort.  I'm not sure if I'll be getting into the pool or not yet.  If there are a lot of people in the pool, I won't be getting in.  It is open to the public for a price and it normally gets pretty crowded.  I doubt if Mar reserved the whole thing, that would take a lot of unnecessary money.  The only other time that I have ever been in that pool was a few years back and we were the only ones there, mostly because it was already night time.  It's Sunday, so I'm expecting a lot of people, especially children.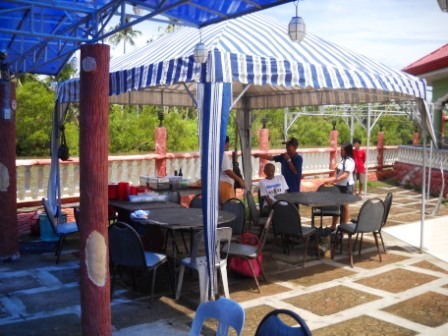 One of the things I don't like about being here is always having to wait on someone for a ride.  But it's either I wait or learn to drive a standard transmission and learn to drive among the swarm of people, animals and cars always in the street.  I'm a good driver, but only with an automatic transmission.  Maybe when I get enough money I will get an automatic and use that for long distances here.  We can probably just use the van service most of the time though.  The only regular place we will be going right now would be Tacloban and maybe Tambis.  Tambis is a bit far for the van, but it would be cheaper than taking our own vehicle.  Of course your own vehicle is a lot more convenient when trying to get around, especially from town to town around the Tambis area.  Plus, with your own vehicle, you can buy whatever you want and are only limited by the size of your vehicle.  The vans have other people to consider and luggage amounts are limited.  For shorter distances I should have that tricycle in a few months and I will pedal that to places around here.  I'll solve my waiting problem and my not exercising problem that way.  Of course the Marju Krisel is a bit far to pedal a …..hang on a minute.  I need to clarify something to keep y'all from getting confused.  I've been meaning to do this for awhile, but I always seem to put it off or forget.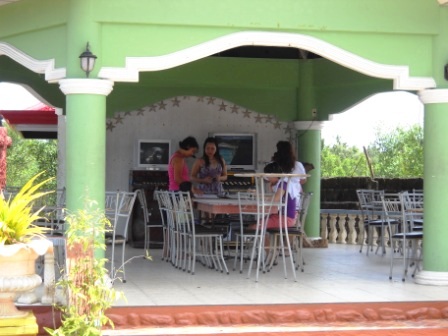 The motorized vehicles that carry passengers are actually called tricycles and locally they are called "motors".  The bicycles with side car are also called tricycles and pajak-pajak.  From now on in this blog I will try to remember to refer to them as "motors" and "pajak-pajak" so it will be able to get a clearer picture in your mind while you are reading.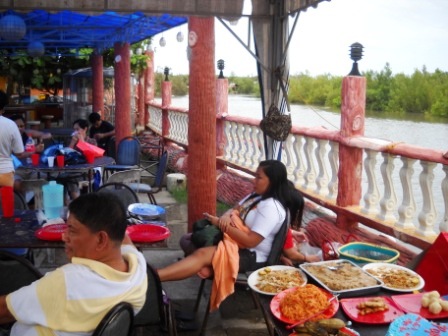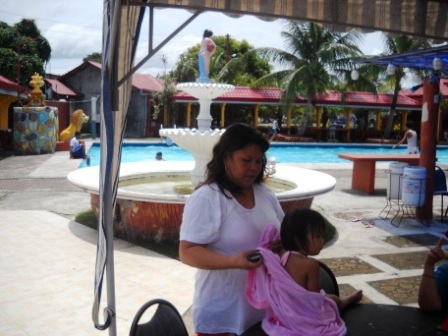 Okay, back to the story.  The Marju Krisel is a bit far to pedal a pajak-pajak, at least for now.  It's about 3 miles from here easy.  Maybe when I get my legs in better shape I will be able to make such a trip, but most likely I will rarely do that.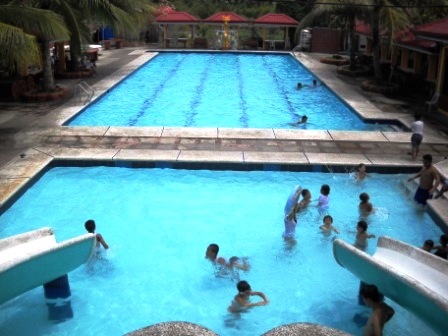 Useless Knowledge: A telegram was sent to Eleanor Roosevelt from the 1939 World's Fair in New York using only the current from electric eels.  (I don't know what to say to that, it sounds 'eely').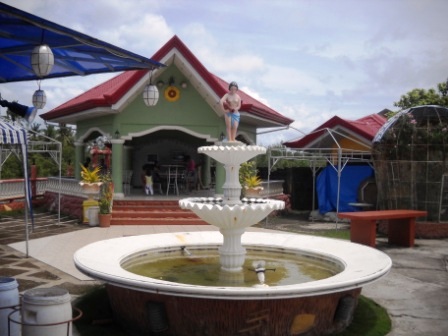 It's 10:45am now and I'm still waiting for someone to pick us up to take to the party.  No one has told me when this thing starts or even what time we are suppose to leave.  Lita doesn't know either.  Our ride left to go somewhere and we at still waiting for him to return.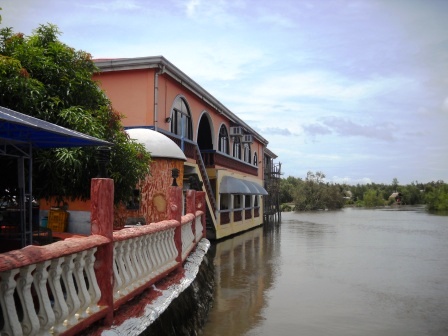 It was only 5 minutes after I wrote that last note, that our ride showed up.  We made a quick stop at Judith's house to pick up Poppa and Juvic, then we were on our way, no more delays.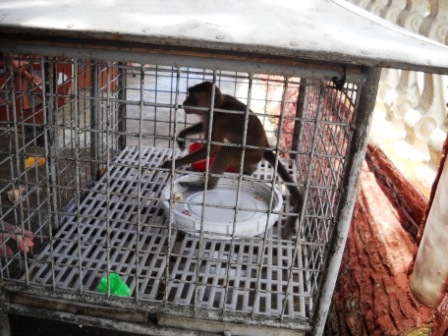 I started taking pictures as soon as I arrived and was determined to get a picture of everything that I already didn't have a picture of from there.  There will be a few repeats, but not the exact same picture.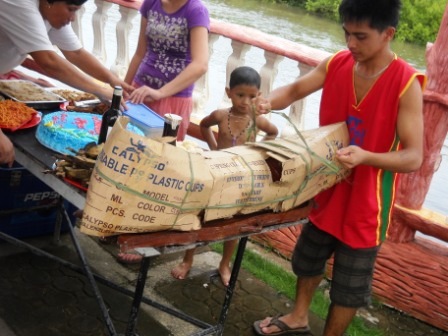 Since they all know I am a picky eater, I won't even eat the lechon baboy (roast pig), they stopped by Chooks and bought me some BBQ chicken.  So I had that with some rice and Coke (I tell them it's okay to call it Coke, instead of "Red Pepsi" when I'm not at home around the Pepsi warehouse).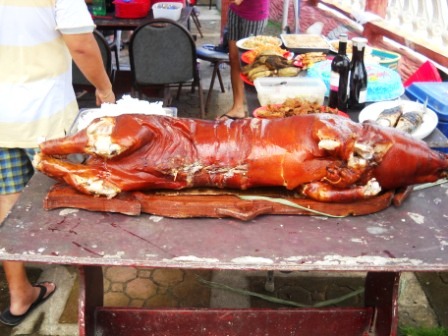 While there I visited the office and told the lady at the counter about the blog and gave her the website name so someone there could check it out to make sure I wasn't using the name of their hotel for evil purposes.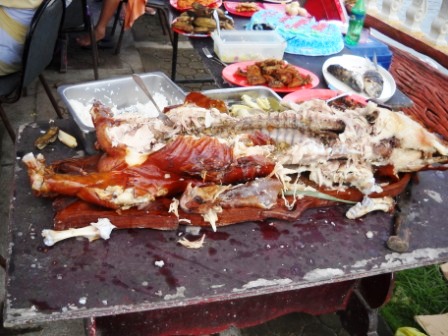 Around about 1:35 Poppa was ready to go home and so was Lita.  So, seizing the opportunity, I left too.  Lita thought for sure that I would be staying, so it surprised her when I said I wanted to go too.  Sometimes I do stay, but they were starting to play a lot of rap on the karaoke and I just can't stand listening to that noise too much.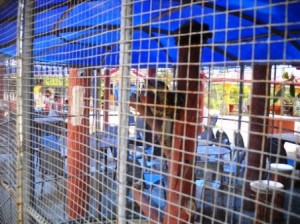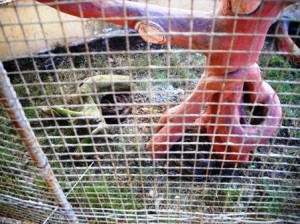 Lita told me that she would be going to the market around 5:00pm, so of course at 3:15pm she went to the market with J.  When she returned around 4:15pm, we both laid down to take a nap.  I slept for a couple of hours and when I woke up, Lita was already up.  That's a normal thing.  I then proceeded to heat up the remainder of my stew.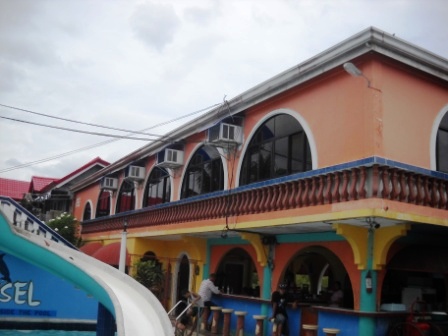 While I was heating up the stew, I saw something I thought was strange.  There were 2 geckos on the wall above the door and …. well it looked like I should have been covering my eyes instead of watching them.  One of them starting chewing on the other one's tail, then it climbed on top of the other one and starting moving around.  I went to get the camera, but it said "batteries exhausted" and by the time I changed them and got out there, it was over.  Stupid batteries.  They are rechargeable batteries and they have been charging, so I don't know what's up with that yet.  Maybe those 2 batteries are going bad.  I think I'm going to look up the mating rituals of the gecko to see if that was what that was.  (I have since done so and posted a video on it.  It's slightly educational and pretty boring though).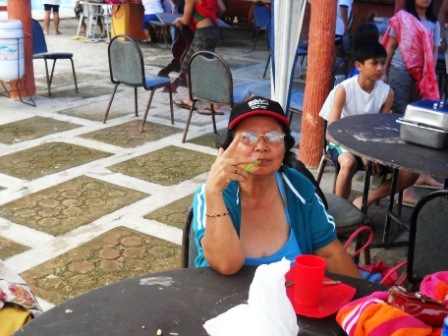 I decided to change the tagline on the blog to a little something I thought up.  Instead of saying "Surviving in the Land of Smiles" it now says "If You're Tired of the Rate Race, This is the Place".  I don't know if it'll make a difference whatsoever.  I just made it up one day, it sounded good and now it's there.  What do you think?  Does it matter?  Did the other one sound better?  I did find out not too long ago that Thailand is actually known as the "Land of Smiles".  I just assumed it was a made up thing for the Philippines because everyone does smile a lot here.  I guess they do in Thailand too, but I've never been there.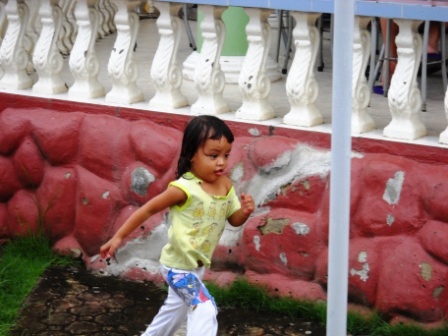 Useless Knowledge: When playing golf, scraping the golf club along the ground before hitting the ball is called sclaffing.  (sounds a lot like "laughing".  Just what people would be doing when your ball hooks into the water)
Thanks for reading and be sure to tell your friends if you like it.  If you didn't like it …. well they don't need to know.
Salamat, Palaam
Today in Philippine History
Gat Jose Rizal
1861 – Jose Rizal (José Protasio Rizal Mercado y Alonso Realonda), one of the two future implied  national heroes of the Philippine Republic, is born as the  seventh child of Francisco Mercado and Teodora Alonzo in  Calamba in Laguna province  during the Spanish colonial rule  in the Southeast Asian archipelago; along with Marcelo H. del Pilar and Graciano Lopez Jaena,  he will form the great triumvirate of the reformist Propaganda movement that  will aim to awaken Spain as to the needs of its colony, the Philippines, and to make for a closer and more equal association of the archipelago and  supposed motherland, Spain; Rizal's patriotic writings, particularly the Noli Me Tangere and El Filibusterismo, will  significantly inspire the other national hero, Andres Bonifacio y de  Castro, into organizing  the nationalistic secret society aiming for complete separation from colonial Spain, the  Kataastaasang, Kagalanggalangang Katipunan nang manga Anak nang Bayan (KKK)  in 1896; following the discovery of the Katipunan, Bonifacio will seek  Rizal's advice with regards the launching of Himagsikan, which the latter will later disown and reject in his belief that the Filipino revolutionaries should first be fully prepared before taking on the Spaniards.