[smartads] Okay I'm doing something new here.  I now know that there are some people out there that read my entire long post, but 4 out of 6000 is not a good percentage.  I'm going to try a compromise.  From now on I will publish a post for each day, no matter how long, but I will also include all information that I normally do.  The titles will be a little confusing in a couple of cases, since I've been putting the current date, but I'll put a "New" next to them to indicate it's the second one done for that day.  I might even accidentally post a picture twice, so please excuse me while I get caught up.  I'm 6 days behind in my notes now thanks to not doing a post for the past 2 days.  I have a good reason for not doing them, but I will explain that later in a post, maybe not this one because right now …..
It's Tuesday morning (20 Dec) and I'm feeling frustrated and fat.  I'm going to have to break out of this dull routine of mine, add a little excitement to my life.  I won't ask for too much, just something to break the monotony.  I should go walking, that would take care of the frustration and the fat.  I would still need that good pair of walking shoes for that though.  I could bring my camera and P30.  If I get too tired, which I might at first, I could always use P10 to take a tricycle home and some of the rest of the P20 for some water or Gatorade.  I've been wanting to go by the RFM area to take pictures but I just haven't gotten a round to it.  Where can I buy those things anyway?  The round tuits.  My Mom use to have one.  On it it said, "Now you can do all the things you said you would do when you got a round to it".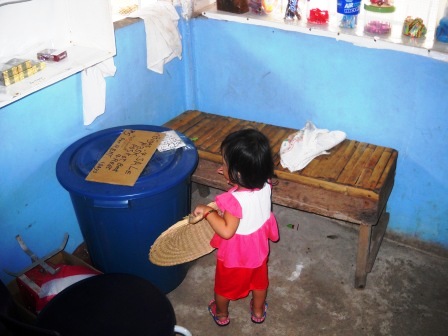 I received a Christmas card from my Mom today.  It only took 17 days to get to me.  She doesn't send money in the mail anymore because last time she did she sent me $10 and Lita $10, but only mine made it here.  I told her she should never do that anyway, especially money coming here.  Besides, she needs the money more than I do.
I think that staying out at the store all day is affecting my weight.  Before, when I was at the computer most of the time, I would rarely get something to snack on.  Out here it's all in my view, so it's more tempting.  I feel bigger, but I've felt that way before and have been wrong.  I don't want to, but I'm going to have to get on that scale to see what my weight is.  I've got to know if I'm screwing it up.  I'm still feeling the hum drum of being bored.  Our trip to Cebu in February can not get here fast enough for me.
Useless Knowledge:  In 1906 Theodore Roosevelt had to call a special meeting of Yale , Harvard and Princeton representatives at the White House in order to find a way to stop the growing brutality in football. In the previous year 18 Americans lost their lives while playing football, and 154 more were seriously injured.