[smartads] I took a couple of pictures of this TV.  I'll post the other one later, it's basically just a closer up shot anyway.  This one looked better in my opinion, so I featured this one instead.  This airport was clean, nice and shiny, not like the one they have in Taipei.  That one smells funny and feels musty in there.  Okay lets get to the last day of our 'vacation'.  We just returned to Manila from Hong Kong.
Useless Knowledge: In 1996, former Beatle drummer Ringo Starr appeared in a Japanese advertisement for applesauce, which coincidentally is what his name means in Japanese.  (Maybe it wasn't a coincident.  Maybe he did it because it is his name in Japanese)
9 May – We finally landed back in the Philippines, at Ninoy Aquino International Airport in Manila, Terminal 3.  The time was about 0o30, we were slightly ahead of schedule.  I think the scheduled arrival time was actually 0o35.  I think I screwed up a time in the last post, but I don't want to go back and look.  I've got it back on track now.  We started walking and I was looking to see which way to go next when a young fellow pushing a wheelchair showed up.  He asked Lita if she wanted to ride in the wheelchair to where ever she was going.  Well as you probably know by now, Lita is not big on walking, so she said yes.  I'm glad he showed up too, because it was a little tricky getting to where we needed to be, without having to go outside or anything.  He wheeled her to the proper place and found some decent seats too.  All the while I'm scurrying behind trying to keep up.  It wasn't so bad, they never lost me for more than about 20 feet.  Of course this young fellow was doing this little good deed to make money and I've been thinking all this time that Lita gave him P200, but I just asked her and she said she only gave him P100.  I guess it was okay, he didn't complain, but he probably wouldn't anyway.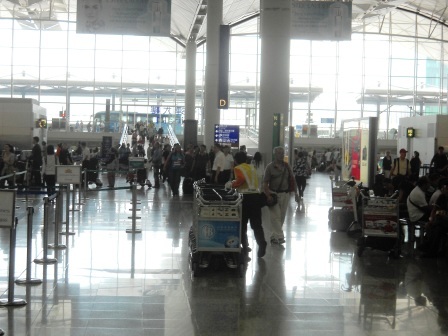 So we're sitting there, we have a 4 hour wait until our flight, and there are people sleeping next to the windows.  The windows came down all the way to the floor and had a small metal ledge that kept it from touching the floor.  That's where they were sleeping.  First thing Lita has to do is go to the CR, so she asked where the closest one was and headed out, telling me that she'd be bringing something back to drink too, if she can find some somewhere.  I stayed to watch the bags.  She was gone for awhile and I was just about ready to pick up all the bags and go look for her, but I saw her coming down the stairs.  I'm glad too, because there were not that many seats and I didn't really want to lose the ones we had.  By the time she got back I had already eaten one of those pieces of Popeye's chicken we brought from Hong Kong.  She did have drinks though, some Mountain Dew.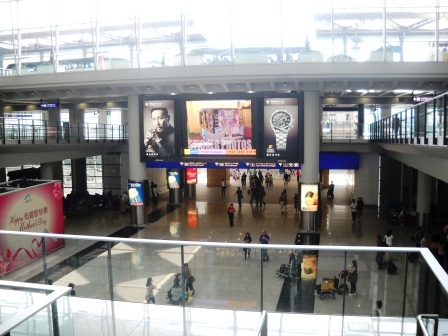 As we were waiting, I was trying to figure out which line we should be getting in.  I couldn't figure it out because nothing was marked yet.  I got up to walk around and when I got to the end of the wall on the left, there were a bunch of people in there.  I asked someone working behind the counter, which line I should get in, and when.  He asked if we had any check in luggage…no.  He directed me to the Express Line (the shortest line) and said that I should process through sometime between now and 0300.  It was about 0200 at the time.  I went back, got Lita, and said lets go.  I found the Express Line, we're 3rd in line.  The lines next to us were about 15 people deep.  I'm glad we decided on no check in bags.
Our flight was scheduled to leave at 0420 and arrive in Tacloban at 0535.  They were on time.  We did get to ride a jet, but the seats were not right again. When we got to Tacloban we got to bypass the luggage merry go round again.  When you arrive in Tacloban there are plenty of people that want to help you with your luggage, and I have always found them to be very good, but I was smiling as I told them, no luggage.  As we walked out the front door, I saw Jun there, Jhunnel was there too, but at the car.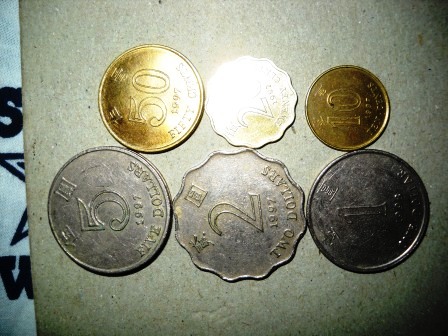 We were suppose to be going to Robinson Mall, but of course we were just about out of money so we just told them to bring us to the Grand Tour terminal so we could get a van home.  We didn't have to wait long because there was a van leaving for Calbayog in about 20 minutes.  Jun and Jhunnel waited with us.  Jun bought us some oranges from a vendor at the terminal.  I thought he was just going to buy a couple of them, but he bought a couple of kilos of them.  The vendor told him they were sweet oranges, but he lied.
The van was waiting to get enough people to make the trip worth while, but no one else was showing up.  There were 4 seats left, but Lita bought an extra one, the one next to her, so she could lay down while going home and also have someplace to put our luggage that we could get to it easy.  That was also good because now I could sit on the end of the bench seat and have a lot of room for my legs.  It gets crowded in there for me.  But wouldn't you know it, someone had a lot of boxes to bring and they put them all between me and the door.  Lita commented that if we were in the States, that would not be allowed because it is blocking the door.  Of course she is right, but I told her not to worry.  If something happens, I'll be tossing those boxes out of the way really quick.  Thankfully though, nothing happen.
Okay as I said, there were 4 empty seats.   Lita bought 1, so now 3 empty seats.  While this driver was heading this way, he would slow down when he came across people waiting on the bus to come this way, and honk his horn.  He actually got three more people and filled that van up before we got to San Juanico bridge.
We were the 2nd people he dropped off.  The first ones got off in another town that I don't remember the name of, but it was before Calbayog, of course.  When that van pulled up in front of the house and my feet hit the ground, it was like the sun shining right after a big storm.  It felt good.  We came in and after I went to the CR, I had to take a nap.  I need to take a shower first, but I was just too tired to make the effort.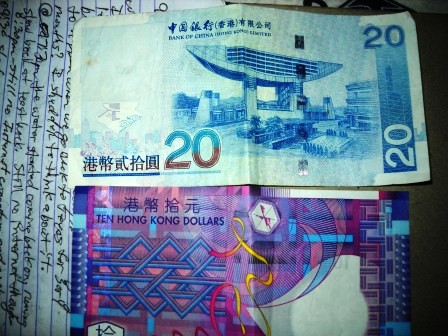 That' my notes from the day after we got back.  You can get a very small sample of what will be in the next post.
I've got a short list of "Lessons Learned"
1.  Next time wear tennis shoes or sandals.  The shoes I had were good for the bottom of my feet, but they rubbed a bit on the top of my feet and I had to keep taking my shoes off, which did feel very nice, but it took time to get the back on, even with the velcro to put them on with.
2.  Don't use Cebu Pacific seat selection service unless I'm prepared to demand I get what we paid for.  None of the 4 flights were correct.  Only during the 2nd leg (Cebu to Hong Kong) did we get the right seats, but there were only suppose to be 2 seats there, there were 3.
3.  I need to learn how to make chicken at least close to how they do it at Popeye's.
Okay 'vacation' over.  We're back.  We've got to get things straight now and solve a couple of problems.  By this time next year we should be nice and comfortable with everything.  Of course at this time next year we plan to be in Texas, but things here should be situated better.  It's 0115am on Tuesday 17 May, PI time, now.  I'm going to finish this up, post it and try to get caught up on the other days tomorrow.  Remember I was sick the first few days back, so don't expect to see to much.  I'll try to fill in with things, but there won't be too much from day to day activity, because there was very little activity when I was sick.
Useless Knowledge: In the 1979-80 season, at age 19, Wayne Gretzky became the youngest hockey player ever to score 50 or more goals and 100 or more points in a season, and the youngest player to be voted Most Valuable Player (That's was one of the reasons why they started calling him "The Great One")
Salamat, Palaam
Today in Philippine History
1897 – The "execution" of Andres Bonifacio y de Castro, the Supremo and co-founder of the secret-society-turned-revolutionary-government Kataastaasang Kagalanggalangang Katipunan nang manga Anak nang Bayan, along with his brother Procopio, is carried out under rather surreptitious circumstances by men of power-grabber Emilio Aguinaldo y Famy in the mountains of Maragondon; the tragic murder-by-execution of Bonifacio, the revolutionary leader until the fraudulent and anomalous Tejeros Convention subsequently led to his abduction and 'kangaroo court' trial (with his own lawyer, Placido Martinez attacking him for this 'guilt' before asking the court for clemency), and sentence of "guilty" for treason, sedition, and attempt to assassinate Aguinaldo, came one day after the 22nd birthday of his wife, Gregoria de Jesus; upon orders of Aguinaldo for Agapito Bonzon and Ignacio Paua to abduct and bring the Supremo before him dead or alive, the Bonifacio brothers were treacherously attacked during around April 27/28, causing the instant death of Ciriaco and the serious wounding of the Supremo before he and surviving brother Procopio, along with de Jesus (who was later raped by Yntong) were forcibly brought to Naic and made to stand 'trial' before a court martial couoncil formed under supposed authority of the revolutionary "government" that purportedly superseded the Katipunan; Bonifacio, who was seditiously charged with contriving to supposedly overthrow the newly formed revolutionary government of Aguinaldo formed on the basis of the Tejeros Convention, but which was nullified by the Supremo and 40 other Katipuneros through the Acta de Tejeros, Bonifacio testified that he did not know of the existence of any other revolutionary government (other than the Katipunan) because Aguinaldo was not validly elected, as partly based on the statement of Artemio Ricarte and that he was unaware if any oath-taking has taken place; historical accounts will differ as to the manner of the Supremo's death, with some claiming that his death done by hacking while in a hammock, having been too weak to offer any resistance or attempt to flee, as he was shot in the arm and then stabbed in the throat during their abduction; Apolinario Mabini y Maranan, Aguinaldo's own future adviser and Prime Minister, will dub the 'execution' as an act of "assassination," further castigating Aguinaldo for his insubordination to the Katipunan Supremo and describing his power-grab against, and subsequent elimination of, the Bonifacio as the "the first victory of personal ambition over true patriotism."

Photo credit: http://philippine-revolution.110mb.com/bonifacio_detailed.htm