[smartads] We've got new information on the Gaisano Grand Mall to be built in Calbayog.  Thanks to Qailord I went to another site and got the information.
This is what I got from:  http://www.skyscrapercity.com/showthread.php?t=1377281&page=39
ACCORDING TO A RELIABLE SOURCE FROM THE CITY HALL, THE MALL WILL BE BUILT IN BRGY. BAGACAY NEAR THE NEW PUBLIC MARKET, THEY BOUGHT A 4 HECTARES(APPROX.) LOT THERE AND THEY BOUGHT IT FROM MY RELATIVES THATS WHY I HAVE SOME KNOWLEDGE BOUT IT, IN FACT GAISANO ALREADY GAVE THEIR DOWN PAYMENT FOR THE LOT AND STILL WORKING FOR SOME PAPERS WORKS TO BE DONE, WHILE IN THE OLD PUBLIC MARKET THEY WILL BE BUILDING A GAISANO HYPER-MART, BUT STILL SOME PAPERWORK HAS TO BE ACCOMPLISHED PARA MAKAPAGSIMULA ANG CONSTRUCTION.
The rumors keep changing, but this one seems to be the end of it.  If this one is true then this is what I was saying to begin with.  Everything was pointing towards it being downtown though, so I resigned to that.  I still say it doesn't really matter where they put it, as long as we get one, but I'd rather have it close to here if we are going to open that restaurant.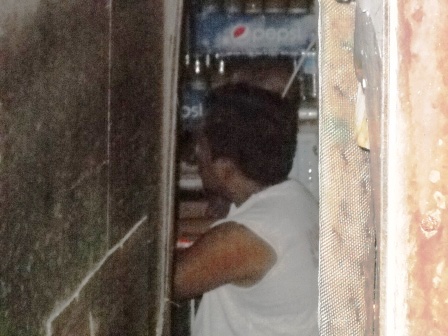 I also found this is an older article: Mayor Reynaldo Uy and Department Mangers Visit the Public Market.  It was dated: Monday, September 13, 2010.
"The transfer of the stall holders will begin immediately after the completion of the new public market. As Mayor Uy would announce during the press conference this afternoon, the present public market will give way to the mid-size mall to be constructed by the Gaisano group."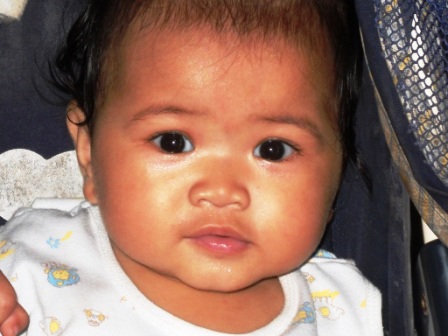 I guess "mid-size" would be the Hyper-Mart?  Or did things change after Mayor Uy was assassinated?  I guess we'll see what happens, when it happens.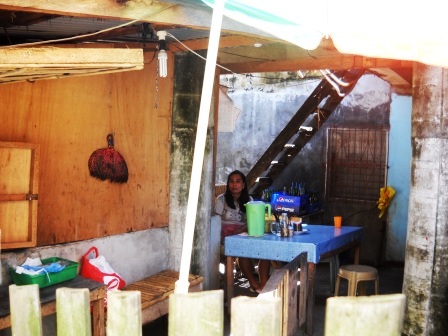 Useless Knowledge: The male sea lion may have more than 100 wives.
Okay for pictures today I'm just going to throw in a bunch of pictures that I have not posted before, but they are not all great.  Be sure to click on the pictures to get more information about each.  I think I put information on most of them.  Since I don't have many of those, only about 10-12, I may also add in a couple of other pictures that I have posted before, but it's been awhile since they were posted.  This for the purpose of giving new people to the blog a better opportunity to see them.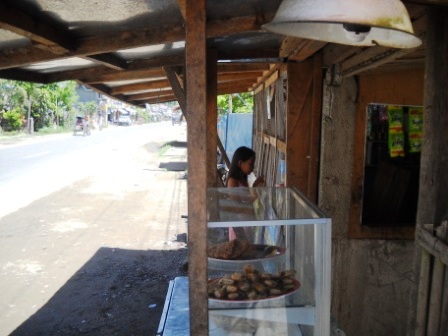 13 Jun – Hits @ 0137 = 516274.  That gives us 4139 in 24 hours.
I decided to delete that F-Secure, but it won't go away.  It doesn't show up anywhere as still being a program on the computer, but I still get those little check marks on the front page saying that site has been checked by F-Secure.   I don't know how to make it go away either.  I've tried everything I know.  I must be missing something, but I have no idea what it is.  I'll have to contact the F-Secure people and see if they can help me with that.  I'll have to remember to do it early though, because of the time difference.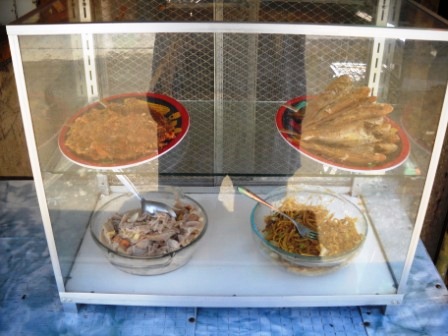 We ran out of propane for out stove in the kitchen.  So when it came time for me to make my soup I had to do it outside on the propane stove in the dirty kitchen.  Well actually all I did was prepare everything and Lita actually took care of the cooking part.  I did go out to check it a few times and stirred it.  The soup turned out pretty good, but we need to get some decent seasoning.  Decent enough for everything I normally use is lemon pepper and Season-all seasoned salt.  With those 2 things, Tabasco sauce, mustard, ketchup and BBQ sauce, I don't really need any other seasoning or sauce.  We will get some more propane for the stove tomorrow.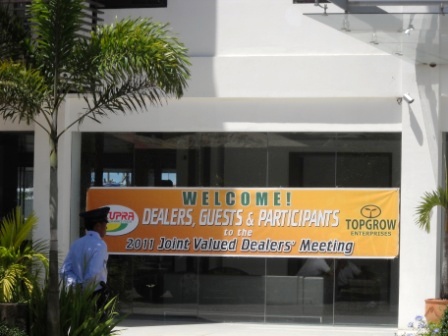 It's been pretty inactive around here today.  I spent most of the day in front of the TV and then 1/2 the rest of the time in front of the computer.  I only saw Precious twice today and that's not normal when she is around.  I usually see her at least a half dozen times.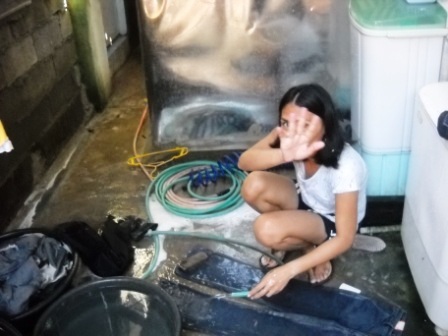 Lita cleaned the inside of LolyKat today.  I helped very little.  I did carry that big white bench out of the computer room today and put it in LolyKat.  I really didn't want it in here anyway because it takes up too much room.  Lita made me put it in here a few months ago, despite my objections, so I'm glad it's gone now.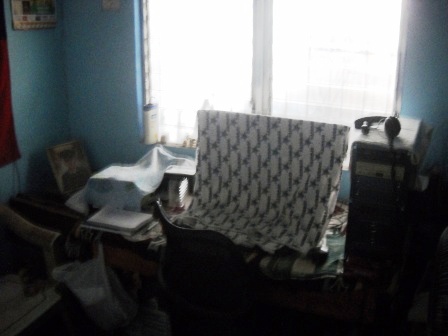 The dogs around here must be very hungry.  We feed that cat (Blue).  Oh, I think I forgot to tell you that we haven't seen the other cat (Grace) for quite a while.  I guess something happen to him.  Anyway, while I was doing the post for the blog yesterday, I heard a strange noise outside.  When I looked, there was a dog on top of our drink cooler.  I guess he could smell the leftovers we had put there for the cat.  That dog climbed on top of our generator and jumped up about 4 feet to get on top of the cooler.  He had a small space to land on too.  Normally that would impress me a lot, but I've seen a dog here jump over our 5 foot fence out front.  We would lock the gate with an extra chain so the dogs could not squeeze through, but at least 1 dog, and I seen him do it twice, would jump up and over that fence to get to some food.  He would take a couple of steps and jump.  It was pretty amazing actually.  I guess he worried about getting his balls caught on the little pointed tips on top. The dog that got on top of the cooler…after all that trouble…I just let him eat.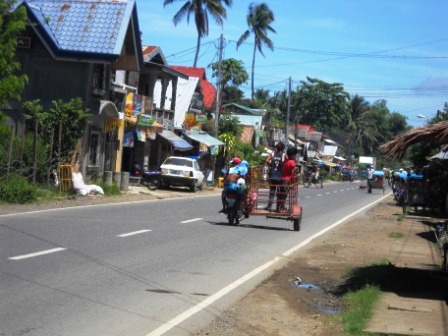 I rearranged the front page of the blog a little bit.  I added a couple of things, deleted a couple of things and moved a few things around.  I do that when I discover new things and to keep the blog a little bit different, but still maintain the same information, or better information.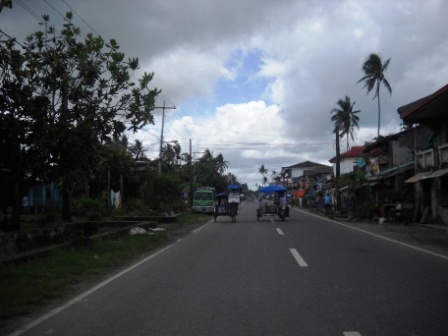 Someone from Cebu City looked up "Calbayog City hotel and restaurant".  I hope they checked out the other sites before they checked out mine.  That way they will see that the information on my site is much better than any other site out there for that information.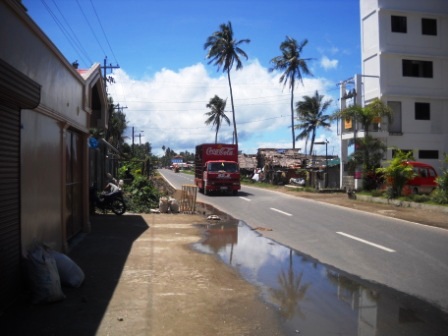 That's all the Philippine information I have for today, but I'd like to leave you with a little story.
New Definition for S.O.S.
A C-130 was lumbering along when a cocky F-16 flashed by.
The jet jockey decided to show off.
The fighter jock told the C-130 pilot, 'watch this!'
and promptly went into a barrel roll followed by a steep climb..
He then finished with a sonic boom as he broke the sound barrier.
The F-16 pilot asked the C-130 pilot what he thought of that?
The C-130 pilot said, 'That was impressive, but watch this!'
The C-130 droned along for about 5 minutes and then the C-130 pilot came back on and said:
'What did you think of that?'
Puzzled, the F-16 pilot asked, 'What the heck did you do?'
The C-130 pilot chuckled.
'I stood up, stretched my legs, walked  to the back,
took a leak, then got a cup of coffee and a cinnamon roll.'
When you are young & foolish – speed & flash may seem a good thing!
When you get older & smarter –
comfort & dull is not such a bad thing!
Us older folks understand this one, it's called S.O.S.
Slower, Older and Smarter….
Salamat, Palaam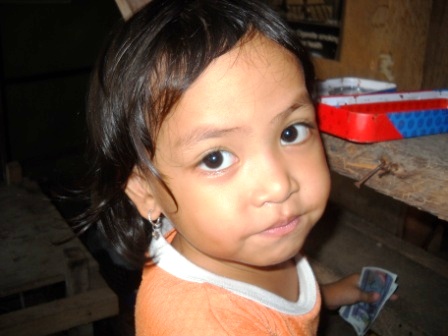 Useless Knowledge: Snakes do not have eyelids, so even when they're asleep they cannot close their eyes. But they do have a protective layer of clear scales, called brille, over their eyes.
Today in Philippine History
Battle of Zapote Bridge (River)
American invaders captured Filipino cannons, 13 June 1899
1899 – The (second)  Battle of Zapote Bridge (River), one of the fiercest battles and actually the largest single battle next to the earlier Battle of Manila during the Philippine-American War (1899-1914) involving 5,000 Filipinos and 3,000 enemy American forces, is won by Gen. Henry Ware Lawton of the invading United States;  the crucial battle began with some 1,000 valiant Filipinos in prepared position stoutly defending the bridge against the invading Companies F and I of the 21st Infantry under Major Boylebut; fighting with much less inferior firepower, the Filipinos under Gen. Artemio Ricarte and Mariano Noriel ultimately yielded to the imperialist American forces; the battle lasted for hours until the much better armed Bald Eagle  soldiers drove the Filipino freedom fighters out of their lines forcing them to withdraw inland as a rear guard held off the imperialists for a time; Lawton, who would later be killed by the men of Gen. Licerio Geronimo later that year, will remark  on the uncanny bravery of the Filipinos shown int he battle as the New York Times will report that the Filipino army is "the largest and best organized body of men which had yet met American troops"; the battle would help make President Emilio F. Aguinaldo decide to reform the regular Philippine Army into guerrilla style units to better engage the enemy Americans and capitalize on the Filipinos' endemic knowledge of the Southeast Asian archipelago's landscape.
Raw photo credit: http://philippineamericanwar.webs.com/southofmanilacampaign.htm