[smartads] Crystal Pascasio and Reverof Apilado graduated from Kindergarten on the 9th day of April in the year two thousand and eleven.
Useless Knowledge: In the mid 1880s, until about 1910, undertakers sold Grave Alarm devices.These were elaborate rope-and-bell/pulley arrangements allowing those buried alive to summon help.The rope was placed into the hand of the (supposed) deceased, and it wound through a series of tubes to the bell outside the grave.  (This is were we got the term "dead ringer" …seriously it is)
9 Apr – I turned the computer off before I got a hit count and didn't want to turn it back on, so we'll have to skip that for today.  I'm sure y'all won't lose any sleep over that.  I was up early this morning, since I went to bed early.  When I got up it was only 0543.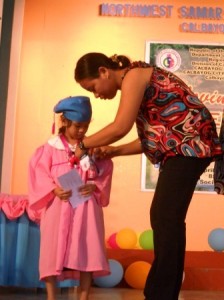 I went to the market with Lita this morning around about 0700.  We rode a tricycle there.  While I was there I seemed to get more stares than normal, but it may be because around where I live I've been getting less stares because they are getting use to me being around.  Downtown, they don't see me very much.  While at the market we stopped to buy something, I forget what it was now, but the person selling it to us, well I couldn't tell if it was male or female.  It looked like a female, boobs and all, but talked like a man.  I know that there are a lot of gay people around here, but I can usually tell which is which.  I'm guessing that his one was a guy, just going by the voice, because dang it, the rest of him/her looked good.  That must have been some tissue tucked in 2 nice little balls up there.  I'm glad I'm not in the dating scene because if some woman I brought home turned out to be a man, I'd probably be in jail shortly thereafter for either assault or maybe murder.  Guess when I get up close, I'll start looking for the Adam's Apple.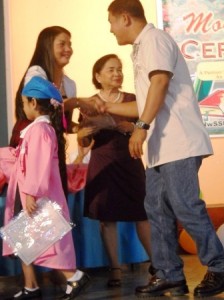 A few things going on today.
First of all, it's J's birthday.  He is 20 years old today, no longer a teenager.  He is suppose to be starting school in June.  He wants to go to cooking school.  I still have to check to see if that is for a chef or just a cook.  I'm assuming since it is college, it will be for a chef.
Also today I did my weigh in.  I was hoping to finally get under the 120k mark, but nope.  I was at the same weight as last week…120.6k.  I'm glad I didn't go back up again.  Let's see if I can keep it down this time.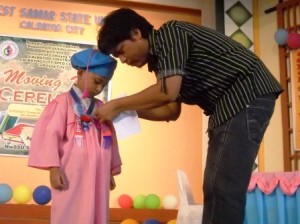 The most interesting thing that happen today was Crystal and Reverof graduated from kindergarten today.  Crystal came by, reluctantly, to show me her cap and gown.  She looked cute, but the cap and gown made her look like a painting artist.  Take a look at some of the pictures I've posted here and let me know if you think the same.  Cathy borrowed my camera to take pictures.  She took over 140 pictures for that one day she had the camera.  Most of them at the graduation.
Last time Cathy had some pictures on my camera, she waited a long time before she came to get the memory card to have them printed.  By that time, I had already deleted the pictures from the camera, but I put them on the computer.  That doesn't do her any good, so this time I'm not going to erase the pictures on the memory card until after she gets them processed.  I hope she doesn't take very long, because I don't like so many pictures on the camera.  I usually copy them on the computer.  After I copy them a couple of times, then I will delete them.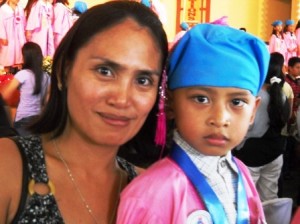 I was going to drink with the guys tonight, but only 1 bottle of beer they bought was cold.  The other ones they had to put in the refrigerator.  Lita gave them some money to go by some chips while I finished my one glass of beer, waiting on the other 3 bottles we had getting cold.  Well the chips that J bought were Shrimp flavored, and I don't eat those.  I just finished my one glass of beer and came back into the room to watch TV.  Maybe next time I'll drink with them.  I tried a little of the warm Red Horse beer to see if I could drink that, but it didn't taste right not cold.
Hits @ 11:25pm = 302660.
10 Apr – I didn't arise until 0920 this morning.  I felt like doing an 'unofficial' weigh in this morning after my CR trip.  In the 24 hours since I weighed in yesterday, I lost .8 kilos (about 1 & 3/4 pounds).  The weight came in at 119.8 kilos.  I did not mark that in my record book of weight, because, as I said, it was unofficial.  The weight only counts on Saturday.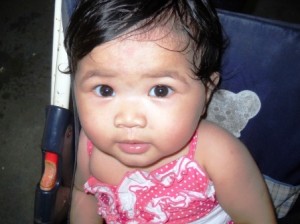 Precious felt like hanging out with me for a little while this morning.  She likes to climb up in our bed and watch TV with me.  Whatever I'm watching it doesn't matter.  But if I change the channel and 'accidentally' come across some cartoons, well then I'm stuck on that channel.  She'll lay there watching, just jabbering away about something, I have no idea what.  I'll tickle her and she'll act like she doesn't want me to, but then she'll act like she wants me to, so she's practicing to be a woman.  After a while she'll get up, put her little shoes on and say, "Bye Bye John", or "John, John..bye bye".  Always something to that nature.  I told Cathy that Casandra was going to learn to say "Uncle" before Precious.  Of course Casandra should be calling me Ninong, not Uncle.
That reminds me of my grandsons.  I was just getting them use to calling me Lolo, when we left for the Philippines.  They probably will forget about me now.  I wish our son had a computer with Internet service so we could stay in touch with him, but he has 6 boys to take care of, and a wife, so money is not plentiful.  If I had the money, I'd buy him a computer and tell him all he needs to do is keep up the Internet service, and talk to us once in a while, when the boys are around.  You know Lita and I was planning to never go anyplace from now on that is cold.  I was just thinking though that if one of our grandsons plays football, well the end of football season is during the winter.  We just might show up for that.  We still have a ways for that, so we have time to get organized and make out a schedule when/if we find out one of them is playing.  Of course we'd have to go to any sport that they are involved in.  We'll just have to do the best we can.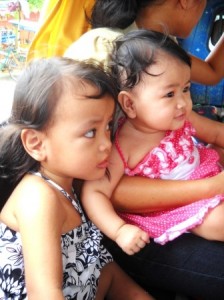 I'm getting tired now, it's a little past midnight and I still have to put the pictures in here.  I probably won't put that many pictures because I want to get this out and I'd like to do it before I go to bed or fall asleep on the computer.
Useless Knowledge: In the Declaration of Independence as first written by Thomas Jefferson, there was a clause abolishing slavery. However, because of pressure, he was forced to delete the clause.  (That's odd.  You'd think Jefferson would be in favor of slavery.  After all, he had an affair with one of his woman slaves and it'd be easier for him to get to her that way).
Salamat, Palaam
Today in Philippine History
World War II Bataan (Death) March
1961 – "Bataan Day" is proclaimed as legal holiday in the Philippines under Republic Act No. 3022 to commemorate the start of the Bataan Death March, the World War II atrocity in which some 75,000 Filipino and American prisoners of war were forcibly and often fatally made to march by their Japanese captors from Bataan peninsula towards prison camps; the 1942 event came after the retreating American forces in Bataan surrendered to the Japanese who earlier made victorious surprise attacks against the United States Pacific fleet at Pearl Harbor and subsequently the air base at Clark Field in Luzon island, the Philippines that was then an American colony; "Bataan Day" would later be changed to the euphemistic "Araw ng Kagitingan" by President Ferdinand E. Marcos in 1979 following anti-American criticisms and arguments that war defeats should not be celebrated; the inhumane treatment and experience met by the approximately 63,000 Filipino and 12,000 Americans during the march is said to have been caused by the big number of prisoners overwhelming the Japanese whose operation plan was only for 25,000 prisoners of war; the original text of the Philippine law proclaiming April 9 as "Bataan Day" reads:
Section 1. The ninth day of April is hereby proclaimed as Bataan Day, and all public officials and citizens of the Philippines are enjoined to observe such day with a one-minute silence at 4:30 o'clock in the afternoon, and to hold appropriate rites in honor of the heroic defenders of Bataan and their parents, wives and/or widows.
Photo credit: http://naturalhealth.ph/fitness/why-im-running-the-bataan-life-march-this-weekend/
Photo credit: http://senatorvicenteyapsotto.blogspot.com/2008_01_01_archive.html