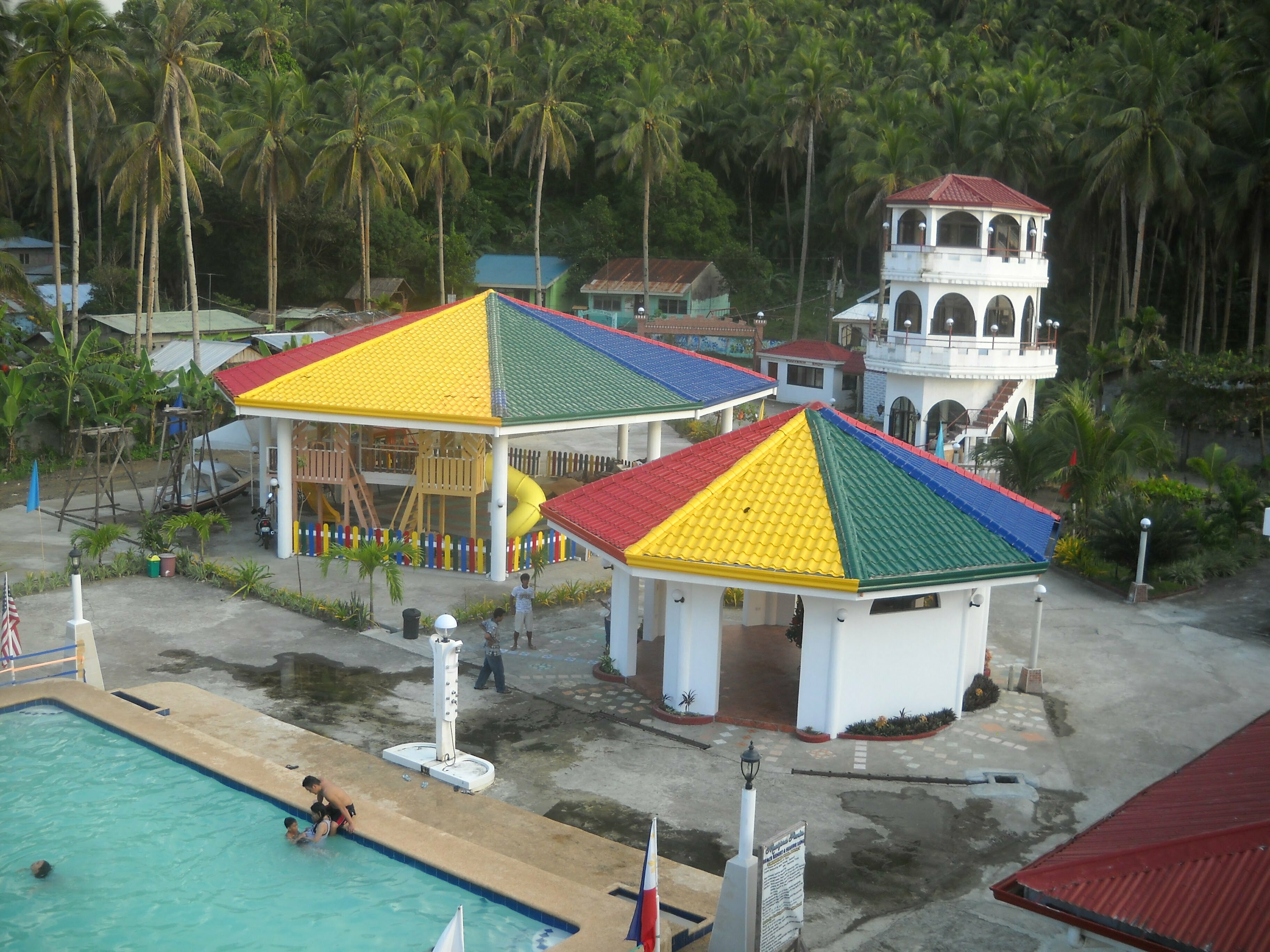 [smartads]
Recently I ventured out to get some updates on the hotels in the area.  This is something that I have been saying I will do for several months now and finally got around to actually getting out with that as my main mission.  Things did not turn out as well as I hoped.  This is how that day unfolded.
It was a sunny Sunday morning and Ramil had said he would get his dad's car to head out to these hotels with me.  He is not fond of walking, which is what I wanted to do in the downtown area.  Ramil is the same person that went with me the first time that I visited all the hotels, so he knows what's going on with this.  So he went to get the car, but just as we were getting ready to leave, Grace decided that she wanted to go with us.  So, as it is with most young ladies, we had to wait on her.  It's okay though because I figured that any additional interest in what I'm trying to do around here, is a good thing.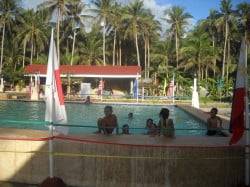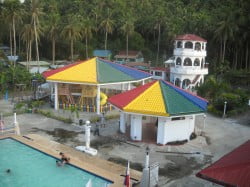 Our plan was to go to all the same hotels that are already on the site, plus any new hotels in the area.  That is the main reason I need Ramil with me, because he may know about some hotels that I have no idea about.  That strategy paid off rather quickly because he knew how to get out to the Mondejares Puertes Resort and Seaside Lodge in barangay Saljag.  I had no idea how to get there.  It is a good 10-15 minutes drive to get out there, but once we were there, I realized that I have actually been here once before.  I believe it was with Mar.  The place looks much different than it did before, but I remember it because of the barangay outside of the gate.  That barangay has not changed since my last visit, whenever that was.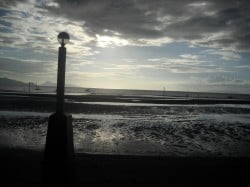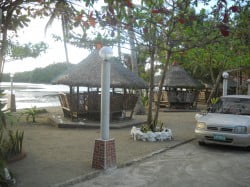 So we went to the gate, told them we wanted to take a lot of pictures and they said it was no problem.  So we parked and I walked around and took many pictures.  I believe I took at least 18.  They have a swimming pool there that had some children in it, and of course they wanted their picture taken.  I obliged.  I even went up in the tower in the center of the resort to take some pictures.  It is about 3 stories high and the view is nice.  They are still building there and it looks like they are in the process of building more places to stay, and plenty of them.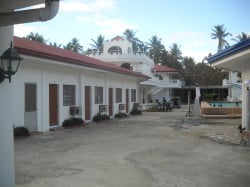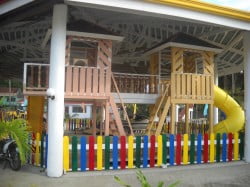 The restaurant they have there looks good.  There is plenty of space and they have a karaoke, for the people who like such things.  I do not particularly like it that much, but I have been known to scare a few people with my singing on occasion.  The restaurant area can be rented out for parties and I for one would like to have a party there.  I don't know what type of food they have there, but I could just bring my own food and my Red Horse with me.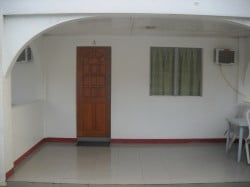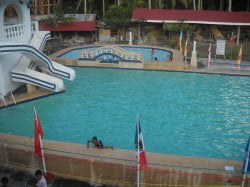 So after taking pictures we made sure we got their little flyer so I would have the information to put on the website, which I have yet to do.  As we were at the end of the side road, getting ready to go on the main road, a guy came by and told us that we had gas leaking under the car.  Ramil got out to look and sure enough, there is a small hole in the gas tank.  This altered our plans a bit, but I wanted to make a couple more stops, at least, before heading back.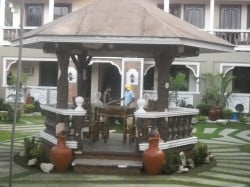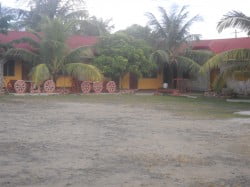 There was a restaurant on the way home that looked nice and big, so we stopped there for pictures.  There were no customers and I guess the workers did not speak English because they all ignored me when I entered.  That's not very inviting, but it was pretty nice looking in there.  Another place that would be nice to have a party.  Maybe I just like parties, because there are plenty of places around here that are good for that.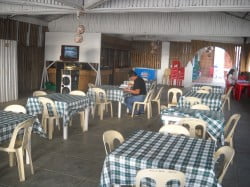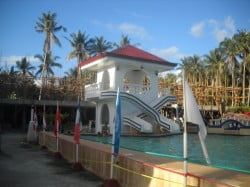 After the restaurant we were still going to try to make two  more stops before going home.  We made the first one, but not the second.  Although we had the leak, we were already close so I had to stop by Marju Krisel to get updated information.  It's not often that I am in this area and I wanted to take full advantage while I could.  I'm just glad that the gas lasted long enough.  We didn't stay there very long because of the gas, but I did get a few pictures and a new flyer with their updated information.
In between the Marju Krisel and I's Plant Hotel we ran out of gas.  Ramil was able to get to the side of the road in a nice big space though.  He got the gas can out of the trunk and walked to the gas station just up the road, after I gave him P100 for the gas.  So Grace and I are stuck in the car waiting.  While we are waiting this guy with a broken tricycle comes up and asks Grace for money to fix his tricycle.  Grace tells him that we don't have any money, so he continues pushing his tricycle up the road.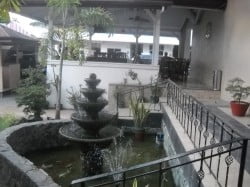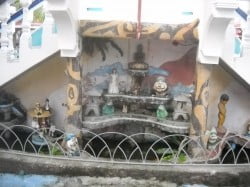 When Ramil returns, I found out that the guy asked him for money too, and he gave him P20.  It was my money, but I didn't say anything.  It's okay.  P20 is only about 50 cents so I know that is not enough to get his tricycle fixed.  So Ramil puts the gas in the car and we head out.  We did go by I's Plant Hotel before heading home because it is on that side of town across the bridge and normally when downtown, I don't cross over the bridge.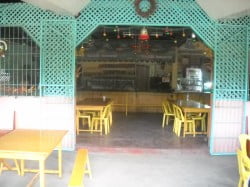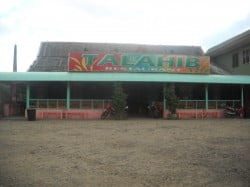 After that we did get back to Mar's house to let him know about the gas leak.  Mar brought us back home in his other car.  I did get some good information on this suspended trip, but I still have not gotten all that I want and need.  Other people are starting to write more and more about this area.  A lot of these people have more knowledge and more resources than I do, so it's going to be tough not to be left behind unless I step it up.
Salamat, Y'all