To Know Me Could Be Fatal
[smartads]
Everyone out there that knows me might want to disassociate themselves from me for awhile, especially if you are of the superstitious type.  It seems that people that are close to me are dying.  First it was Khany, now my best friend BJ (Barry Jacob Wand), who lives lived in the US just died.  We were best friends for a little over 30 years (Oct 1982).  Do you want to know what sucks the most though?  It sucks that there is no way for me to get back to the US to be at the funeral.  His daughter told me that they will be cremating him on Monday so even if we had the money to go there, we probably couldn't get a flight fast even to get there in time.  He has been having complications with his diabetes and I think that finally got the best of him.  He was already confined to a wheelchair recently and he was none too happy about that, but he was getting by.
I keep thinking that maybe if I was there I could have done something.  I suppose most people think that way though. Maybe I could have kept his hopes up or helped prevent the diabetes to start with or something.  I don't know what, but something.  In reality, there is probably nothing I could have done unless I had a time machine and could go back after I found out everything that will happen.
When we first met him Lita and I arrived at Kadena AB in Okinawa for our first tour of duty overseas.  We kind of hit it off pretty quickly especially since he was married to a filipina also.  You see the Air Force will have sponsors help you get settled in at a new base and take you around to places.  BJ was not the one assigned as my sponsor, but he came by with his car in case we had too much luggage for the guy that was our sponsor.  That's the type of guy he was.  As it turns out we did have too much luggage for Doug's (our sponsor) car.  Even though Doug did help us get settled in a bit, BJ is the one that helped us the most.
The last time I saw him was this past July when we were in Texas.  If it wasn't for him, we probably would not have even saw him then.  If you remember from our trip, we were pretty busy with the storage, Lita's social security and our medical appointments.  By the time we got all that done and able to actually do some things, the guy that let us borrow the car had to take it back for work purposes.  We did get another vehicle a couple of days later, but it was one that I wouldn't really trust to make the hour long drive to his house, plus another hour back.  While we were stuck, BJ came to visit us at my parent's house.  He drove all the way over there by himself and when he exited the vehicle we found out that he was on crutches.  That's the first time we had seen him with those crutches.
I am happy that we were able to invite him to my sister Cindy's house for a party.  He had a pretty good time at that party despite being limited to what he could do.  He was never much of a beer drinker, or any alcohol for that matter, but I was always happy to have a beer or another drink for him.  When he left he was not looking forward to the long drive home, but otherwise he was happy that he made the trip.
BJ and I had an unusual friendship.  When we first met he was what you would call a 'stick in the mud'.  He was serious about everything and rarely did anything to have fun, he worked almost all the time and didn't laugh very much.  After hanging out with me for awhile he started changing and he loosened up a bit.  For his part in our strange friendship, he helped us with issues on the house, with my computer and with just life in general.  Things that I just couldn't figure out.  He showered a lot of wisdom down on me, although I didn't always follow everything he said.  Most of the time it turned out he was right and I ended up regretting it when I didn't follow his advice. Our life could have been better if I would have followed some of his advice, but I thought I knew better and followed my own thought process.  I should have known better.
He was the one and only friend that I have ever had that I would so most anything for, legally.  Although he was more of a giver than a taker, he still needed things from time to time and I tried to do what I could.  Of course I couldn't always get the job done, but I sure gave it a whirl.  Have you heard the saying that if you are in jail a friend will come visit you, but a good friend will be sitting next to you?  Well that's the kind of friends we were.  Although we never did go to jail and did very few things that would be considered wild and crazy.
His 3 children, Jeff, Jen and Jake, all call us Uncle John and Auntie Lita.  Heck BJ even called me Uncle John most of the time, enough though he was about 6 years older than me.  Those kids are like our for real nephews and niece.  We have known them for so long that sometimes I forget that we are not actually blood related.  I still love them to pieces though.
We are going to miss him bunches and bunches and I hope that if there is such a thing as reincarnation, that I will be able to meet him again.  He was truly the only person that I have ever met that understood me.  Maybe he and Khany will stop by someday to have a drink with me.  A beer for Khany & I and a Diet Coke for BJ.  Even as ghosts, I'd welcome them both.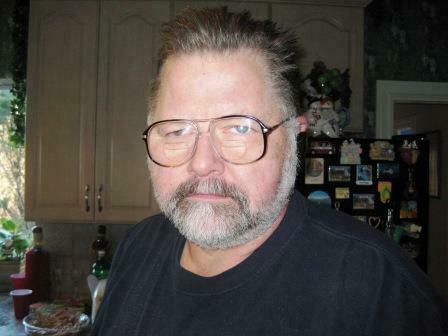 RIP BJ