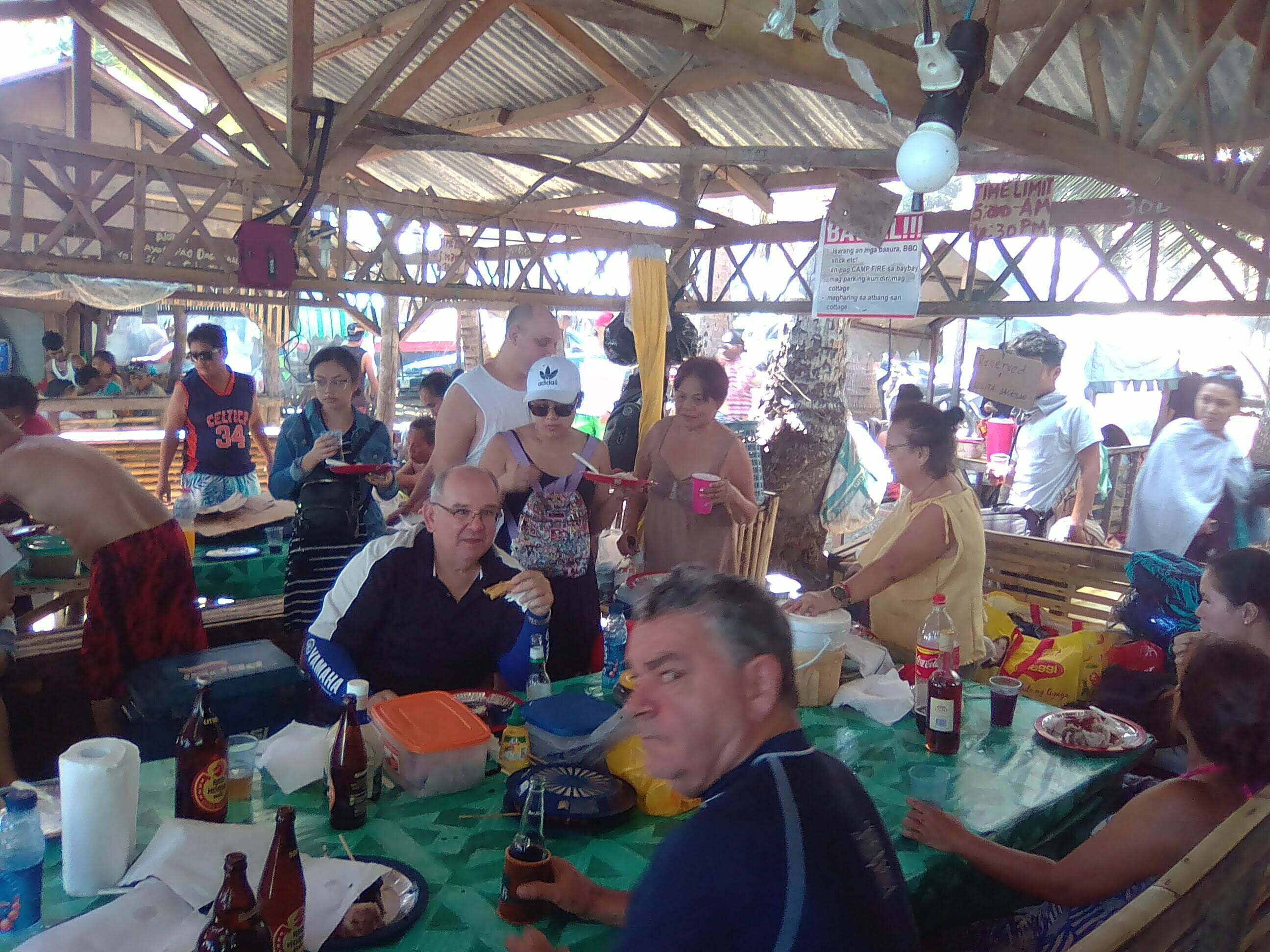 [smartads]
Celebrating our cousin Titing's birthday, our second party for the month of June was on the 18th. The party was at Malajog Beach, where we have a lot of parties. I invited many expats because I was hoping for a good time at the beach.  Although the party was okay, not too many expats showed up and maybe they were lucky that they didn't.  No, the party was fine, but there was one slight problem and one big problem.  I'll explain.
Malajog Beach is the most popular beach here in Calbayog.  Recently they have been expanding, making them more popular, but they have also begun to 'charge' for a portion of their beach.  The area where they have their new hotel is the section that they are charging for.  The charge is only P50 per person ($1), but with a big family party, that can add up fast.  Of course some relatives could not afford that P50 and would not want to go unless it was paid for them.  So we had the party on the still free side of the beach.  It was the normal looking tables that we always have when there, so no big deal.  We decided to get tables in a different area than we normally do, but with some of the "improvements" they have done, that turned out to be the big mistakes.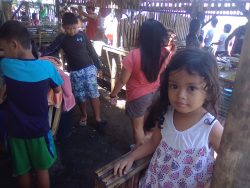 First of all, I'd like to thank all the expats that did show up for the party.  I'd also like to apologize for the area we choose.  I guess it's time to get to the meat of this post, which will explain just what those 2 problems were.
We got 2 large tables under one pavilion, at P300 per table.  That's a good price for using the tables all day, and they were pretty nice tables.  They are not at the pavilion that we normally get and that's a lesson learned for us.  The big problem was that the 3 pavilions surrounding us were all equipped with karaoke machines AND they were all in use.   Of course everyone was singing different songs and just had to have their music as loud as possible.  We had to scream at each other just to be heard.  Somehow, through it all, we still managed to have a decent time. It for sure could have been better if we didn't have all that loud music to deal with.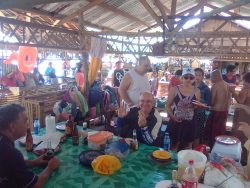 At a couple of times during the night, we considered unplugging the karaoke machines or maybe cutting the wire.  We also considered paying the people off that were singing, wanting to pay them double for their pavilion, just so they would go away.  Naturally, we would let the management know because then we would be the owners of that spot for the day and would not let anyone else in there.  It didn't come to any of the though.  We just endured it and chalked it up to a lesson to never forget.
For some reason, I didn't get any pictures of the new guy, John McGuire.  He was at the party, along with Trevor, Mark, Larry and Scott.  I hope I didn't forget anybody.  The young lady in the white cap came with John, but I forget her name.  I guess if you want to see John McGuire you will just have to show up at a party he is at.
[smartads]
The next party will be at my house on the 4th of July.  I promise NO KARAOKE.  I will have some music which will be mostly Classic Rock and Country.  There are a few more things mixed in there, but not much.  I also promise to keep the music at a level that we can still have a conversation. It also is a potluck and will begin around about noon.  If you want to come by earlier, it's fine.  People normally stay until they get tired of being here which is probably not later than 6 pm.  I hope to see y'all there.
Salamat Y'all